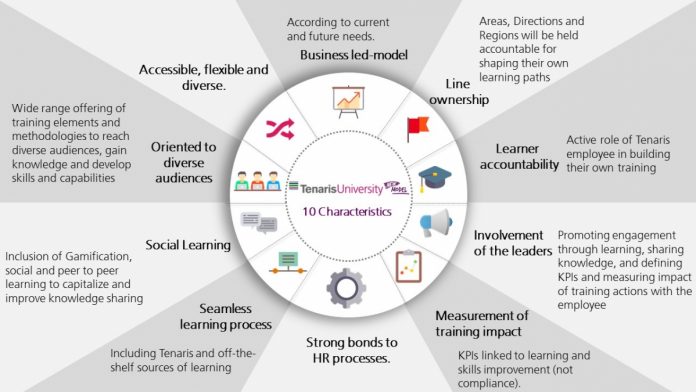 Tenaris is a leading global supplier of steel pipe products with 21,700 employees in more than 30 countries. TenarisUniversity, the company's corporate education division, is spearheading a thorough re-thinking of several processes within the Human Resources department.
TenarisUniversity is valued as a key differentiator. Tenaris ranked #8 on Training magazine's 2016 Training Top 125 list. Although the current corporate learning model has served the purpose of building "one company" and has positioned TenarisUniversity as a leader in corporate education, it now needs to adapt to the way people learn today.
TenarisUniversity was born 10 years ago from the perspective of the hiring and training of young professionals for career-long employment. Business circumstances; the evolution of technology; and changes in how people communicate, learn, and work, have made it essential to rethink its model in order to better align it to the current and future business needs and make it more learner centered.
TenarisUniversity, therefore, launched a project to redesign its learning model to meet the strategic needs of Tenaris today and in the future, taking into consideration global training trends, best practices, and the need to be in permanent beta-testing. TenarisUniversity Director Rolando Lange confirms this decision: "All these changes were made with one single goal: to help our employees unleash their potential."
Tenaris Human Resources Director Paola Mazzoleni is the main sponsor of this venture. "Knowledge is one of the career development foundations at Tenaris. The reinvention of TenarisUniversity is leading a whole new series of innovative projects with the aim of re-thinking Human Resources within the company."
The Challenge
Despite Tenaris training demonstrating strong business impact, excellent levels of alignment with corporate objectives, and innovation in areas such as Massive Open Online Courses (MOOCs), today's employees are looking for a very different model for training and development. Learning experts across the board talk about the generalized dissatisfaction with training today. As a Mercer 2016 white paper shows, "When asked about the one thing organizations can do to improve their experience, employees are three times more likely to name 'more/better training' than any other source." At the same time, they don't want just traditional training. Bersin by Deloitte has shown that "training is now the least desirable way people want to learn" (Bersin by Deloitte, "Leading in a New World of Work: Human Capital Trends and the Implications for HR," 2015, http://www.hrleadershipforum.org/resources/Documents/Programs/2015%20Programs/October%202015/HRLF%20-%2010-9-15%20-%202015%20Human%20Capital%20Trends.pdf).
The Transformation Begins
A TenarisUniversity New Model Team was created in order to plan, build, and implement this challenging project that consists of three phases:
Phase 1: Conceptualization and Background Information
The challenge TenarisUniversity now faces is developing a strong, cultural change in how people today learn in corporate spaces
In this stage, the project's team objective, expected benefits, and key success factors had to be defined. A detailed work plan had to be created to define the project time span and scope. Extensive research was necessary to understand the context and prove some of the team's initial hypothesis. This research included conducting interviews, focus groups, and benchmark meetings with eight companies regarding their corporate universities. Global trends benchmarking shows that while new corporate universities start thinking about their learning model in this direction as a natural process, the oldest ones are still struggling with the challenge of adapt to new learning environments.
Designing the New Model
After the research and keeping all input in mind, TenarisUniversity started the design of the new model's components and structure. The conceptualization was made through design-thinking activities. Also, a pre-mortem activity was essential to identify possible failures and barriers that may affect the project in the future and enable Tenaris to take corrective actions in advance. This stage revealed some important areas of opportunity for TenarisUniversity and led to the final 10 TenarisUniversity New Model characteristics: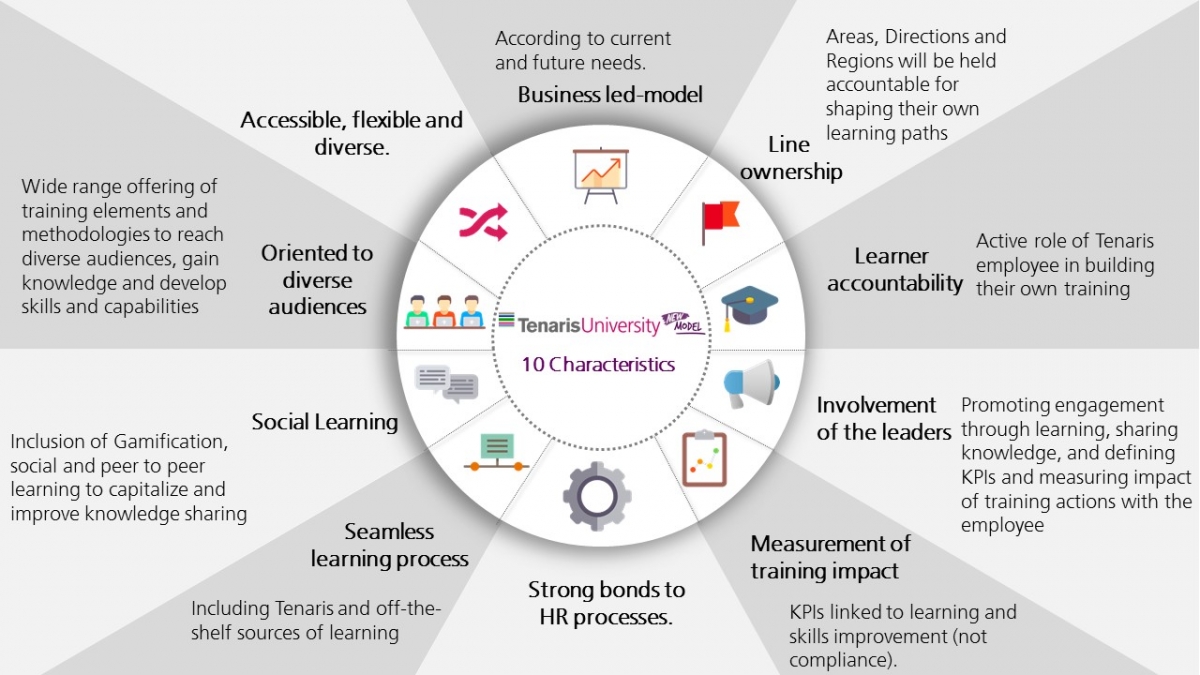 Areas of opportunity for this new model include the redefinition of corporate training include informal learning, collaborative learning, and other new learning styles that have emerged as a result of social changes; the revamp of learning platforms to make them friendlier and enable the possibility to recognize and track non-traditional training; and creation of a new TenarisUniversity employee role to enhance motivation and external curation to make training more personalized and self-directed.
Phase 2: Proof of Concept
Track Teams Groups
Core project tasks have been divided into teams led by TenarisUniversity Regions Representatives and Corporate Areas to create synergy and take advantage of diverse inputs. These tracks cover the main New Model aspects such as Platform Definitions, Knowledge-Sharing strategy creation, New Model Communications, New Content Design, and Implementation of Minimum Requirements among others, creating eight groups with 50 employees from all regions participating part-time in the project.
Proof of Concept
The proof of concept will take place in core areas of the business such as Commercial and Industrial, and in HR Regional and Global Areas, as well as beta-testers. TenarisUniversity schools are working with subject matters experts from each area to reconvert current educational content and add curated materials to this new learning experience. Proof of concepts will be launched between January and February 2017 and will last for six months.
The platform, Degreed, was chosen to be the new model front-end and has been working with the Tenaris IT Team since September. Degreed is an online platform for tracking, measuring, and sharing skills. Its Business version operates as an enterprise learning portal that integrates with existing learning management systems and external resources. Proprietary and external content coexists in a learning ecosystem providing the learner with a holistic view of his or her learning.
Phase 3: Global Rollout
The third phase involves the implementation of the New TenarisUniversity Model for all Tenaris Salaried employees after the proof of concept stage. All the necessary adjustments will be implemented in order to make the new learning model for Tenaris.
The Journey Is Just Beginning
Today's employees and stakeholders are looking for a very different model for training and development. TenarisUniversity must update, adapt, and, in the end, transform, its learning model. As stated in the White Paper "How the Workforce Learns in 2016" published by Degreed (http://get.degreed.com/how-the-workforce-learns-in-2016-report): "This doesn't mean traditional approaches to L&D are obsolete. They just aren't enough anymore. At least not for today's workers."
Ingrid Urman is a Human Resources professional, an intrapreneur with focus on corporate education. She is currently the head of Learning Experiences in TenarisUniversity, the corporate university at Tenaris, which ranked in the Top 10 of 2016 Training Top 125. Urman works on the leading edge of the learning and development field, exploring new technologies, methodologies, and approaches aligned to Tenaris' strategy and mission. She was named a Top 5 Emerging Training Leader of 2016 by Training magazine.