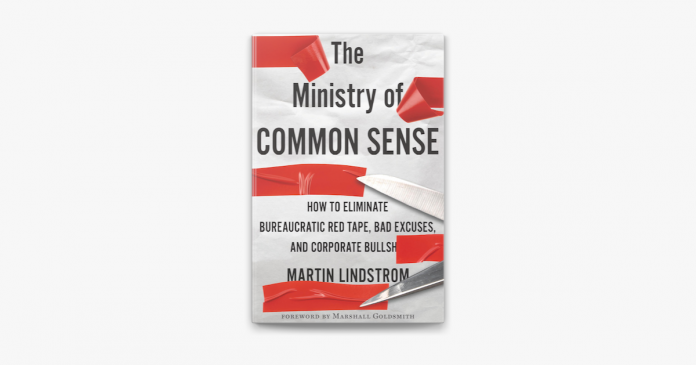 This excerpt from the chapter titled, "Fear and Loathing in the Corporate World," from "The Ministry of Common Sense: How to Eliminate Bureaucratic Red Tape, Bad Excuses, and Corporate BS" is about how employees can sometimes take training too seriously, and how a big part of training includes having common sense.
Laws, rules, regulations—we'd like to believe they exist for a good reason. But not when they defy our own common sense. When I began working for the Dorchester Collection, like most luxury hotels, the company was using an outside consultancy that analyzed every service moment, or touchpoint employees had with guests. There were around 100 of these touchpoints in all. They included moments when employees were encouraged to be "human." Look guests in the eyes for three seconds as they approach the counter for the first time, and ask guests about newspaper delivery—but make sure you don't show a religious or political preference. Formulate your request in a way that won't offend the guest or presume one newspaper or affiliation over another.
Meaning that just because the woman in front of you looks like an East Coast liberal Democrat, don't assume she reads The New York Times and The Washington Post every morning. If guests ask for a restaurant recommendation, employees are forbidden to show any preference or favoritism. They should endorse any and all local restaurant options, and smile for at least four seconds while glancing downward and making note of the guest's selection. Okay, I'm exaggerating slightly, but am I really?
The consultancy later pored over these scorecards, looking for moments when an employee lowered their gaze after five seconds, not four, or they forgot to tell guests about room service, and added and subtracted points accordingly. If this wasn't enough to drive most employees nuts, the consultancy actually employed "mystery guests," who went around in disguise, assessing how staffers were doing when they didn't expect it. Did an employee smile enough? Did they smile so much it came across as creepy? Did they ask about the luggage or whether a guest needed a late checkout? And so on.
Employees then were graded and given a score, say, 72 points out of 100. Their salaries—not high to begin with—would be docked accordingly. Needless to say, the employee culture at the Dorchester Collection hotels was a little on the tense side.
Ultimately, the Dorchester stopped using the consultancy and the endless checklists. It depressed morale, weakened the culture, erected a shield between employees and guests—and completely got in the way of following common sense. Just like an experience I've had too many times whenever I schedule a business lunch. Let's say you and your colleagues go to a restaurant for a business lunch. You are shown to a spot next to the window. A waiter appears and introduces himself as Scott. The table orders drinks, and when Scott comes back with them, he spends the next few minutes telling you about the lunch specials. Everyone orders and Scott says he'll get right on it.
Twenty minutes later, in the middle of a serious group discussion, Scott comes back with your food. Setting down the plates, he takes time to tell you in detail what's in the dishes you just ordered as well as how the kitchen carefully prepared them. "Enjoy!" Scott says.
From my perspective, it's clear that you're businesspeople having a business-related lunch meeting. That's why when Scott circles back to say, "Just checking in, guys, making sure everything is okay…," instead of assuring him that things couldn't be better, one of you scowls at him and two of your colleagues just look testy. Scott doesn't seem to notice. In fact, he swings back a few more times to refill the water glasses, ask if the table could use more bread, or, his specialty, "just check in." Finally, he clears your plates, then comes back a few minutes later to ask if he can interest anyone in coffee, tea, or dessert. Oh, there are dessert specials, too.
Now I want to be clear: None of this is Scott's fault. He's really good at what he does. He's watchful, attentive to your needs, and he's doing what a waiter is supposed to do. But he's also following a standard script, presumably laid out in a restaurant training manual, listing the steps waiters should take to provide top-quality service and maximize their tips.
At the same time, it's also obvious—at least it is to me—that your group would prefer to be left alone to talk in peace and not be interrupted. Aren't there times or exceptions when a waiter can tell a table of businesspeople, "I can see you're having a business meeting, so I won't interrupt you. If you need anything, I'll be at the back of the room, and I'm always happy to come over"?
If I were ever offered that common-sense option during a business lunch in a restaurant, I'd eat there every day for the rest of my life.
Excerpt from "The Ministry of Common Sense: How to Eliminate Bureaucratic Red Tape, Bad Excuses, and Corporate BS" by Martin Lindstrom (Copyright 2021 by Lindstrom Company, Ltd. Used by permission of Houghton Mifflin Harcourt. All rights reserved). For more information visit: https://www.amazon.com/Ministry-Common-Sense-Eliminate-Bureaucratic/dp/0358272564
Martin Lindstrom is the founder and chairman of Lindstrom Company, a leading brand and culture transformation group, operating across five continents and more than 30 countries. TIME Magazine named Lindstrom one of the "World's 100 Most Influential People." And for three years running, Thinkers50, a premier ranking resource of business icons, selected Lindstrom to be among the world's top 50 business thinkers. Lindstrom is a speaker and author of 7 New York Times best-selling books, translated into 60 languages. His book, "Brand Sense," was critically acclaimed by the Wall Street Journal as "one of the five best marketing books ever published"; Small Data was praised as "revolutionary"; and TIME Magazine wrote this about Buyology: "a breakthrough in branding." His latest book, published in 2021, is "The Ministry of Common Sense: How to Eliminate Bureaucratic Red Tape, Bad Excuses, and Corporate BS."
Get our newsletter and digital magazine
Stay current on learning and development trends, best practices, research, new products and technologies, case studies and much more.