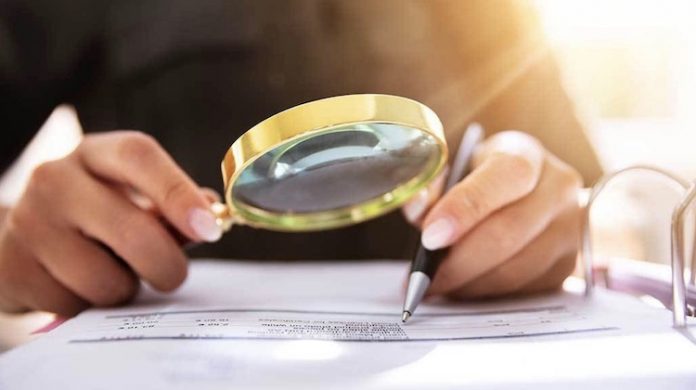 Training, without understanding its need, relevance, applicability, or accountability, is futile. Thus, a full-scale Training Needs Analysis (TNA) needs to be carried out to understand the specific requirements.
There are many ways to look at this critical aspect of staff development. Get this wrong and the entire process/effort/budget is wasted.
Training itself can be:
About creating manual dexterity or cognitive ability
About explaining process flows
About future-proofing
Resource based
Motivational
About supporting strategic organizational direction
Task-based
Aspirational (gap based)
Behavioral change based
Skill based
Knowledge based
Attitude based
The deployment of initiatives linked to staff development can be as complex as the basis on which they are created.
Needs analysis is a tricky subject, and perceived differently by different people. Bosses/line managers assume they know what is needed. The people to be developed think they know what they need. Management knows best, and the Training department has their own ideas. For all these to converge, effectively, a 360-degree look at the actual needs must be conducted. The training needs of the people must be examined in the context of organizational objectives to be achieved.
It is the single most critical step in enhancing staff abilities/performance/competencies. It is like diagnosing a patient. If misdiagnosed, the resultant treatment is worthless.
Sample Approaches/Methods for TNA: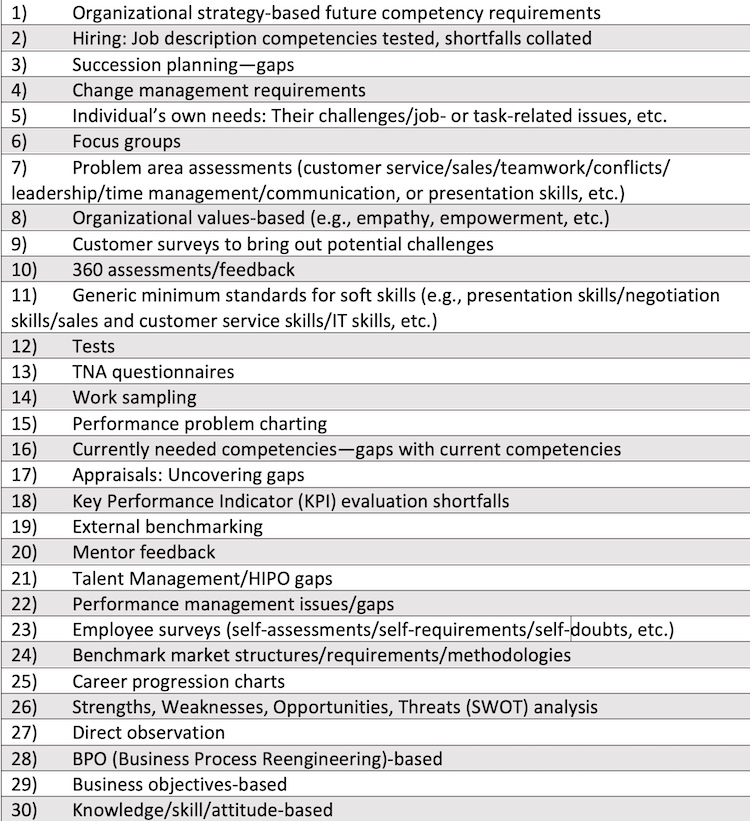 The above is by no means a definitive list. It simply provides an idea of the myriad ways to conduct a TNA.
Multi-Pronged, Layered Approach
The idea is to view training needs analysis not as a singular one-dimensional outcome-based exercise, but to see it through the prism of the context itself. A 360++ view, a structured approach, and an inclusive/diversified assessment are required.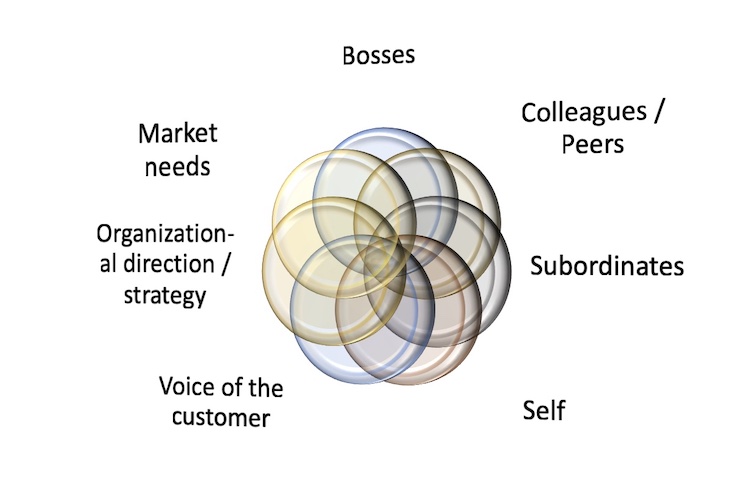 Stakeholders across this broad divide need to be engaged to ensure their voices are heard and their input is taken into account. This requires a multi-pronged and layered approach. Singular perspectives can highjack a TNA. As such, a cross-functional, broader pool of potential stakeholders and a deeper dive are required. This means not simply developing a heat map by aggregating multiple approaches but diagnosing deeply and getting to the heart of the matter.
Complicating this process further are personal ambitions, political camps, perspective clashes, and vested interests. Then comes the delivery vehicle choices, the time to be spent on each subject, the implementation strategies involved, the accountability of the process, success criteria for the initiatives, culturally sensitive choices, etc. This all needs to be aligned with organizational objectives, budgetary constraints (if any), business/stakeholder buy-in, resource allocations, etc. It is a substantial undertaking if done right.
Keep in mind that not all gaps/challenges can be solved via training. It could be a will problem and not a skill problem. It could be a process-oriented issue and not an attitude issue. It could be a workload challenge that may not be solved via training, and so on.
But what comes first and plays a pivotal part in its success is the diagnosis itself. Without an effective deep-dive diagnosis, everything else undertaken based on incorrect data would be useless.