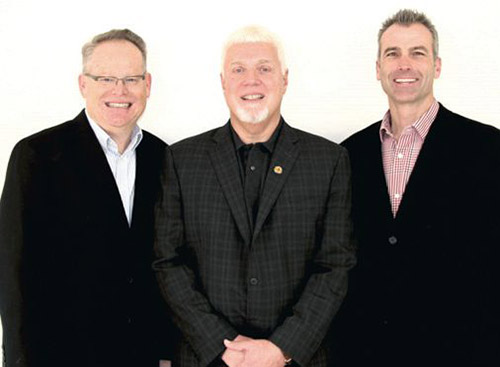 Health-care staffing company CHG Healthcare Services had a year of doubling down and focusing on becoming even stronger at what it does best. In addition to ongoing efforts such as keeping its leadership pipeline strong and cultivating an engaged workforce, the company looked for ways to become a Leaner organization. Following Lean Management principles, the company further empowered its sales team, generating impressive revenues. CHG also showed its ability to accommodate the needs of its learners by creating greater computer-based repositories of materials and video screening parties that guided the transition to a new technology platform.
KAIZEN TO THE CORE
"2013 was a banner year for training at CHG, and picking one accomplishment to be proudest of is a difficult task," says Kevin Ricklefs, senior vice president of Administration. "We focused on bringing everything back to our core values, all of which helped us get better at continuous improvement. For us, continuous improvement doesn't just apply to processes and systems, but it's at the core of improving ourselves and, as a result, our culture."
Ricklefs says it was Lean Management concepts that enabled CHG to take its quest for continuous improvement to the next level. "Over the last few years," he says, "we have assembled a team of Lean professionals whose goal is to help CHG better execute on that core value. In 2013, the Lean team began to hit its stride, and its impact is being felt across CHG."
This Lean push was facilitated through kaizen events. Kaizen is Japanese for "improvement" or "change for the best," and that's just what these workshops did for CHG. "One of our more formal avenues for process improvement is a kaizen event, a workshop that trains process stakeholders to focus on what they need and then review the efficiency of each step in the process; every unnecessary step eventually is removed," says Ricklefs.
CHG's kaizen events have jumped in frequency from a handful a few years ago to upward of 80 in 2013. The company's sales training program is an example of all that can be gained from this approach. Ricklefs credits Lean principles with helping a program that had hit a plateau to regain its momentum.
"This program helps new hires perform and get up to speed within their new roles. However, we recently had run into a downward trend where new sales hires weren't hitting their targets at the same rate they were previously," says Ricklefs. "We held a kaizen with the Lean team and made the program more efficient, leading to an 18 percent improvement in new employees hitting their sales targets. This improvement alone has been the equivalent of an additional $2 million in financial benefit each year."
The program was such a success that CHG is using it as a model for other areas of training in need of a boost. "So much value was taken from these events that an intensive new curriculum was developed based on core Lean principles. In 2013 alone, more than 10 percent of our workforce was certified as 'Lean Champions' after attending the six half-day modules, spreading the philosophy of continuous improvement throughout CHG even further," says Ricklefs. "Just in the last year, our Lean training efforts have eliminated 1,626 process steps; saved 20,168 hours; and increased cost savings by nearly $7.3 million."
TECHNOLOGY TRANSITIONS
One of CHG's largest training endeavors for 2013 was its transition to a new technology platform. Monthly upgrades to its one-year-old customer relationship management (CRM) system and the launch of a new document management system help keep the company in line with continuous improvement but also add another layer of complexity to an already fast-paced environment. With three divisions and 65 percent of CHG's employees now working on these new CRM front-office platforms, one of the company's most challenging issues was the scope and speed of the change, as upgrades needed to happen on the same day, at the same time, for all of its people.
"The challenge increased because system changes were released monthly, creating the need for on-the-fly training development and a medium that would accommodate it," says Ricklefs. "To fill this need, we introduced release videos, online screencasts that deliver the monthly changes right to the user's workstation. These screencasts—part communication, part training—have become the critical component in technology support. Many user issues have been linked back to representatives not having the information shared in these videos. We set out to create a fun and unique way to deliver the screencasts in a setting that would promote discussion around the monthly updates," he notes. "The result was releasing video screening parties: monthly gatherings where teams come together and watch the videos on the big screen (with popcorn we provide). Trainers and technical support team members are available during the screening to answer questions and provide follow-up support once the changes are released."
Technology was a help, in turn, to trainers as they looked for ways to improve accounts receivable training. Ricklefs says the biggest achievement in learning technology took place in CHG's accounts receivable (A/R) division as team members tried to resolve an onboarding dilemma. "The division supported dozens of specialized roles, each requiring similarly specialized training, and the segmented training approach was straining resources; current training methods also were producing sub-par results. Most of this onboarding required one-on-one coaching from peers or thumbing through outdated and disorganized training documents," he explains.
The solution was building a repository of training documents as the curriculum for computer-based self-study onboarding. "Such a program could provide consistent and quality training and free up resources, as well," Ricklefs notes.
Results from this improvement came quickly, especially among employees with six to 12 months of tenure who recently had finished the onboarding process and answered questions on the A/R engagement survey. Positive responses to the question, "I have access to the information I need to do my job effectively," increased by 6 percent, and the question, "I have received the training I need to do my job," increased in positive responses by 9 percent.
The company's A/R also saw a 12 percent increase in positive responses to a question about effective processes that help people be more successful, and a 16 percent positive response increase to the question, "My immediate supervisor ensures I have the skills and training I need to do a quality job."
FOCUS ON NEXT GENERATION
In 2013, CHG's feedback and assessments team separated from its Human Resources team, which helped move the focus of its feedback and assessment processes from more of an administrative function to growth and development of its leadership bench. "The team now focuses specifically on leadership 360-degree feedback and other assessment tools, such as leadership needs assessments and the leadership nine-box," says Ricklefs.
Anna Franson, CHG's feedback and assessment team leader, notes, "This change allows us to focus on and improve the connection between leadership performance, development, and readiness."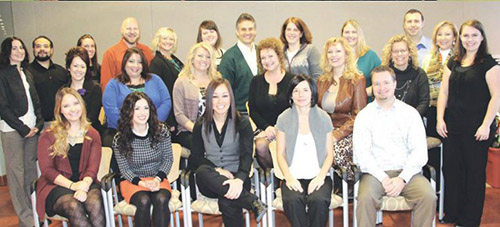 Indeed, the feedback and assessments team is essential to helping CHG focus on identifying and developing up-and- coming leaders. "While we have been doing nine-box assessments since 2011, in 2013, we expanded it to include both leaders and front-line employees," Ricklefs says. "Leaders assess their people bi-annually for both performance and potential. Individuals scoring highly in both areas are identified for promotion in the next six to 12 months. Highpotential employees then complete a talent inventory profile (TIP), which is essentially an introductory 360-degree survey to determine leadership readiness,"
Based on the TIP results, the potential leader either joins CHG's pre-leadership program, LEAP (Leadership Evaluation and Assessment Program) or continues developing within his or her current role for the next few months. "This approach has greatly improved our succession planning within teams and divisions," Ricklefs says, "and also has increased our internal promotion level from 39.5 percent to our current level of 75.9 percent."
STAYING CONNECTED— AND GROWING
The company's forward-looking approach to incorporating social networking technology internally also helps connect young up-and-coming leaders. "Because we are a staffing company, social media/ networking technology is already an integral part of our culture. We lean heavily on LinkedIn, Facebook, and other major platforms to not only staff our own positions, but fill the staffing needs of our clients," Ricklefs says. "Internally, social platforms are prevalent, including our CEO's blog—which he uses as his primary communication tool and as an interactive way to answer our people's questions— or our new Employee Network Groups, which allow people with similar interests to use online forums to connect and gather. Topics range from cancer support to ham radio enthusiasm. Our inherently social culture contributes to and sets the stage for social learning."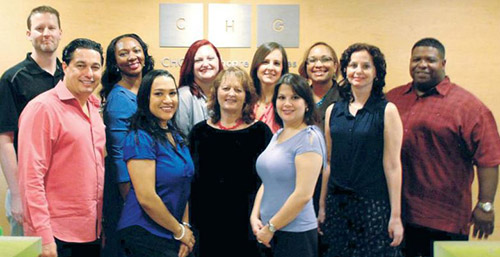 For example, in conjunction with CHG's Rock Your Body weight-loss initiative, the company's wellness team sponsors forums where participants discuss fitness and dieting best practices. The team also has made use of in-class social learning, allowing participants to use their mobile phones to contribute to survey data that then becomes the driver of the conversation. Additionally, the company's IT group maintains an integrated wiki, which serves as the knowledge base for its new sales platform. CHG's online social culture has made integrating these social tools into learning a smooth endeavor.
The combination of CHG's strong leadership curriculum and its ability to keep employees connected will help the company as it continues its improvement push. Says Ricklefs: "In 2014, our challenges include developing new and existing leaders quickly enough to maintain the right employee-to-leader ratios, high leadership retention, and high employee engagement and productivity in the midst of continued growth."