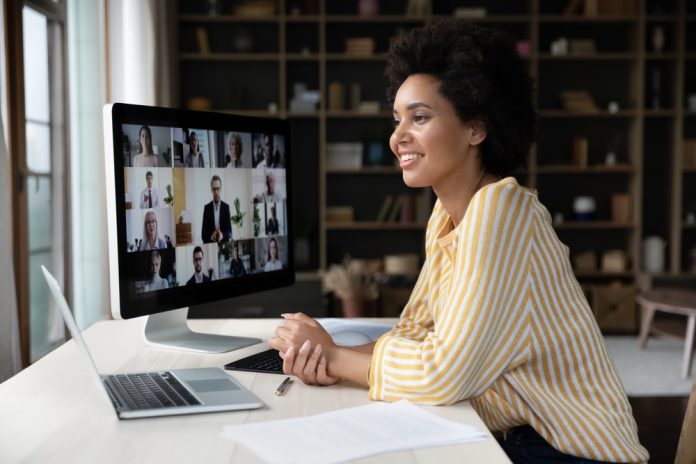 After two years of disruptions created by the pandemic, weary workplaces understandably want to find a consistent state of normalcy. While the desire for a restored status quo may remain, the truth is that "never normal" is likely to be the "new normal" as the future only promises continual change. One of the most significant ongoing changes brought about by the pandemic has been the shift to virtual and hybrid workplaces. One recent study suggests that more than 70 percent of companies plan to adopt a hybrid approach for the long haul.
Organizations benefit from moving to virtual because they can recruit and retain talent from anywhere. Additionally, workers report being more productive and having better mental health because of flexible work options. Yet, a significant challenge remains: Companies must find new ways to adapt and sustain a coherent company culture across a remote workforce. If the "Great Resignation" has signaled anything, it is that an organization's culture needs to promote employee well-being and engagement.
Healthy Cultures Need Healthy People
Before we can address the "how" of cultivating a consistent culture in today's distributed world of work, we first must ask about the "what." What are the essential characteristics organizations need to integrate into their culture to thrive in the future? For any company to succeed in the new era of "never normal," they need healthy and engaged employees who can bring their best thinking to meet the disruptions ahead.
It is no surprise that more than 78 percent of workers report that the pandemic has negatively impacted their mental health. Employees face constant stress both within and beyond the walls of work. This strain results in employees who are, at best, distracted and, at worst, depressed and disengaged. If left unaddressed, poor well-being negatively impacts employees and the company's bottom line.
In the wake of the stress and mental health challenges the pandemic has brought, employees have an increased need and heightened expectations for their work to support their well-being. Unfortunately, recent research suggests that while organizations report increased efforts to support employee well-being, only 24 percent of employees feel these efforts are adequate. There is work ahead for organizations to do better in the quest to create well-being cultures.
Engagement as Both the Means and the Ends
One of the best ways for an organization to help support employee mental health is through creating a culture of engagement. Enhanced employee engagement has long been linked to increased productivity, retention, customer satisfaction, and long-term company success in the marketplace. These dynamics are needed now more than ever in the era of the "never normal" work environment.
Creating a culture of engagement in the world of hybrid and remote work does have unique challenges. Fortunately, there are fundamental building blocks any organization can incorporate regardless of where employees are located. Four keys to building a culture of enhanced engagement and well-being include:
Talk with employees, not about them. The first rule of creating a culture of engagement is engaging with employees. Too often, leaders fall into the trap of talking about employees rather than talking with them. Finding ways to dialogue with employees is needed to make them feel included and valued in the organization, regardless of where they work.
One benefit of our remote world is the new ease with which we can create different synchronous and asynchronous opportunities for employee conversation. Creating multiple ways for employees to share their ideas—from 1:1 meetings to group conversations to surveys—helps them not only feel engaged but also helps the organization continually cultivate new thinking for any challenge they face.
Connect the personal to the professional. Employers should help employees see the connection between what matters to them and the organization's broader mission. If employees can see how the work they are doing is contributing to a greater purpose, they will be more deeply engaged with and committed to the company.
This alignment can begin on day one with onboarding to help employees stay focused on the bigger picture as stressors and disruptions inevitably appear. For example, I once had a colleague who conducted "connection interviews" with new employees. She would ask them about their values, and what matters to them and then discuss how their job could be a catalyst for them to embody their values. Having regular conversations that help employees see how their work not only serves the organization but also serves their greater sense of purpose and meaning is a powerful way to enhance engagement.
Embrace a perpetual beta mindset. To create a sustainable culture, organizations must lean into the reality that our work world likely will always be in flux and evolve their thinking and doing. Many have begun to refer to this as a culture of perpetual beta. While on the surface, it may seem paradoxical to say that embracing enduring change is comforting to those seeking stability, this shift helps engagement and well-being. Once a culture begins to value that there is not one "right" way to do something, it opens the floodgates for collaboration and creativity that positively impacts engagement and well-being. This helps shift the pressure away from employees feeling they must be perfect to being in a continual learning space together.
Celebrate what you want to see more of. Organizations need to acknowledge what is working, not just point out what is broken. There will always be plenty of things that are not working in our ever-uncertain worlds of work. We must be intentional about focusing on and learning from what went well. Employees will live with perpetual stress and disengagement if only their mistakes are pointed out. Creating a culture where it is customary to celebrate what went well is essential to counterbalancing our deficit-focused tendencies, especially in a world where it feels like nothing is working like it once was.
These four steps are merely the beginning of creating a culture of engagement. Leaders should seek opportunities to learn more about strengthening their organization's culture. The field of organizational development is a great place to start—from studying the tools and techniques taught in organization development programs, leaders can learn to communicate with employees and create effective change regardless of what happens in our "never normal" world. Regardless of how organizations do it, they must develop ways to engage with remote and hybrid employees, make employees' voices heard, and create a culture of well-being.