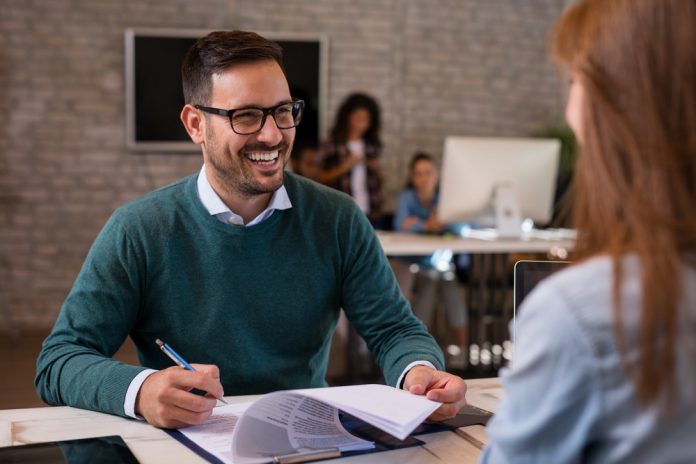 Only 30 percent of employers rate coaching in their organizations as good or excellent, according to Brandon Hall Group's study, How Can We Develop Great Coaches and Mentors. Less than half (46 percent) believe developing workplace coaches is important or critical to their business and talent strategies. 
Complexities
Coaching is a vital way to extend learning and training beyond the classroom and create an environment of continuous and personalized learning. But employers that use internal coaches, as opposed to professional and often-certified external coaches, must ensure they have the training needed to deliver value. Brandon Hall Group research revealed six key attributes for coaching.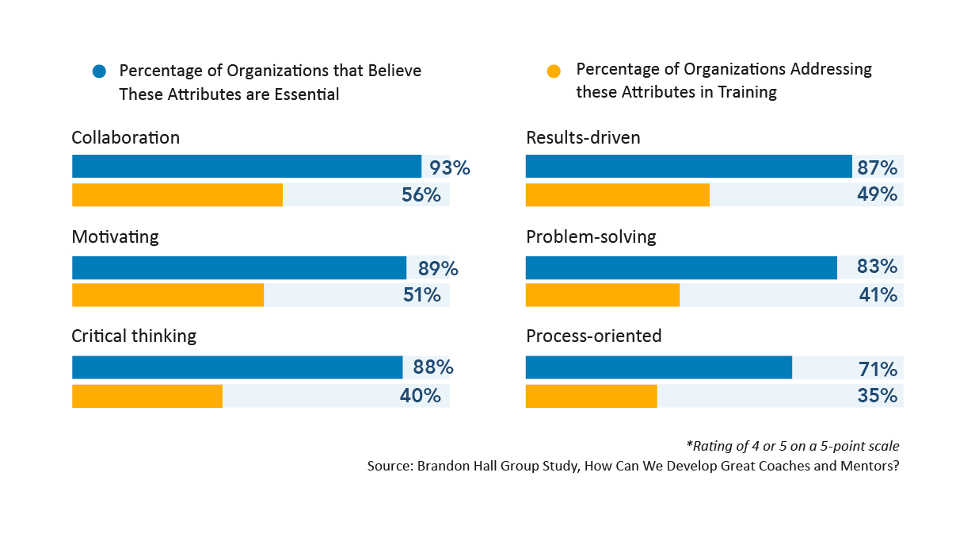 Consequences
Brandon Hall Group asked about the importance of coaching in several of our studies because it relates to learning, performance management, leadership development, engagement and more. Between 50 percent and 75 percent of organizations consistently rate coaching as important or critical. But when it comes to actually developing coaches, organizations struggle. Therefore, the quality of coaching is uneven. 
Critical Questions
How can coaching help us improve learning, performance, engagement and other processes that can produce a positive business impact?
How can we build a culture of continuous learning and coaching?
How can we improve the way we prepare employees to be great coaches?
How can we understand the impact coaching has on employees and the business?
Brandon Hall Group POV
Building a comprehensive in-house coaching program is a complex proposition. Organizations that receive the best results from coaching use:
A formal framework and ecosystem, including a program that trains people at different levels and with different areas of expertise.
Technology to track who is trained or certified in certain areas and which coaches are working with employees in specific departments or business units. 
Case in Point
TD Bank, a Gold Award winner for Best Advance in Coaching and Mentoring in the 2021 Brandon Hall Group HCM Excellence Awards, established a coaching ecosystem for its North American Contact Center. Bank leaders valued coaching but knew that some foundational changes would be needed to build a framework and ecosystem to support coaching on a large scale in the contact center. TD studied potential barriers to coaching excellence and found that:
Coaching frequency and duration required standardization and an increased investment of time.
Time for coaching could be gained by removing non-essential administration from the responsibilities of managers.
Because most people leaders were not training on coaching, there needed to be an increased investment in leadership coaching capability development. This is important to mitigate the attrition and employee engagement risks associated with ineffective coaching.
Based on those principles, TD built a coaching ecosystem of excellence through:
Simplification of existing processes
Development of coaching confidence
Application of a standardized coaching model across the TD North American Contact Center.
You can read more about TD Bank's coaching ecosystem here.
Mutual Benefit
A dynamic coaching ecosystem takes a lot of coordination. But if you think about it as part of your talent strategy rather than as an extra responsibility for a manager or SME, the investment makes sense.
It's also important to realize that people who become coaches are also receiving a career growth experience that can make them more engaged and may help them reach their own career goals. Therefore, coaching should be a significant part of your talent development strategy that can have exponential impact.
Brandon Hall Group research revealed several strategies around supporting internal coaches and coachees. Most organizations surveyed are using these strategies now or are planning to in the next several months:
Supporting Managers in the Coaching Journey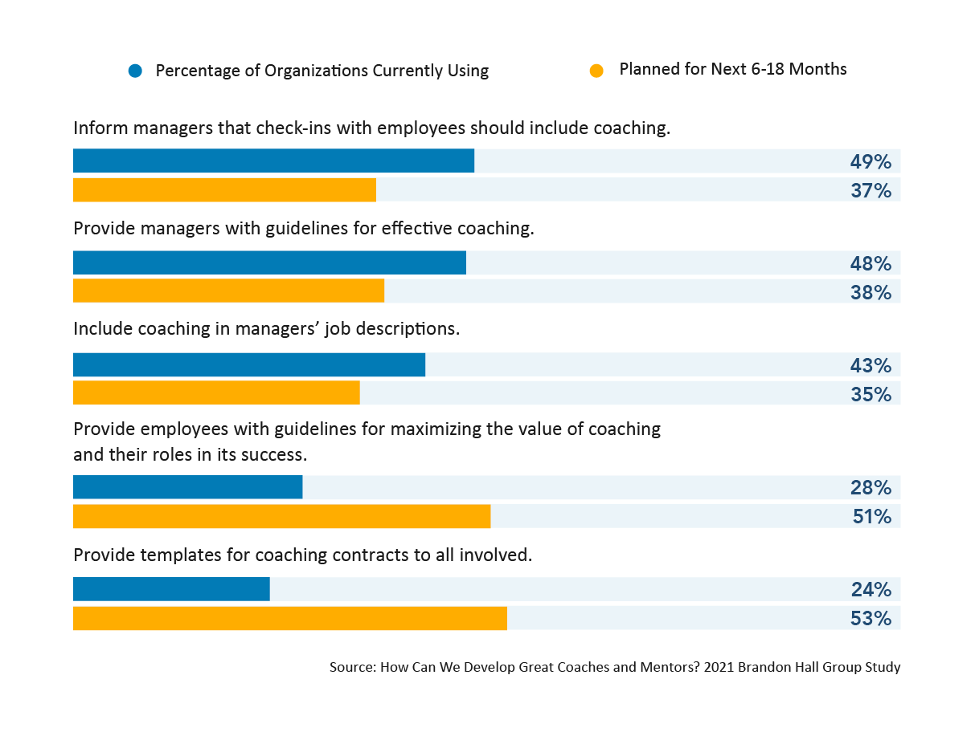 Measurement
Organizations must be willing to invest in preparing coaches. This includes measuring the impact of coaching. Here are some metrics to consider. Most organizations are not using these, but more organizations are embracing measurement and are seeking to leverage additional metrics.
How to Measure Business Impact of Coaching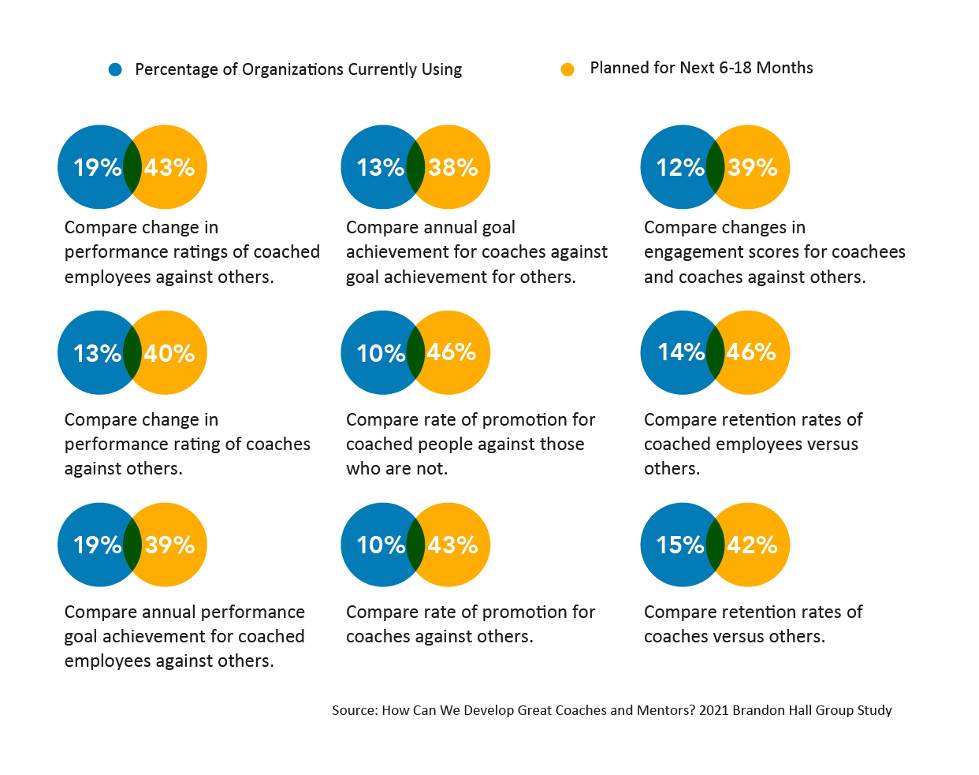 Click here for information on Brandon Hall Group's Professional Certification Program