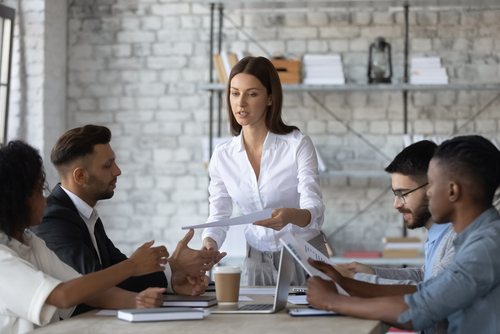 It's the 21st century. Why do you still inflict boring, linear, static PowerPoint (PP) slides on your audiences? Amazon—one of the most efficient and innovative companies in the galaxy—has banned PowerPoints and its clones from all meetings and presentations. Presenters must use a narrative (or conversational) format, which means talking with the audience. Even former Defense Secretary General James Mattis famously said, "PowerPoint makes us stupid."
Why Ditch PPs?
They steal the limelight from the stars of your presentation: primarily the audience, and secondarily you, the presenter.
Displaying words and graphics on a screen while speaking decreases engagement, comprehension, and retention. (Handouts often work in place of PPs. During the discussion, your audience can follow along and make notes.)
The audience may be reluctant to ask questions or provide their own insights because they know you need to get through your slides in the allotted time.
They're more of a crutch than a learning tool.
Bullet Points Don't Inspire, Stories Do
The human brain is hardwired for stories; they shape our brains. Have you ever met a child who didn't want to hear a story? Stories take us into different worlds, preserve cultures, pass family lore from one generation to the next. In essence, stories connect people. Connecting with your audience creates an engaging presentation, and storyboarding sets the stage.
This isn't revolutionary. Storyboarding has been around for some time. It's an essential step in the film, public relations, and marketing industries, where it's critical to get the message across clearly and succinctly. Storyboarding involves creating a draft to plan how a story will evolve. Your presentation IS a story. It has a beginning, a middle, and an end. That's a story.
Planning Your Story
A storyboard allows you to follow the continuity of your message, identify any gaps, and discover if you told too much or too little. With this approach, you'll convey emotion and engage your audience at a human level, tap into their imaginations, and light up their minds—that is not possible with PPs.
Before you start storyboarding, there are some necessary things to identify:
What's your goal? In other words, at the end of your presentation, what do you want your audience to think, do, feel, or consider?
What's the purpose? Is it to convey new information, arrive at a consensus, seek input?
What's the one key piece of information you want your audience to remember? You must distill this into one sentence. (If it's not clear in your mind, how will you make it clear in theirs?) There's a term in the publishing industry, "Don't bury the lede." Don't bury yours. Think big. Think strong. Think in terms of quantifying your key information when it's appropriate.
Weak: How our company can become No. 1 in the industry
Strong: How we can add $250 million to our bottom line next year and become No. 1
Then consider the questions you anticipate your audience will expect answered. Here are a few that may apply:
Who will be impacted by the change?
What are the next steps? Advantages/disadvantages?
When does this take effect?
Where will funding come from?
Why is this being recommended now?
How will we measure success?
Starting the Storyboard
A storyboard is an outline in text and graphics to map out videotaped, Webinar-style, or face-to-face presentations. You can use bullet points, jot down thoughts as they pop into your head, or write out the text in full. It's a personal comfort level. Some people storyboard by jotting thoughts on Post-it Notes and pasting them on a wall for easy rearrangement. Others prefer the two-column approach on paper or the computer. This is somewhat like show and tell from your primary school days, only you focus on the Tell before the Show.
Tell                                                      Show
-Welcome everyone
-B&A participatory activity                 -Hand out B&A copies
-Introduce myself
With either approach, one thing to remember is that you don't have to start at the beginning. Start where you feel most comfortable. The rest will flow. Once you've drafted a beginning, middle, and end, start filling in the Show column with relevant ideas for PPs, videos, handouts, or whatever is appropriate. Show something only if it enhances the conversation, otherwise it detracts from it.
Positive Results
Unlike with a one-sided PP lecture, a narrative, conversational approach makes your presentation engaging, collaborative, and inclusive. Your audience will feel your presentation was developed solely with them in mind. You'll be gratified by the outcome, and so will they.
Sheryl Lindsell-Roberts has been a training professional for the last 25 years. She's the author of 25 books, including "New Rules for Today's Workplace," "Speaking Your Way to Success," "Business Writing for Dummies," and several other "Dummies" books. She's been quoted in The New York Times and other publications and has appeared on radio and television networks throughout the United States.