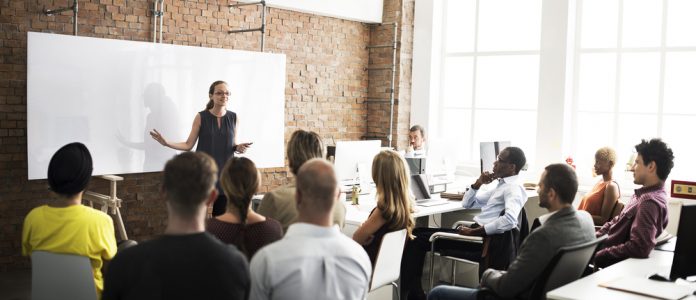 At Guardian, we've seen the value of investing in employee training firsthand.
There are many ways in which data and artificial intelligence (AI) are upending the insurance industry. And as the CEO of a company with a long legacy, I'll be the first to tell you: It's a good thing.
After all, innovation is the only way we'll survive. That's why we are constantly searching for ways to disrupt ourselves. We know we have to develop and harness new technology, proactively and all across our company, if we want to succeed.
CEOs are responsible for articulating and cultivating a vision, but the only way to execute it is to empower employees with a broad set of technical skills. These days it's no longer enough for an IT Department to stay current while other teams remain in the analog age. In the insurance industry, for example, actuaries must understand data science to properly calculate policy rates; marketers need to be fluent in digital advertising practices; and HR managers who deploy the right algorithms can streamline the search process and find the best candidates. Risk managers must understand and monitor for biases in data. Investment experts use data to anticipate market and investment performance.
How Guardian Invested in Employee Training
Several years ago my leadership team and I realized our industry was changing too fast for our existing training infrastructure to keep up. We decided we could invest in recruiting and training a new crop of graduates on the latest technology and workplace skills while our existing workforce also acquired new skills, and then do this again and again. Or we could stay ahead of these challenges by creating our own education infrastructure within our walls.
We had an impressive IT system and plenty of in-house knowledge. But we knew we couldn't implement a training program on the scale we were envisioning without outside help. Andrew McMahon led an effort to partner with General Assembly, a leader in workforce development that specializes in digital skill building, to co-create a series of courses customized for Guardian employees. General Assembly works with more than 500 global organizations and international governments that are pursuing new approaches to education, including upskilling and reskilling.
At the outset, we interviewed leaders and team members throughout the company to figure out which skills were most needed. In partnership with General Assembly, we also administered skills assessments in various areas, from analytics to digital marketing. We were able to create a proficiency heatmap to identify shortages and surpluses of critical digital skills.
An Effective Training Partnership
Then, harnessing this information, Guardian and General Assembly worked together to customize a series of courses to address the unique skills gaps we had identified. These courses enable employees to learn a host of advanced digital skills through online, in-person, and blended classes such as Data Analytics for Leaders and Modern Digital Marketer. Each of these courses is designed to be completed on a flexible schedule by people working full-time jobs. Some courses take place in just a single day, whereas some meet every week for eight months. And to ensure that the skills built in class are applied, many of these courses culminate in a capstone project that enables employees to test their skills against a business challenge faced by the company.
Guardian employees pay nothing to learn. The company funds the entire initiative—and benefits immensely from the skills and innovations that emerge from it. As one leader of the program has said, "If you've got the will, Guardian will help you get the skill."
Results
As of the writing of this article, hundreds of our colleagues around the enterprise have participated in at least one of our General Assembly programs.
Yun Wang (Ryan) is an actuary who is learning to code in the Python computer language during intensive three-hour classes two times per week. There are two segments, each held over the course of 10 weeks. With lots of hands-on experience, he boasts that he's already creating computer programs to assist his daily work as an actuary in predictive analytics.
Of course, it is important to build into any skilling program (or, indeed, any program at all) a mechanism for measuring impact. We wanted to make sure that these courses were actually making a difference for our employees. So we created a confidence survey, which we administer at the beginning and end of every course to measure an employee's confidence in using the skill in question. We selected confidence as our metric for measurement intentionally. If our employees don't feel confident in using the new skills they've learned, chances are they won't integrate those skills into their daily routine.
Both our initial data gathering and our ongoing confidence surveys serve a similar purpose. Integrating data-gathering check-ins—first to identify which skills are most needed and later to verify that these skills are being learned and applied—is one effective way to design a learning program from the ground up.
Excerpt from "Hire Purpose" by Deanna Mulligan. Copyright (c) 2020. Used by arrangement with the Publisher. All rights reserved.