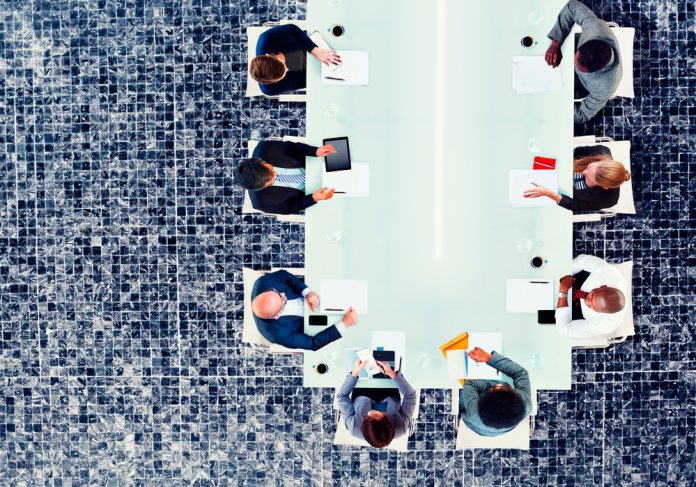 In a world deeply changed by the Coronavirus, boards are preparing for fully renewed governance: new topics, new practices, and new concerns. Governance quality has been a leading driver of performance during the crisis. In fact, a 20 percent performance boost has been linked to governance within the S&P 500. And a key component of successful governance is diversity. Or is it?
A Complicated Relationship
Diversity drives governance performance only when it's well mastered. When it's not, it creates potentially perilous complications in both communications and alignment. Thus, a diverse board may well be underperforming. Think of the United Nations, a paragon of diversity, but certainly not a shining model of alignment or governance performance.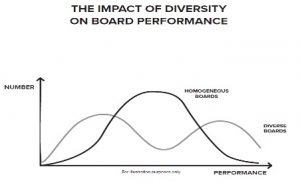 Source: High Performance Boards, Wiley, 2020.
So diversity is not all positive. It creates tensions and difficulties, often based on different perspectives and what often appears to be true incompatibilities. This tension can be valuable, but only when it's resolved and fuels solutions.
Diversity's Undeniable Benefits
Great boards need what diversity of gender, race, age, and personality bring: creativity and innovation, the ability to overcome blind spots, and a wealth of perspectives. Indeed, studies show that diverse boards are statistically more likely to:
Identify criteria for measuring strategy and monitoring its implementation
Better select large investments or acquisitions opportunities
Develop and monitor a code of conduct for the board, including conflict-of-interest guidelines
Implement new board recommendations for accountability, such as formal limits on authority, orientation programs, and succession planning
Ensure more effective communication with stakeholders
Promote nonfinancial performance measures for safety, customer satisfaction, employee satisfaction, innovation, and corporate social responsibility
Exhibit more civilized behavior
When Is Diversity Critical?
So when is diversity critical? When the need for creativity and innovation is high and stakeholder interests are complex. When these two factors combine, there's real danger to not pushing diversity on the board. This is illustrated in this diagram: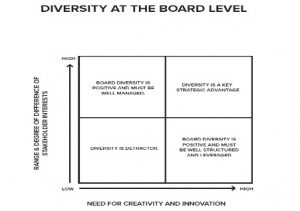 Source: High Performance Boards, Wiley, 2020.
As you gain diversity, you may well lose in alignment and communication. In this case, what should a board do?
Understand members' strengths. Diversity is an opportunity for board members to understand the strengths that reside in individual directors' competencies and how these can transfer, multiply, and inform new areas of the organization's activities and competitiveness.
For example, many companies that expanded into central and eastern Europe during the 1990s later built on this experience (and their newly acquired skill sets) by formulating an expansion strategy for the Asia-Pacific region in the 2000s. In doing so, they drew on their executives' knowledge and expertise gained in emerging markets and internalized it as a powerful differentiating factor.
View diversity as a journey. Pursuing diversity is a journey and a learning process. As on all journeys, companies and organizations that are overseen by inspired, visionary boards will not hesitate to take risks, adopt contrarian approaches, and push the envelope. They will challenge and redefine existing narratives of diversity by creating new role models, nurturing diverse talent through mentoring programs, and pursuing alternative paths to excellence in diversity.
Show, don't feel. Board members must be able to show—rather than just feel—their new outlook on diversity, whether it relates to gender, culture, or other attributes. Their knowledge must translate into a skill set, and the behavior this drives should become automatic and take the form of a habit. From there, board members and executives should measure their progress and growth toward excellence.
Go beyond checking boxes. They say a little knowledge is a dangerous thing, and the same is true of diversity. Many boards have succumbed to the temptation of approaching diversity in a mechanical way: by checking boxes or filling stated (as well as unstated) quotas.
True, going through the motions like this may be better than doing nothing. But as copious research has shown, diversity can only be a powerful predictor of a company's performance when it is understood and managed well.
Rethink the chair's role. The chair has an important role to play—and the task of integrating diverse board members into a high-performing team is no exception. The board chair leads the way in embracing inclusiveness and diversity. They are conscious of the need to do more than respond to demographic trends in the outside world.
A board chair committed to growing diversity in the organization will encourage others to understand who they are, recognize the "spectacles" or filters that color perceptions, and seek common ground in all situations. Board members will learn to switch their cultural gear in order to improve interaction. And as they invest time and patience into building trust across a diverse board, they will take differences in decision-making into account.
True board diversity requires strong work on board dynamics, solid engagement from the directors, and trailblazing leadership from the chair. The journey can be uneven and rocky, but when diversity is well mastered, high performance follows.