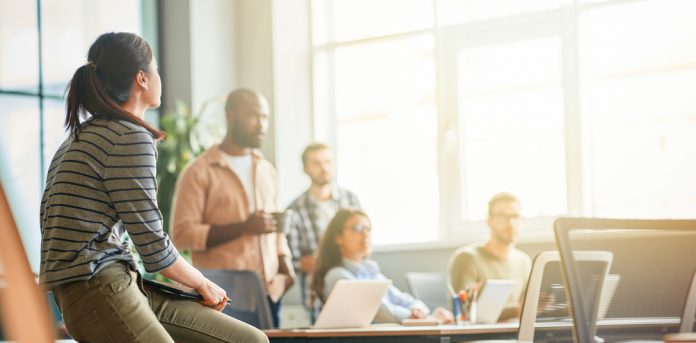 Denny's, a brand rooted in the vision of "loving to feed people," owes its foundation to the tireless efforts of individuals who started as cooks, servers, hosts, and managers. Many discovered a profound connection to a career in food service, shaping their journey within the restaurant industry. Now, over seven decades later, Denny's thrives on the strength of these pivotal moments.
The spirit of transformation continued to define Denny's, as the company embraced the responsibility and privilege of nurturing its employees' personal and professional growth. Denny's created impactful people-centric initiatives to advance that vision to help teams lean in, learn more, and move forward. This includes the company's newest people initiative: GAIN.
GAIN, a transformational initiative, unlocks the potential of all Denny's employees through education, training, and encouragement, culminating in heightened confidence, opportunities, experiences, and success. By investing in its workforce and making education more attainable, Denny's is helping to provide individuals with greater competence, understanding, and insight, allowing them to grow and flourish in their careers.
Four Pillars of Gain
GED (General Educational Development)
GAIN facilitates the pursuit of GED qualifications, education, and motivation for Denny's employees to prepare for and complete the GED test.
College Credit for Prior Learning
Denny's partners with colleges and universities to align internal training and development programs with courses for academic credit.
Life Skills
GAIN implements a whole-employee approach to development, promoting essential life skills that impact diverse communities within and beyond Denny's restaurants. Team members may be able to earn certificates for completion. Skills include, but are not limited to, Personal Finance, Tech 101, Conflict Management, and Communications. 
Career Pathways
Denny's builds relationships with high schools to position the company as an employer of choice within neighboring communities. This initiative offers early professional exposure to upcoming talents and bolsters Denny's talent pipeline.
Impact of Gain
GAIN's influence transcends beyond restaurant walls. It aims to ignite growth and new opportunities deep within communities and families, shaping the trajectory of future generations. Education's transformative power and sense of accomplishment should be accessible to all. With over 1,600 restaurants worldwide, Denny's is uniquely positioned to extend GAIN's positive footprint.
The GAIN program extends Denny's ongoing commitment to team growth, formalizing and broadening its impact by empowering more team members, including those who began their journey as part-time restaurant staff, to rise within the company. Through GAIN, those individuals evolve into leaders of multi-million-dollar restaurant and franchise opportunities. The operational expertise of rising professionals will be instrumental in propelling Denny's toward a promising future. 
Career Advancement
Learning and development are foundational to the culture at Denny's. GAIN helps team members discover their own career paths and reach the next level of their professional journeys. The program showcases key skills for people to learn and apply, contributing to their personal growth and preparing them for additional roles within the brand. It also helps position Denny's as a top career choice due to the company's reputation for unprecedented career development. 
Engagement and Retention
In a competitive labor market with a challenging hiring culture, it is important to think differently about what attracts and retains great people. GAIN helps the Denny's brand recruit, engage, and retain top talent in a high-turnover landscape, which results in long-term employee tenure and a stronger pipeline of workers ready for leadership and advancement.
Uplifting Families and Communities
According to the Institute of Family Studies, parental education is regularly identified as the single strongest predictor of a child's academic success in school. Denny's empowers employees through education and career development opportunities that help secure better futures. Programs like GAIN create a ripple effect across underserved families and communities, bolstering people from diverse backgrounds and promoting generational change.
Financial Impact
Investing in education translates to cost savings and increased profits for Denny's. When team members are engaged and satisfied, the guest experience improves, and profits rise. When employees are confident and feel supported on their professional journey, they want to stay, leading to increased retention rates and cost savings for the business.
Education is one of the main forces creating opportunity gaps across the U.S. Denny's believes that by providing access to high-quality training and education, the company can play a part in leveling the playing field, opening doors, and unlocking possibilities for current and future generations.
Through the GAIN initiative, Denny's will continue to invest in the company's employees and communities. By harnessing the talents and passions of current and future restaurant industry workers, the business seeks to help professionals accomplish their goals and find success in any endeavor.