The e-learning market will exceed $200 billion by 2024, according to a new research report by the market research and strategy consulting firm Global Market Insights, Inc.
A major factor contributing to the high growth of the e-learning market is the rising shift toward flexible education solutions in the corporate and academic sectors. These solutions allow students and employees operating in a range of verticals such as health care, BFSI (banking, financial services, and insurance), information, and telecommunications to have access to quality training while dispersed over a large geographical area. The rapid scale of globalization has sparked the need for language and sensitivity learning. Multinational corporations are moving their employee base to foreign locations, leading to the increase in demand for these services.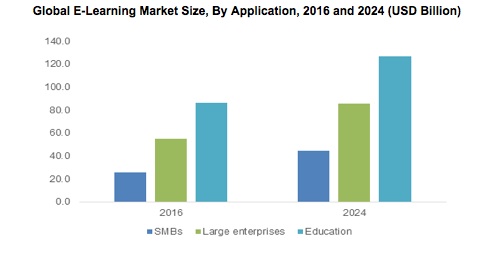 E-learning apps can be operated from a range of devices and are not restricted to only a single system. Additionally, these solutions are highly customized to cater to the varying learning capabilities of the user. The high penetration of the Internet on a global scale has increased the availability of authoring and design tools, making it easier and inexpensive to develop the apps. This is a major factor promoting the growth of the e-learning market. The Adobe Presenter 11, for instance, is an e-learning development tool that enables developers to turn PowerPoint presentations into materials that can be visually presentable and accessed by the organization's online learner community.
The large enterprise segment of the e-learning market is anticipated to grow as these companies have substantial financial resources to enter into partnerships with online course providers to train their employee base on a range of parameters such as technical, management, and language skills. For instance, in August 2017, Infosys entered into a partnership with Udacity for the provision of nanodegrees and training to its employees.
The rising trend of "bring your own device" (BYOD) among corporations is spurring the growth of the e-learning market as it allows users to access training on their devices without time restrictions. Online e-learning is projected to experience high growth as the online platform collects data on a real-time basis and is readily available at low subscription costs. This also reduces the need for commuting to other locations.
Emerging E-Learning Markets
The Latin America e-learning market is anticipated to experience growth in the next few years, with rising demand in countries including Brazil, Mexico, and Argentina. This is mainly attributed to governments' emphasis on providing technical education and English courses via e-learning. Distance learning is gaining traction in the Brazilian market as it permits students in the region to take courses from renowned institutions. For instance, MIT offers distance learning courses to the Brazilian student base with provision of online course material and video content.
Players operating in the global e-learning market include Edmodo, Skillsoft, Saba Software, NetDimensions, Oracle, Udacity Inc, Coursera, and Aptara. The industry is characterized by a large number of tie-ups and mergers and acquisitions for the development of software applications. For instance, Skillsoft acquired MindLeaders to expand its target customer base and sustain growth in the e-learning market.
Source: https://www.gminsights.com/industry-analysis/elearning-market-size