The e-learning market is set to grow from its current market value of more than $190 billion to more than $300 billion by 2025 as reported in the latest study by Global Market Insights, Inc.
The rise in the demand for cost-effective training and learning techniques in corporate and academic sectors will drive the e-learning market growth over the coming years. The increasing volume of course content makes it difficult for these sectors to manage and store such a large amount of data in their libraries or stores. The electronic medium of content delivery allows these sectors to store and manage their course or business information in online Websites or application platforms. The rising adoption of cloud-based platforms in the e-learning market is providing these sectors flexibility in the content storage, accessibility, and processing. Some major advantages of the cloud learning platform include remote access, security, data backup, and cost-effectiveness. Moreover, the technology allows easy content delivery and access rather than depending on books and course materials.
Mobile learning technology is witnessing fast adoption in the e-learning market with the increased use of smartphones. Several application-based knowledge platforms are being developed that allow smartphone users to gain insights into any topic in real time. Some educational institutes and universities develop their own mobile-based applications that allow learners to log in to the student portal and get access to the missed lectures. Major mobile applications being used in corporate sectors include Udemy, Skill Pill, DesignJot, and BoostHQ. 
E-Learning Market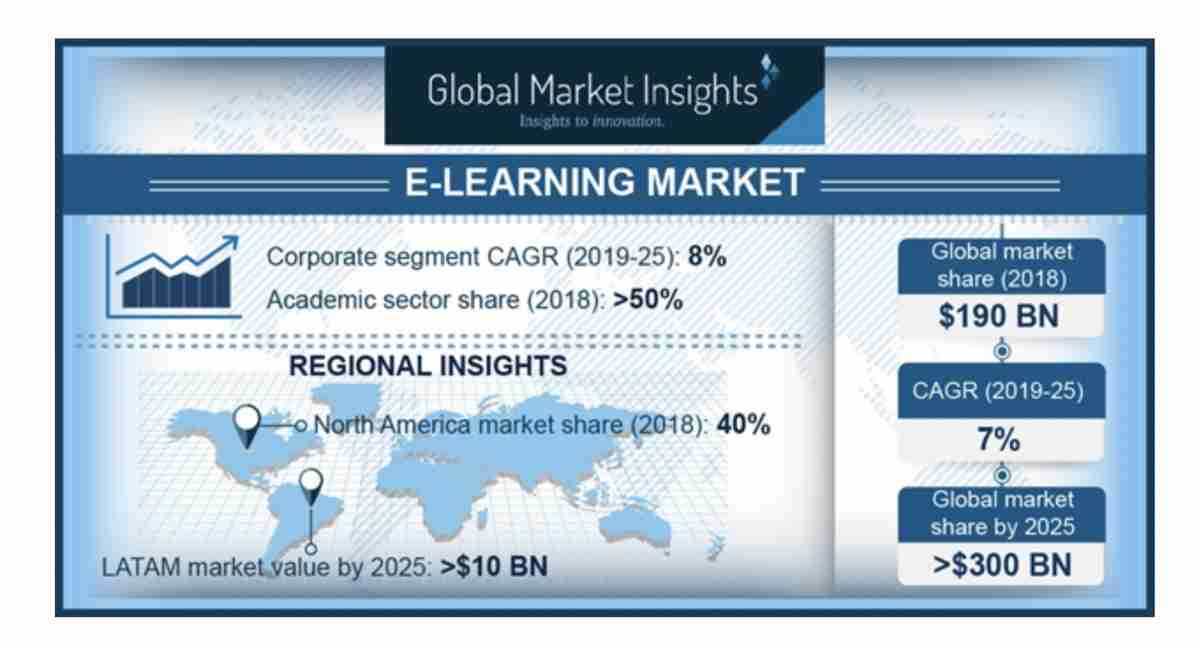 Growing applications of technology in academic institutes is a major factor propelling the e-learning market. In 2018, the academic sector is accounted for more than 50 percent of the global industry share. With the increasing awareness about education and the adoption of modern solutions in several schools, universities, and colleges, the literacy rate is growing rapidly. Education centers are providing a digitized platform for learning and interaction that offer deep and clear insights into academic courses, subjects, and topics. It allows teachers and guest lecturers to showcase the practical implications of the topic with the help of videos, pictures, and other interactive media. Moreover, the increased number of distance learning centers will drive the adoption of electronic education techniques, boosting the market growth.
The North America e-learning market accounted for approximately 40 percent of the industry share and is growing rapidly due to the fast technological adoption by several organizations to provide effective training to employees. The corporate sectors are engaged in enhancing their employee training programs that result in high employee productivity. The large organizations are incorporating software-based technologies to monitor and analyze the daily or weekly performance of their staff. 
However, small to medium-sized companies are finding it difficult to incorporate these high-cost solutions in their enterprises. Such factors have encouraged service providers to offer learning management system (LMS) hosted services to these organizations. This is allowing companies to either host these solutions in their organizations' servers or use Software as a Service (SaaS) hosting. Moreover, content developers in the region are offering training modules with a high degree of customization, engagement levels, and content quality, driving competition in the e-learning market.
U.S. E-Learning Market, by Application, 2018 and 2025 (U.S.$ Million)

Key companies operating in the e-learning market include Aptara, Inc.; Adobe Systems, Inc.; Cornerstone; Citrix Education; Meridian Knowledge Solutions; Microsoft Corporation; SAP SE; NetDimensions; Oracle Corporation; Cisco Systems, Inc.; Learning Pool; Apollo Education Group; CERTPOINT Systems, Inc.; and Allen Interactions, Inc., among others. 
Source: https://www.gminsights.com/industry-analysis/elearning-market-size