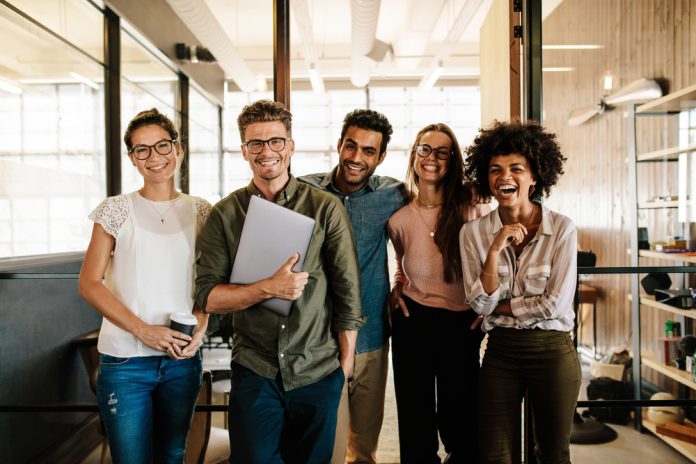 Never in modern history has the economy been shaken to its core so quickly. In the wake of COVID-19, tens of thousands of workers are reconsidering their priorities, changing jobs, and, in many cases, changing careers. Add in the ability to work virtually anywhere, and data that shows remote working can be highly beneficial for some corporate roles. You have a perfect storm for changing the face and character of the modern workplace.
Increasingly, employees want to work in an environment where they can grow, be challenged, and feel accepted and valued. Pay is no longer the top draw. Millennials and Generation Zero are the most diverse population segments in our history. Of the 87 million Millennials in this country, only 56 percent are white. For comparison, 72 percent of the 76 million Baby Boomers are white. Moreover, a 2020 study by Glassdoor found that 76 percent of employees and job seekers consider a diverse and inclusive workforce a critical factor in considering job offers.
Diversity and inclusion extend far beyond race, ethnicity, or gender. There are other nuances in the workforce, including those who face cognitive challenges; have different thought processing skills; come from different backgrounds that manifest themselves in their behavior, mannerisms, or social skills; or come from different geographical locations with different beliefs and social roles or ideologies.
It's human nature to make assumptions about people based on our initial interactions with them. While this can serve us well in society, it also can cause us to miss opportunities in the workplace to hire employees who will take our business to the next level. Diversity and inclusion are essential to creating a more dynamic and responsive organization, one that reflects the diversity of our customers and clients.
This is easier said than done, of course. Adding diversity, inclusion, and equity to your mission statement or the opening lines of your strategic plan won't change your culture or broaden your workforce. Neither will a stream of e-mails touting your dedication to these principles. Creating diversity and inclusivity in the workplace is granular. It takes time, dedication, resources, and leadership to change the face of an organization.
Aligning Goals
Start with your company's goals. Assess where you are now as a business and figure out where you want to go. This is individualized work. There's no manual for this; no copy and paste from another organization. A good starting point is doing a self-assessment survey on diversity, inclusion, and equity to identify gaps in your organization's recruitment, Human Resources, and management practices. This will help you focus on identifying gaps rather than spending too much time fixing something that isn't broken.
Leading the Way
Leadership is essential. In addition, to support at the executive team level, you need to initiate deliberate, informed change at all levels. Many companies hire a director of Diversity and Inclusion to head up this type of organizational change. As part of the executive or leadership team, they can hold the business and its operations accountable for meeting specific goals. According to Indeed.com, jobs focused on diversity and inclusion have increased 35 percent in the last two years.
Importance of Training
Training is another critical ingredient. Executives and line managers are highly influential in how company-wide initiatives are executed and successful. These managers need to buy into this body of work and understand their own roles in meeting company goals and objectives. They also will help reinforce employee-level training, providing leadership and guidance in building diversity and inclusion in teams, units, and divisions, and providing course corrections when insensitivity creeps in.
Change Takes Time
This is a delicate process since humans, by nature, are biased. Our beliefs, backgrounds, social circles, and intuition tend to influence our behavior, especially on the subconscious level. Often, we don't even recognize we are reacting in a non-inclusive or equitable way. Additional training may be needed to address individual and organizational bias. Before it can be overcome, it needs to become part of the collective consciousness without fear of judgment or retribution. If your company doesn't have expertise in training, seek out trainers who can tackle this on behalf of your organization and customize it to your unique culture.
Addressing Resistance
Unfortunately, not everyone will jump on board. Some people are resistant to change, while others will adjust over a period as new ideas are introduced and new policies and practices adopted. Keeping doors open to conversation and dialogue is essential for your ultimate success. Management must be willing to walk the walk and talk the talk. One effective strategy is to find those most resistant to change who serve as informal thought leaders in the company. Find out why they are apprehensive and see if you can lower the resistance level through dialogue. Suppose you can move even some of these people into the middle of the organizational mindset. In that case, you will see organic and natural change, as they no longer work against your efforts to become more inclusive and diverse. At worst, they may decide your workplace isn't for them and move on.
Wrapping Up
As you work toward becoming more inclusive, diverse, and equitable, remember that it takes time, consistency, and resourcing. Commit the resources needed to conduct regular professional and personal training, including division or company-wide meetings to discuss the importance and benefits of embracing the tremendous potential of a more diverse, inclusive workforce. You also need to keep the channels of communication open. Change is complex, and people will have honest questions and concerns. Be ready to address them with candor, honesty, and authenticity. Remember, we are all in this together as we create a more productive, inclusive, and effective work environment where everyone is welcome to share their talents, improve their skills, feel valued, and have the opportunity to be successful, personally and professionally.