People have an abundance of choices about where, how, and when they want to work, creating a challenge for companies seeking to attract and retain desired talent.
There are many factors at play. The most significant is the demographic shift of the workforce. Millennials now make up the largest generational group. Five generations may be represented within one company, each bringing their own perspectives and expectations. Organizational structures also are changing, and the typical reporting hierarchy is transforming into a flatter, more interconnected network.
Today, multi-year tenures within a single company are exceptional. It's more common to frequently change jobs and careers, though the definition of a job or career is changing. Tenures and the type of work attracting general societal interest have changed. Also, technology is transforming the nature of work, drastically altering present realities and future possibilities. Some jobs have been automated out of existence and others modified beyond recognition.
The Employee Experience
Within this new paradigm, how do companies create a compelling experience that meets the needs and expectations of all generations in the workforce? The employee experience must be fostered and sustained though the entire employee lifecycle, from the moment someone first interacts with your company until he or she leaves. But what is the employee experience? Denise Lee Yohn says in Forbes, "Since [customer experience] is the sum of all interactions a customer has with a company, then [employee experience] is the sum of everything an employee experiences throughout his or her connection to the organization—every employee interaction, from the first contact as a potential recruit to the last interaction after the end of employment."
Just as important as what employee experience is, is what it is not:
New and improved HR
Perks and parties
Employer or employment branding
Treating employees as customers
Employee engagement
Most human capital management technology was designed to support the HR professional, not the employee. The technology employees use to navigate their workplace experience can be challenging. Companies must focus less on self-service and more on self-sufficiency. To get there, it is important to understand what the employee journey looks like to the employees themselves.
Candidate Experience
Unfortunately, organizations struggle across the entire employee lifecycle. For instance, fewer than half of companies say their candidate experience is either effective or very effective. Most companies still rely almost solely on traditional candidate outreach methods, even though they recognize the importance of newer technologies such as chatbots and video interviewing.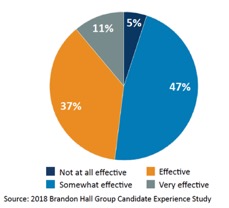 Onboarding
We do see things getting better in the onboarding process, where most companies use both informal and experiential learning elements—even more so than formal instructor-led training (ILT). Companies also do a good job of providing elements and opportunities in onboarding that make for a good experience.
Learning and Development
Organizations continue to try to create learning experiences that are learner focused and personalized. Companies that can do this achieve better results than those that do not. In our research, we identified companies that say their learning efforts had a positive impact on the following outcomes:
Time to productivity/effectiveness
Voluntary turnover/employee retention rates
Employee engagement
Individual performance
Manager/supervisor observations
Team effectiveness
We consider these organizations as delivering "high-impact learning" compared to those whose learning efforts are not having as much of a positive effect. There are distinct differences in how these companies approach learning.
To ensure the experience is truly contextual for learners, high-impact companies provide recommendations to learners based on things such as their role, career path, and the learning they previously interacted with. They also give learners a link between the learning they are offered and their personal objectives. Too often, companies believe the "what's in it for me" factor for learning is implicit, but employees who understand the connection between themselves, learning, and the business are more engaged and poised for success.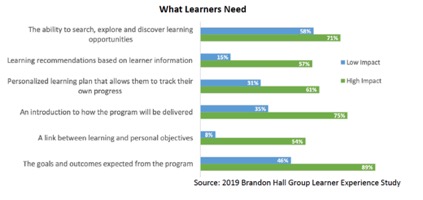 These organizations also understand that learners need time and opportunities to reflect, reinforce, and apply the knowledge they gain and make efforts to ensure these things are happening.
Organizations must take advantage of technology to make a better learning experience. And while technology is not the experience itself, being able to provide things such as videos, microlearning, and mobile delivery on a frequent basis is a hallmark of high-impact organizations.
Career Development
Few companies continuously assess employees' personal and professional goals in the context of career opportunities. This not only does a disservice to employees, but not showing them opportunities to move and grow also hurts the organization by creating blind spots and weakening bench strength.
Best-in-Class Experiences
One way to think about what goes into the best experiences is to consider the "Three I's."
The experience should be individualized, immediate, and intelligent. These principles can help companies think through how they create their employee experiences. A key part of this is to apply design thinking to HR tools and processes. This technique helps meld the emotional and factual elements to identify areas for improvement.
To deliver these critical moments that matter requires a cohesive, integrated technology-enabled solution. Companies need to consider what the digital elements of their employee experience foundation are and how they are layered and constructed. It's not just about being able to deliver the interactions but creating the digital foundation for the successful workforce of tomorrow.
To download a free copy of Brandon Hall Group's research summary, "Rethinking the Learning & Development Budget," click here.
David Wentworth is principal learning analyst at Brandon Hall Group. The firm's vision is to inspire a better workplace experience, and its mission is to empower excellence in organizations around the world through its research and tools. Brandon Hall Group has five human capital management (HCM) practices and produces the Brandon Hall Group HCM Excellence Awards and the annual HCM Excellence Conference, in West Palm Beach, FL, February 4-6, 2020.