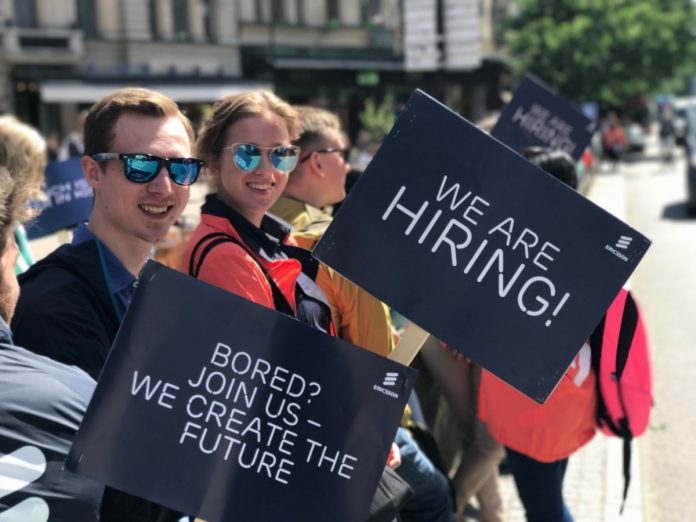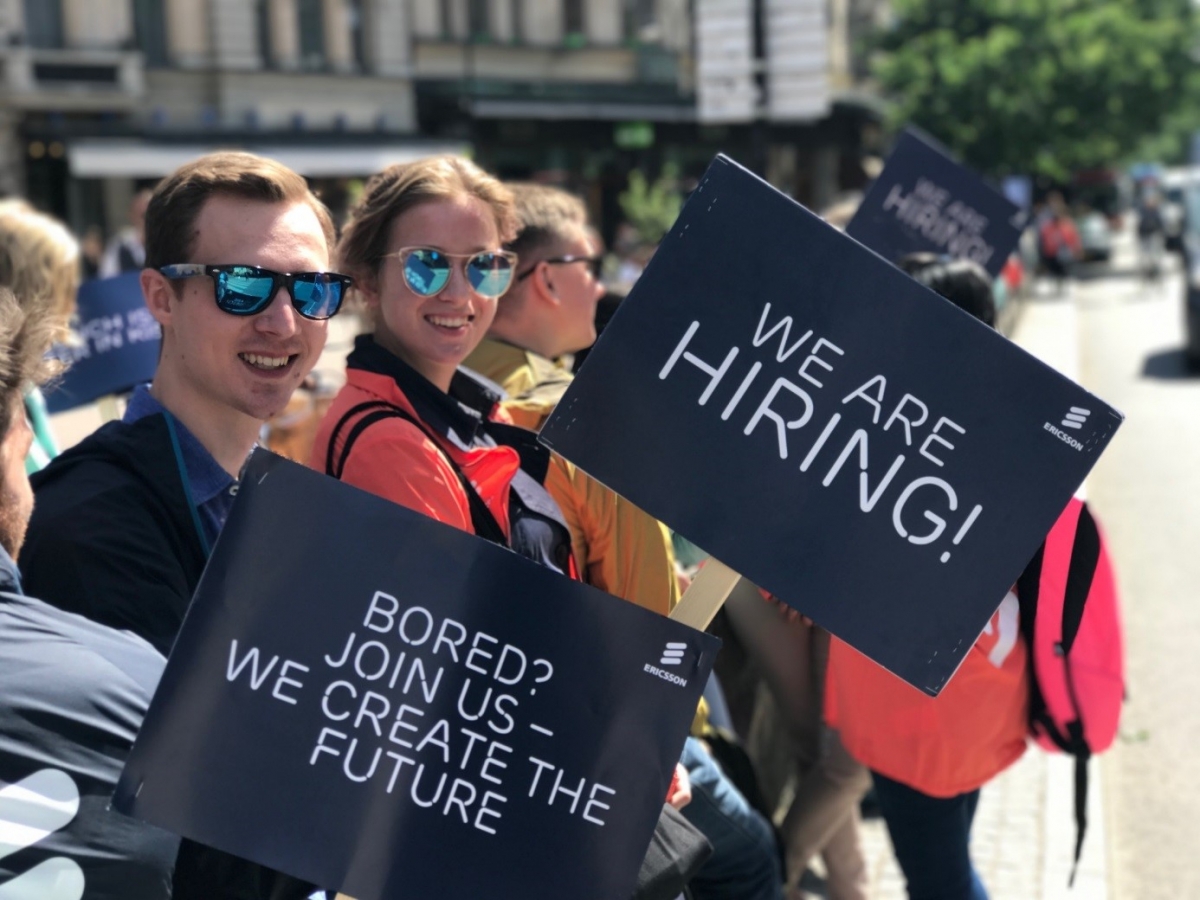 Ericsson Sweden's summer interns storm the streets of Stockholm to demonstrate Ericsson's company culture in an unconventional effort to attract local talent.
Every year, we welcome hundreds of summer interns into Ericsson's offices in Kista (Stockholm), Sweden. In addition to serving as a tremendous asset to a company's day-to-day operations, interns are also a veritable treasure trove of potential future candidates and a vehicle to reach an even larger audience. Investing time and effort into our interns to support the future of STEM (science, technology, engineering, and mathematics) around the globe is a priority we hold dear, and so we strive to make our interns feel welcome, engaged, and a part of the Ericsson community to foster their interest in the field and our company.
Seeking top talent is a priority and careful process at any organization, and Ericsson is no exception. With a number of open R&D engineering positions on our docket and an urgent need to fill them, we decided to leverage one of our most valuable secret weapons: our interns. Last month, we welcomed 90 of our stellar summer interns to a full day event called "Swarm Stockholm," designed to engage with the interns, employ a guerrilla marketing approach to spreading the word about our open positions, and encourage them to build relationships with one another along the way.
For hiring managers looking to similarly leverage their interns to enhance a fun, creative, and effective recruiting opportunity, here's how we did it:
We approached the day as both a recruitment event and an intern team exercise. In that light, we designed several challenges throughout the day centered around a theme of enabling the full value of connectivity.
When our interns joined our project group early the morning of the event, we handed out information and branded T-shirts, before dividing the group into teams. Each team was assigned a location determined by its visibility among target audiences and high-volume foot traffic.
Equipped with catchy signs, handouts with a list of open positions, details on each, and information on how to apply, our interns greeted commuters as they hopped off two main metro stations and chatted with those interested. An unexpected bonus was that many of our Ericsson colleagues passed through these stations in the morning, creating internal buzz about the event and stirring company pride.
After morning rush hour, the intern teams circulated throughout the city to central hubs, continuing the swarm and attempting to complete as many challenges as possible before the end of the day. Challenges included:
Human chain: Embracing the idea of fostering connection through touch, we challenged our interns to build the longest connected human chain twice during the day.
Scavenger hunt: Radio base stations are at the heart of what we do at Ericsson and are integral to making connection through ICT possible. Our interns were tasked with taking a photo with as many as possible throughout the day with at least five teammates.
Hero challenge: We encouraged our interns to connect with the outside world by performing good deeds as a team throughout the day to earn extra points.
Team video: To foster discussion and get to know our intern teams better, we asked each team to make a video that introduces their group to the world and themselves. In addition to basic team information, we had fun hearing about each team's imaginative superpower and seeing them connecting with one another in each video.
New friends: To supplement the team video, we encouraged the intern teams to meet at least six new individuals and document it via photo or video. To keep things interesting, we required that they engage with each of the following: student, holder of a Master's of Science degree, holder of an MBA, developer, tourist, banker, and police officer.
Ericsson logo: Our logo is iconic and creates an instant connection to our brand. We challenged the teams to show us their creative interpretations of our logo using only tools available to them outside or in their bags. We had a blast checking out what these talented teams came up with.
The Results
By the time the event ended, the students had engaged with more than 500 people, with a ripple effect to thousands more who were exposed to our Stockholm swarm and the positions we have open. Each of the 90 interns who made this possible left the day with 89 new friends and colleagues and energized for their upcoming months as part of our company culture.
Anders Österlund currently serves as Ericsson's Sweden Employer Brand Lead at the leader in delivering information and communication technology services' global headquarters in Stockholm. Österlund's role encompasses marketing, sales, and change management. He constantly strives to improve the current situation, regardless of whether it requires marketing strategies, growing business, or streamlining processes. His drive to question things and entrepreneurial spirit have resulted in a rich career within IT, business development, and organizational change and marketing.
Get our newsletter and digital magazine
Stay current on learning and development trends, best practices, research, new products and technologies, case studies and much more.