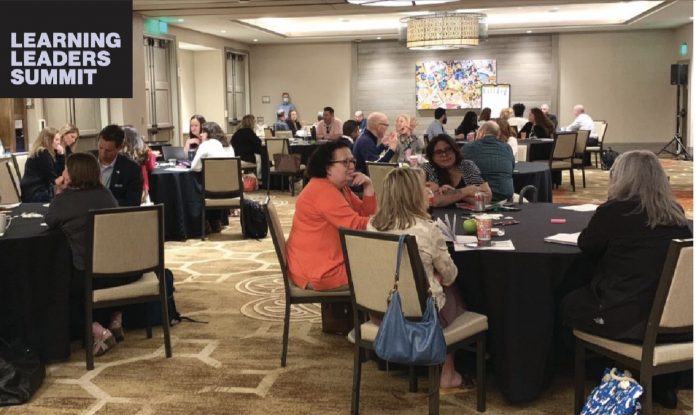 The conversations at the Learning Leaders Summit, held the day before the Training 2022 Conference & Expo in Orlando, FL, tackled a variety of subjects, ranging from emerging technologies and diversity to culture building and curiosity. But one common theme threaded through the day: staying high touch in a high-tech world.
LEVERAGING TECH
David Metcalf, director of Mixed Emerging Technology Integration Lab, UCF Institute for Simulation & Training, kicked off the summit with a look at emerging technologies—and how organizations can adapt and stack current technologies. He noted things such as Coronavirus training cards with a mobile app and Boeing's Virtual Co-Pilot program, which aims to get pilots-in-training to 90 percent mastery before they sit with a qualified pilot.
One example he mentioned in particular gave attendees food for thought: the use of non-fungible tokens (NFTs) in licensing and certification.
Building on the certification aspect, EY Global Chief Learning Officer Brenda Sugrue detailed how her firm created an eBadging program to help build skills in emerging technologies and then incorporated badges into a Tech MBA program developed in partnership with Hult International Business School.
KPMG introduced a competitive element to increase learning impact and engagement with its KPMG Globerunner app/game. Some 10,000 people from 40 countries participated in the KPMG Globerunner Tournament, according to Christian Gossan, global lead for Digital Experiences & Data, KPMG Impact. Key features, Gossan said, were scalable tech, small battles, value, belief, meaning, community, purpose over points, reason to click, and achievement.
Scott Patterson, learning architect, VR & Emerging Technologies, PwC, pointed to some statistics that surprised attendees: It is four times faster to train in virtual reality (VR) than in the classroom. VR training participants have 3.75 times higher emotional connection to the content. And they are 275 percent more confident they can apply what they learned after training. As Patterson noted, "VR creates the smallest amount of space we have ever had in the history of learning between the learner and the learning content."
THE BUSINESS OF TRAINING
Chuck Sigmund, senior program manager at Microsoft, likewise made attendees sit up and take notice when he stated that "research suggests up to 85 percent of the work we do as L&D professionals is useless or what is called 'scrap learning' because learners did not apply the knowledge, so it cannot have any impact on organizational goals or needs."
For every training program, he stressed, "we need to ask, 'Why are we doing this? Is it valuable? What is the return to the organization?' We determine the cost before we build any training program and find the break-even point."
Pitney Bowes' business primarily was focused on making mailing machines, with training focused on the hardware and contact centers. But then Pitney Bowes started a commerce platform, buying startups, and none of its old L&D structure worked with this new unit, according to Steve Cannella, director of Sales Operations, Pitney Bowes. So L&D created a new methodology where they developed a 15-minute module template that leadership filled out on industry patterns, client pain points, etc. The modules can be adapted to match the business need.
CULTURE AND VALUES
Before becoming director of Curriculum Development at the Mayo Clinic, Janet Zarecor was at NYU Hospital during the pandemic. She quickly learned how important it is to maintain the "human connection." Every day during the pandemic, the team did a "dad joke" during their daily huddles. Zarecor is big fan of sending out funny memes or gifs to bolster engagement. "Laugh at yourself. Embrace empathy," she recommended. "Don't ask people how they are—ask how they are today. Figure out how you can lighten their workload and help them get resources and tools. And make sure they feel appreciated."
Dr. Thelá Thatch, manager, Diversity, Equity, and Inclusion at Paychex, stressed how organizational values can bring people together and shared Paychex's values: "Be Ethnical. Be Collaborative. Be Responsible. Be Considerate. Be Curious. Be Helpful. Be Paychex." Dr. Thatch also explained how Paychex's values are integrated with its efforts around inclusion and noted that Paychex develops "Culture Champions" and utilizes storytelling and videos to drive home the messaging.
Curiosity is often an organizational value, but it also has become a competitive advantage, believes Mastercard Vice President, Learning & Development Caroline Niven. "But sometimes," she said, "we forget to feed it." During the pandemic, cybersecurity was a big issue. Mastercard's CEO asked, "What more can we do? Who wants to help? How do we mobilize?"
The response, Niven said, was "Project Possible," where Mastercard gave small businesses digital storefronts and mobile fraud protection, helped people get their pensions digitally, and matched 400 volunteers with needed skills.