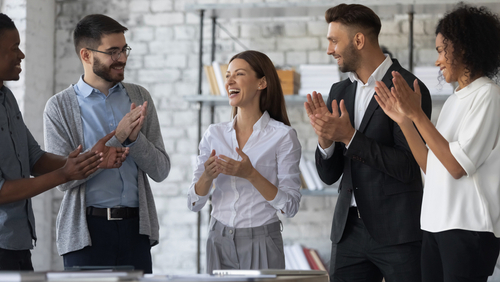 As a leader, your success likely hinges on your employees. A large part of your job is motivating them to work hard and reach their goals. One of the best ways to do this is by recognizing their accomplishments.
Showing your appreciation can be done in a number of ways. Celebrating the success of your employees is an important part of your workplace morale. There are several fun ways to recognize your employees and show them you value their hard work.
From group activities to workplace improvements, you can recognize their efforts while bringing your employees together. Individualized prizes and displays of accomplishment add a personal touch to showing your appreciation. You can even call out employee successes virtually for fun motivation. Either way, recognizing employee accomplishments should be fun and motivating.
Exciting Incentive Programs
Monetary incentive-based recognition programs are one of the best ways to drive performance. They foster friendly competition among employees. Plus, with incentive contests that are based on teams, you have the ability to create relationships and boost morale.
Competition is one of the most motivating ways for employees to improve at their jobs. During an incentive program, it's important to communicate ongoing progress. Visually seeing how others are performing can be fun and motivate your employees to work harder. It also can help them see how they are individually moving toward their goal.
A team-based incentive program is another great way to improve your workplace culture. This will encourage teamwork and enhance collaboration. You can even create teams across departments to help develop relationships throughout the entire workplace. Learning to work together with various personalities improves work ethic and teamwork skills.
Awarding the winning team or individuals with a monetary bonus shows you value their contribution. The amount doesn't have to be enormous to show your appreciation. Many employees feel that anything above and beyond their normal pay is enough to recognize their hard work. Announce their winning in a fun way to celebrate their success.
Personalized Prizes
One of the best ways to recognize employees is in ways that are individual to them. Asking them for feedback on how they would like to be appreciated shows you care about their preferences. It also will motivate them to improve by knowing they are working toward a reward they truly want.
When an employee reaches a milestone or accomplishment, offer him or her a list of choices for recognition. You could include everything from physical prizes to gift cards. Even non-tangible items such as an extra day off or early release from work can be a fun way to celebrate a great accomplishment.
Group Activities
Sometimes you have a team that really stands out. Maybe your entire organization has reached a significant goal. Group activities are a great way to recognize the accomplishments of a number of employees.
Coordinating a happy hour or dinner out can be a fun way to celebrate the results of combined efforts. Planning an activity such as an escape room or zip-lining tour can recognize hard work. These activities have the added benefits of boosting morale. Plus, your teams will develop great personal relationships.
Valuable Perks
Often, workplace perks are a great way to recognize your employee's efforts. These intangible rewards often are valued by hard workers. They show you are aware of how much energy they have put into their jobs.
Surprise employees with an early release or random Friday off. Give them an extended lunch break when they have been working extra hard. Add extra vacation days to their bank to reward them for reaching a goal. Such recognition gives employees an often much-needed break.
Workplace Improvements
Working toward a common goal can bring teams and departments together. Why not recognize their accomplishment of that goal by bringing some fun into the workplace? Making improvements to the office is a great way to celebrate collective success.
You can ask your employees for feedback on how they would like to be rewarded. Maybe they would enjoy a ping-pong or foosball table for break times. Perhaps they would like to be recognized for their hard work with a new coffee maker for the break room. You'll be showing you appreciate your dedication while boosting the culture and productivity of your workplace.
Virtual Recognition
With remote employees and multiple offices, it can be impossible to recognize employees in person. Luckily, technology provides the ability to still celebrate their accomplishments. Virtual recognition can be just as meaningful and appreciated.
A group videoconference can be a great way to announce an employee has reached his or her goal. Being applauded by their peers can be much appreciated and very motivating. You even can mail a reward or e-mail an e-gift card before or after the announcement.
There are fun apps and programs that make recognizing employees engaging and easy. Some allow you to reward points for a job well done. Features such as allowing co-workers to call out and congratulate each other boost morale and foster great relationships.
Proud Displays
Visually show off your employees' accomplishments in your office. This is a constant reminder of their success and your pride in them. It's also a great way to recognize their hard work.
A photo of them closing a huge deal or signing a big client can make great wall art. A prototype of a successful design project can display your pride in your employees' hard work. These can bring a personal touch to the office while recognizing your employees and their efforts.
Feed Their Motivation
Celebrate your employees by feeding their motivation, literally. Show them you appreciate their efforts by providing food for the office. Nothing is better after completing a big goal than a great meal.
You can provide anything from a breakfast buffet to a catered meal to recognize your employees reaching a goal. Show them you appreciate their efforts by ordering lunch for the office. A hosted dinner can be used to both celebrate group accomplishments and as a time to recognize individual employees.
Be Creative With Recognition
All companies are different. You can't take a one-size-fits-all approach to recognizing employees. Different employees might appreciate different ways to be recognized.
Get creative with how you show your appreciation. Keep your eye out for new and innovative ways to motivate your employees. By celebrating their accomplishments together, you only strengthen relationships. Those relationships will help make you and your employees successful in the long term.
Gabe Nelson is a content specialist of more than seven years of experience, currently working with Bonus.ly, a leading employee engagement software solution. He has a passion and keen understanding when it comes to employee management inside and out. He has written hundreds of content pieces in numerous niches.