Taking place in New Orleans right before Training magazine's TechLearn 2023 Conference last month, GamiCon's much-anticipated Throwdown competition wrapped up with an exhibition of talent, innovation, and the pinnacle of game-based learning solutions in the adult learning sphere. A hearty congratulations to the winners, but before we dive into the specifics of their groundbreaking designs, let's set the scene on what the Throwdown event entailed.
The Gamified and Game-Based Learning Project Throwdown was not just a competition; it was a celebration of innovation and a testament to the power of gamified learning. After an exhaustive application process, selected finalists got the unparalleled opportunity to present their projects to a panel of esteemed judges and an excited audience. The range was vast: from immersive simulations and interactive games to novel mobile apps and online learning experiences.
Engaging with their peers, finalists received invaluable feedback, learning from diverse project designs while also showcasing their unique approaches to gamified learning. And at the end of this thrilling contest, the champions received crystal awards from Training magazine in recognition of their unparalleled contribution to the gamification landscape.
And The Winners Are…
PEOPLE'S CHOICE AWARDS:
Excellence in Web-Based/eLearning Gamification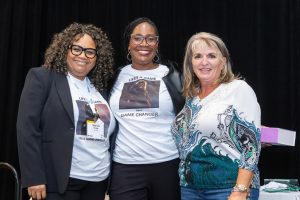 Strategic Communication for Customer Success by Mallori Steele (Microsoft) and Corshonedia Hodge(Growductive Consulting)
This game-based program is tailored for customer-facing roles, focusing on vital strategies such as expectation management and empathetic approach.
Excellence in No-Tech/Low-Tech Gamification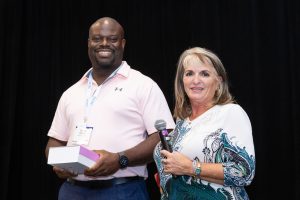 Taiyazukuri, A Tire Manufacturing Card Game by Artrell Williams, CPTM (Sumitomo Rubber, USA)
A game emphasizing Sumitomo Rubber USA's values and mission, it aligns employees with the value stream and helps in reducing manufacturing waste costs.
GAMICON THROWDOWN AWARDS:
Best Use of Surprise and Delight in Gamification AND Best Use of Gamification Theory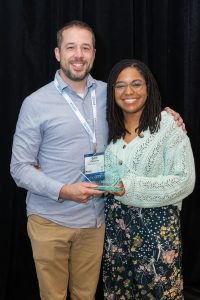 Walk with Me: An Empathy Skill Building Game by Jordan Dyson (Buckingham Wealth Partners) and Scott Provence(Scott Provence Consulting)
This solution melds artificial intelligence-driven dialogue gaming with live training to nurture organizational and relational effectiveness.
Best Use of Narrative in Gamification (TIE)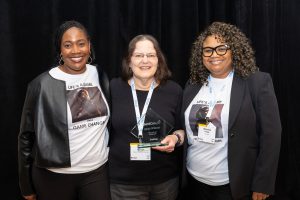 Don't Crash the Economy by Susan Skinner, JD, MBA (Western Governors University)
Inviting students into the high-stakes world of macroeconomic decisions, it showcased the pulse-quickening excitement possible in online learning.
AND
Strategic Communication for Customer Success by Mallori Steele and Corshonedia Hodge (see People's Choice Awards above)
Overall Outstanding Usage of Gamification for Learning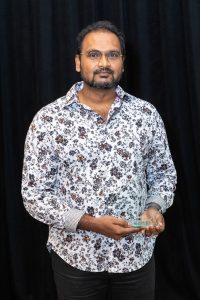 Stories: Foster Cohesive and Motivated Teams by Pradeep U.N. (The Stories and Wisdom Company)
With its potent blend of storytelling and game mechanics, this game transformed team dynamics in a federal government office.
More on the Contestants
Alvaro Garcia Barba (World Bank) introduced "Game on!" This visionary initiative was designed to reinvent learning environments, championing the many benefits of gamification.
Andy Pan and Shan K (gamification.sg) collaborated with the Singapore Tourism Board. Their onboarding program, leveraging the Ripple gamification mobile app, aimed at creating a captivating experience for new employees.
Larysa Nadolny (Iowa State University) presented "Townhall," a Zoom app that supercharges virtual meetings with gamification. Grounded in a decade-and-a-half of research, it provides real-time engagement analytics to hosts.
All in all, the GamiCon Throwdown was a resounding success, exhibiting the potential and reach of gamified learning. From the winners to every participant, each project shone a light on the incredible advancements being made in this field. A special shoutout to all attendees, sponsors, and the event team that made this possible. Here's to continued innovation and the exciting future of gamified learning!