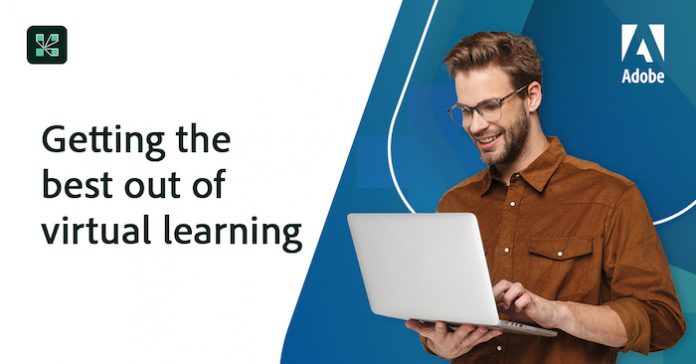 A culture of learning backed by regular and relevant training can be a significant driver of business performance. Training inspires employees to solve problems, equips them with information to adapt and innovate, and helps grow their careers. Strong learning programs also impact employee engagement, which, in turn, impacts retention. LinkedIn's Workforce Learning Report found that 94 percent of employees would stay at a company longer if it invested in their career development.
Learning Beyond the Pandemic
Since online training first reared its head approximately two decades ago, it has been subject to constant growth and widespread acceptance. But classroom learning was still the go-to method for most organizations, and for good reason. It offered a level of personalization, measurement, and control that could not be replicated by online learning at the time. Employees could interact in ways that fostered collaboration, increased learning retention, and employee engagement. But that changed when the pandemic announced itself in 2020 and online training had to replace in-person training.
Making the Move to Online
Even as the world went through massive change, work largely seemed unaffected. In many cases, the same amount of output was being achieved, if not more. This was because companies and their Learning and Development (L&D) managers worked hard to make the move from live learning to virtual learning. But even though videoconferencing apps mostly sufficed for conferencing and enabling day-to-day functions of organizations, they fell woefully short when it came to delivering training sessions to larger groups.
Specialized Technology for Live Virtual Training
Virtual training instructors have to compete with all the distractions the Internet provides. Instructors face additional tasks such as capturing the attention of learners, encouraging interaction, and reinforcing the key points from sessions.
Add the pressure of evolving business situations due to COVID-19 and the fact that training now faces an unsure future, and the need for better delivery options becomes the top priority.
Fundamentals of Powerful Virtual Training
In Josh Bersin's whitepaper, A Framework for Optimizing the Virtual Live Learning Experience, he explores some basic principles that are applicable across most group learning situations. These are worth keeping in mind when building or selecting better learning delivery options.
A common visual experience for learners. Top virtual instructor-led training (VILT) tools enable hosts to ensure a common visual experience by controlling what the learner sees—including the display of video, slides, and chat. This minimizes distraction and ensures focus on the content that is being taught.
Short bursts of content mixed with peer interaction. VILT tools come with a wide array of interaction options instructors can use to promote learner interaction, leading to better ideas and improved retention. These include:
Quizzes and games
Focused chats and Q&A for each topic
Word-based tools such as fill-in-the-answer, word clouds, sticky notes, and task lists
Simplified feedback delivery
Peer group breakouts. VILT tools enable learners to collaborate and learn like they would in an in-person classroom.
Movement. The human brain has evolved to detect and respond to movement. The best VILT tools utilize this and keep the learners engaged by providing ways to ensure motion in the presentation in the form of videos, slides, etc.
Accessibility. Top VILTs provide accessibility that is on par with or better than in-person training. They use closed captioning, color controls, enhanced navigational features, and partnerships with screen readers for the visually impaired.
Consideration for L&D Teams
Other than the basics, L&D teams have their own set of checks to consider when picking the right VILT for their organization, including:
Content consistency. Organizations that sometimes require specific training content to be reused by various presenters look for VILTs that enable content to be stored in shared systems with assigned editing privileges to ensure a consistent experience for all. This allows for branding and consistency in presentations.
Backstage controls. Backstage controls in top VILTs allow presenters to take their sessions beyond the capability of in-person classrooms and toward highly curated stage presentations. L&D managers want to provide their instructors and producers with the ability to improvise and collaborate on the fly.
Integrations. L&D managers want to use highly adaptable VILTs that can be integrated with pre-existing learning tools in the system.
Measurement. L&D managers now know that the right VILT can offer more accurate measurement tools compared to in-person classrooms or videoconferencing tools that double as virtual classrooms.
Security. Managers will opt for VILTs that don't compromise sensitive corporate information. Like corporate security teams, L&D managers also need the confidence that the tools they use are compliant, encrypted, and utilize state-of-the-art security technology.
VILT Offers Measurement Capabilities to Support the Business
Many basic videoconferencing tools provide better ways to measure the success of training compared to in-person classroom training. However, L&D managers prefer advanced VILTs that offer multiple interaction options that shed light on several factors—including the level of interest among learners, learner understanding, learning satisfaction, and learning outcomes. Every additional yardstick for effectiveness the VILT offers allows L&D managers to better judge the ones that work for their specific organization.
Considerations for Evaluating a Live Virtual Learning Program
When trying to choose the right VILT for their organization, managers should consider the following questions:
What do I need first?
What are the problems you need solutions for when it comes to delivering online training for your organization?
Does the solution come with flexible, interactive features?
Does the tool work with your existing authoring tools and Learning management system (LMS) through an API or existing integrations? Enable instructor creativity by giving them tools to facilitate learner interactions.
What are the right questions I need to ask about support and updates?
It is better to ask too many questions than too few. Consider every gap in the solutions provided by the VILTs and understand which ones you can do without.
How does a solution handle security, privacy, and compliance?
If security is a high concern, look for providers with customers in government and regulated industries.
What kind of experience do companies like yours have with the VILT?
Nothing beats a good testimonial. Ask for customer references with companies your size and in your industry with similar challenges.
The Role of Learning in Achieving Businesses Goals
L&D teams are adapting quickly to give employees ideal virtual learning experiences that enable them to work safely and solve new problems. Even though classroom learning will not be replaced, virtual learning will have a strong role in supporting it in the future. Virtual training programs focused on group activity will drive change, alignment, and innovation—which will contribute to business performance in a time when there are few fixed answers.
For a closer look at the ideas and best practices presented above, download the whitepaper by Josh Bersin.