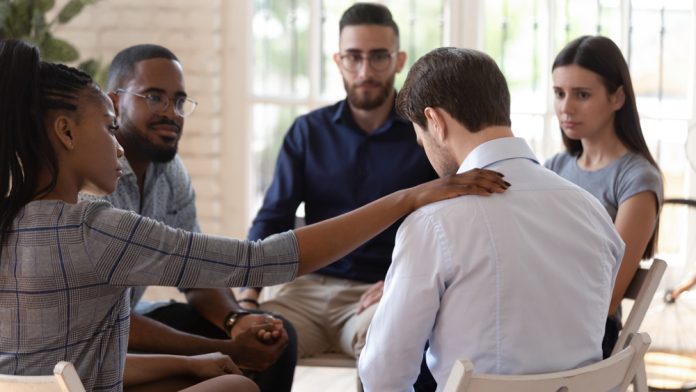 There's nothing worse than watching one of your employees grieve and not knowing how to support them. From the death of a loved one and caring for an aging parent, to divorce and chronic illness, employees struggle with life disruptions that cause grief and affect work every day.
I know firsthand how difficult it is to work while grieving. In 2014, I was in the middle of raising my two sons and had just reached the pinnacle of my career as CEO of a successful wealth management firm when tragedy struck. My oldest son and my father were murdered by a gunman intent on killing Jews.
Returning to work, I suffered from brain fog, sleep deprivation, and trouble focusing for long periods of time. My employees didn't know how to talk to me. I had to train myself how to talk to them and how they could talk to me. The experience revealed how ill-equipped the workplace is at reintegrating a grieving employee.
The cost of mishandled grief.
Without a thoughtful, strategic intervention from leadership, an individual's grief has ripple effects across the organization. According to the Centers for Disease Control, mishandled grief in the workplace costs companies more than $225.8 billion in lost productivity, on-the-job errors and turnover each year. Beyond the staggering numbers, the toll unsupported grief takes on workplace culture is also troubling.
Few leaders intuitively know how to effectively support employees experiencing life disruptions. Whether a leader is empathetic by nature or not, when they're confronted with the uncertainty of how to support an employee in crisis, the stress can cause rash decision-making or judgment errors. Worse, anxious about saying or doing the wrong thing, many leaders say little to nothing at all, chalking it up as a private matter. That's a problem.
When a leader bungles their response, they risk a breakdown of trust, decreased employee engagement and a less cohesive team.
An unsupported employee who feels isolated grows increasingly disillusioned with work, affecting their level of engagement and the performance of the team as a whole. Soon, retention is on the line. According to the National Council for Palliative Care and Dying Matters, more than 56% of employees who feel unsupported at work after a loved one's death will consider leaving their jobs.
For example, here's just one of the stories we've heard from frustrated leaders:
"After my VP's husband died, she wasn't herself at work, so I took her out to lunch. Soon after, she left our company. I didn't know what else I was supposed to do." ~ CEO
How best can you respond to an employee's life disruption in a way that balances your humanity without compromising the cohesiveness and performance of the rest of the team?
How grief affects the brain.
Before you can effectively reintegrate your employee back into the team, it's helpful to understand the cognitive implications of grief. Grief causes temporary neurochemical changes in the brain that affect job performance and overall well-being, ranging from foggy brain and physical illness to presenteeism, which is when an employee is physically present but emotionally disengaged and unable to perform at normal capacity.
Grief isn't something a person simply moves on from with time. Grief symptoms that interfere with daily life can last between 8 and 12 months and may resurface for years to come as difficult anniversaries and holidays approach.
Why an EAP isn't enough.
With one in four employees grieving at any given time, it's inevitable that a leader will need to provide some level of support to an employee suffering from a challenging life disruption.
Following today's standard operating procedures, a leader will usually refer their employee to the company employee assistance plan (EAP) for external support. While an EAP is a great employee resource, it only goes so far. It doesn't help a leader understand what to expect from a grieving employee or provide communication strategies that will help them reintegrate their employee back into the team. They're left wrestling with questions like:
Is now a good time to ask them about that looming project deadline or will that seem insensitive?
One of my most valuable employees came back from bereavement leave, but she's not performing like she used to. Will she ever be back to normal?
I told him to take as much time as he needs, but now I'm wondering when he'll come back. Projects are piling up and my team is overwhelmed. What do I do?
It's time to set leaders up for success.
In general, we see leaders make one of two mistakes. They either don't empathize enough, making data-driven decisions that alienate their employee, leading to presenteeism, absenteeism and turnover. Or, they over-identify with their grieving employee and make short-sighted decisions that put unnecessary stress on themselves and their team, harming productivity and performance.
Fortunately, empathy is a leadership skill that can be cultivated and delivered in a sophisticated way that benefits both the employee and the team.
We created the on-demand Human Recovery Platform™ to help leaders strike the delicate balance of showing empathy in a head-based corporate environment. Grounded in research, proven best practices, and our own experiences with workplace grief, the Human Recovery Platform includes more than 150 head- and heart-based tactics that leaders can choose from to customize a plan around your employee's life disruption. From educating plan builders about the grief process to building awareness around cultural and religious beliefs in an increasingly diverse work environment, the platform offers multi-faceted solutions for a variety of challenging life disruptions.
Life is complicated. Your leadership response doesn't have to be. By normalizing grief in the workplace, forward-thinking leaders will not only earn more trust and respect, they'll also be rewarded with stronger employee engagement and greater financial and cultural well-being across their organizations.