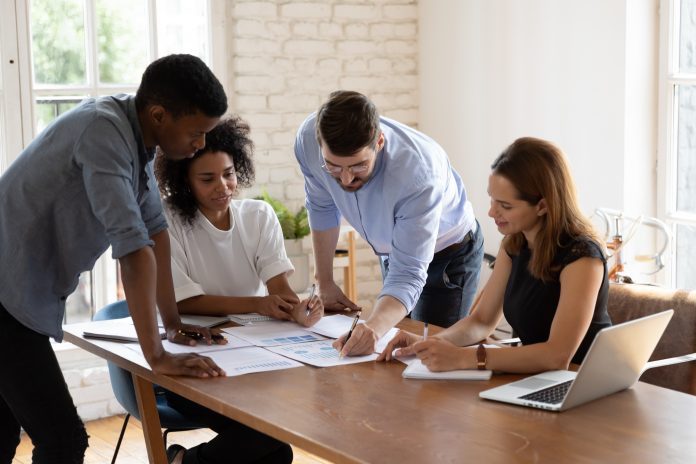 Companies in the last year have embraced a fully or hybrid distributed workforce and, in turn, embraced permanent change for the better. This is not another article on the pros and cons, and costs and benefits of remote work. Instead, it's time to focus on our people and to empower them in this new era.
As businesses leverage global remote workforces like never before, what hasn't changed is the fundamental philosophy that employees have control over their career trajectory and satisfaction—either in-person at the office or from a remote location. Employees understand their own strengths and weaknesses, where and how they need to grow, and where they should focus their career efforts.
When employers utilize what I refer to as the S.O.C. method (Support, Opportunity, and Communicate), it helps employees continue to grow and learn, keeps them engaged, and helps them stay relevant. This last point is particularly important, as the days of 20-plus years with a single employer are long gone. Our talent has a personal desire to stay relevant, change and adapt, challenge and stretch themselves. The onus is on them to take action, and the onus is on employers to provide a space for them to do so. If we don't provide an environment for our people to have control over their careers, they face disenfranchisement, burnout, and general dissatisfaction with the job, which leads to an ongoing cycle of employee turnover and is detrimental to the employer's reputation.
Here's how every employer can apply the S.O.C method to better equip their employees to take control of their career path, job satisfaction, and personal well-being.
Support
Organizations must support their employees' career development and personal well-being. Professionally, empower employees to share solutions, introduce ideas, and ask questions of your management teams. (And there's no such thing as a bad question!) Inherent curiosity and proactive sharing lead to better ideation, new ways of doing things, and, in turn, bolster employee satisfaction that ultimately impacts your bottom line through productivity.
A supportive management team enables employees to learn best by letting them roll up their sleeves and learn on the job—not just telling them how they should do the job. Employees try new things, make calculated mistakes, and seek opportunities to shadow mentors for the mutual benefit of your employees and your organization.
Work is balanced with well-being. Employees in a supportive environment thrive. Workers in a toxic work environment leave. The rise of remote work benefits employees as much as employers. The talent pool is wide open, but so are the opportunities. Supported employees seek to grow with an organization. A toxic environment drives them to work on an exit strategy instead.
Opportunity
Employees recognize their growth potential through training and opportunity. As we all know, there is an abundance of free resources available to employees to supplement organizational support. Employees should take the time to learn and take advantage of them all! Internal resources and learning content platforms ensure the training necessary for business. Encourage employees to seek additional resources through virtual sessions, discussion groups, TED Talks, and much more online. Employees in charge of their careers actively seek these opportunities, but for those who need a jumpstart, the People and Talent team coordinators should make sure they put these resources in front of them.
Beyond the classroom, give employees room to jump on opportunities that get them out of their comfort zone and challenge them. Reward employees who raise their hand; it's a virtuous circle of engagement. Ensure employees know they can talk to management about taking on more responsibility or working on something new, different, and challenging. This brings me to my final point—communications.
Communicate
Provide an "open door" or in the remote world, an "open line." Encourage staff to meet regularly with supervisors and have conversations (even informal ones) on continued growth and focus areas. When employees talk to their managers about new ideas or new opportunities—it's up to their managers to listen, respond with solutions, and provide feedback or advice that comes from a place of genuine interest. Your managers should respond with empathy to solidify a trusted partnership with team members.
S.O.C. Checklist
Employees should take charge of their careers. Are you providing them an environment to do so? Here is a checklist to keep your organization on track:
Empower employees to share new ideas and solutions and ask questions.
Encourage employees to learn on the job, make mistakes, and job shadow.
Make continued learning and training available to your employees, and communicate to ensure employees are aware of these resources.
Track if employees actively seek new growth opportunities.
Conduct ongoing two-way dialogue (not top-down) between employees and management.
You may only be able to check some of the boxes now, but these strategies do not take a lot of work and planning to implement, and they quickly let your employees take control of their careers.