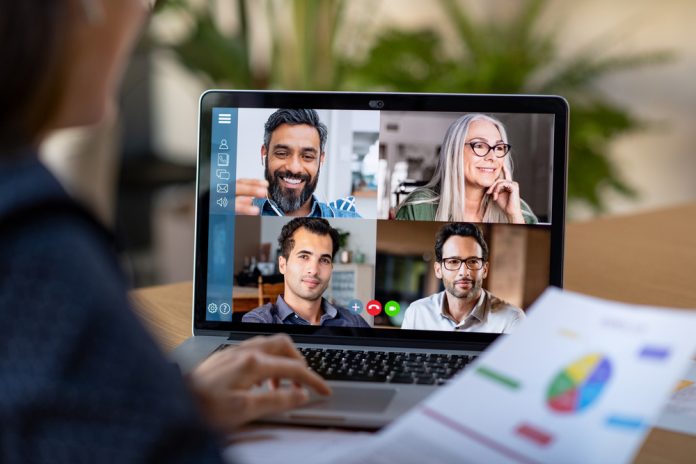 It wasn't long ago that companies offering a hybrid work model were few and far between. Companies that did offer a hybrid work model were able to use this as the main selling point for recruiting candidates. Fast forward to the start of COVID-19 – a remote work set-up wasn't just a fantasy, but a new reality. Without time to prepare, companies were flipped on their head and forced to make drastic shifts in the way employees were managed.
In a Pew Research Center study, during the pandemic, 71 percent of workers were either fully remote or practicing a hybrid work model. With more than 50 percent of those workers asserting that they prefer to keep working flexibly, employers must make strategic decisions on how to best proceed.
Moving forward, around 80 percent of company leaders plan to allow their organizations to remain fully or partially remote as we move into a post-pandemic world. Life was easier when everyone was remote, but now as some go back full time and others choose their days, it is important that leaders think about creating an equitable and consistent experience so that all employees can thrive in this new hybrid world. With a rise in those who are never in an office and who used to enjoy the amenities and social dynamic that being co-located offered, how can companies reimagine those benefits to work in a hybrid world? While the flexibility of remote work is very appealing, many employees wonder if they will be left out or left behind if they choose to stick with the remote option.
Going Remote Isn't Meant To Be a Cost-Cutting Solution
Reducing your office footprint does bring about appealing cost savings, and when you are running a business, cost savings matter. However, rather than banking all the savings, it is worth reinvesting some portion to set things up for success. Employees need benefits and accommodations that complement their new working style – this includes functional, fit-for-purpose equipment (an ergonomic chair, a headset, a second monitor), sizeable desk space, reliable internet, and more. By redirecting a portion of any real estate savings, you can fund a stipend that will help offset some of these costs. Not everyone has the space or the funds to re-create the exact in-office experience, but measures like this can ensure that the workspace is comfortable, physically safe, and productive. 
Make Mental Health a Priority
It should come as no surprise that people's mental health during the pandemic was greatly impacted. In fact, about 40 percent of adults in the United States reported having some sort of anxiety or depressive disorder during the pandemic, up from 10 percent in 2019. Without the social interaction of the office and no clean end to the workday, things can feel more isolating and draining than before. The stats on burnout and wellbeing need to serve as an alarm for executives to prioritize employees' mental wellness.
There are many ways that companies can work with employees to reduce stress, anxiety, and depression. Offer employees a mental health day every month, or once a quarter. It's a simple practice, but having everyone shut off their computers on the same day allows them to focus on activities that make them happy without worrying about falling behind with work. Taking that extra day off will give people the much-needed opportunity to refresh and recharge. Celebrate it, encourage it and ask leadership to share stories of their time off; role modeling the behavior from the top will go a long way. Losing a small amount of productivity is not a concern, the returns you get from a refreshed and reenergized team will more than compensate in future output.
Along with carving out specific time to focus on mental health, it is worth evaluating your benefits offerings and other services to ensure they are effective in a remote work world, and to check they are still relevant. Tax-free commuter benefits may become less important, while new investments in counseling services or hosting speakers to discuss stress and anxiety may be more valuable to a workforce that is experiencing pandemic fatigue. Your internal training and/or benefits teams can find resources online or build programs to help with resiliency, empathy, or managing in a remote world and many EAP and healthcare providers offer online workshops and services at no cost. Providing workers with tools to help them thrive emotionally and mentally, as well as be safe physically and ergonomically will reduce burnout and foster a higher retention rate. Openly promoting these benefits and speaking proactively about the validity of mental health issues will help employees will feel empowered to make their emotional health a priority rather than sweeping it under the rug and struggling through it. 
'Company Culture' and Talent Programs Must be Reimagined
One common concern shared amongst employees who work in a remote environment is that companies have failed to keep any sort of company culture going. A survey conducted by Gartner found that nearly 30 percent of respondents noted having concerns about their place of work maintaining company culture. Just because your employees remain remote doesn't mean that companies should stop in-person meetings or hosting social events or happy hours. Keeping some of the old rituals and practices your company used to implement is important, and many can be adapted to work for a remote audience. If your company used to have Friday half-days, implement that in the work from home world, too. If employees used to go on company excursions or come together to volunteer as a team, there are still opportunities to hold those when it's safe or they can be reimagined for the virtual world, partnering with organizations like www.visit.org. Providing opportunities for employee connections is arguably more important than ever in helping engagement flourish.
Meeting the social needs is one of the harder challenges of the hybrid setup. With some people together in person in an office and others occasionally, or always remote, this is the toughest hurdle to overcome in ensuring an equitable experience. There are some great new options that focus on virtual team building, companies have reimagined their in-person services to work in a remote world and the best place to start is by trying some different things and seeing what works for your company and your team. I would add that there is really no substitute for asking your employees what they want. They can tell you if you ask, and will probably be part of the solution, bringing their own ideas to trial or sharing feedback on practices already in play. Give your teams a voice and ownership in the process of defining what your company will be about in this new era and how you will all adapt your culture and social norms.
Almost every talent program or offering would benefit from a fresh examination, through the lens of remote work. Benefits, how you source, hire, and onboard, management development programs, learning offerings, even career growth – take each piece and use this moment to reimagine it. Many companies have prioritized answering the "what happens to my salary if I move" question but there are multiple additional pieces that go into creating a thriving hybrid or remote workplace and the HR and Executive teams that are pushing hard to figure this out, will likely be ahead in the war for talent. Employees want flexibility, they want to work in a positive culture and they of course want to avoid burnout and live happy lives, doing great work together. While these ideas are not exhaustive and may not work for everyone, they are a good place to start in signaling to your employee base that their engagement is a top priority, no matter where they are working from each day.