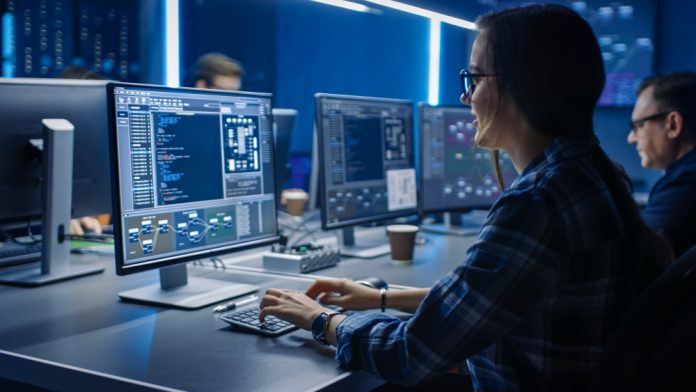 Cybersecurity is not something to ignore if you are running a company, or involved in the management of a company in any way. All too often, people assume that they will never be the victim of a cybercrime, only to be stung by a scam.
In a big business, it only takes one employee to step out of line or make a bad decision. Installing antivirus software and having a policy around cybersecurity is not enough, you need to ensure that employees know the risks and can plan for them.
Cyber threats: Challenges for big companies
There are always likely to be criminals targeting companies. The rewards might be greater than they would be if someone scams an individual. On top of that, there is the potential for scammers to target more than one employee. All it takes is one weakness in the chain, and there is a strong chance that your company could lose vital data or even give out vital company details.
Cloud storage is yet another challenge for big companies. Storing your data on the cloud is becoming the norm, but you need to make sure you have a reliable cloud server to do so. Otherwise, there is a risk of hackers tapping in and stealing your data.
Education, policy, and protection are all vital considerations when it comes to cybersecurity.
How to organize training and educate your employees about them
One of the problems is a lack of education. People may not know what they need to keep an eye out for and how to check if all communication is legitimate. This can lead to companies getting scammed or giving up vital information that isn't for the public eye.
You should make it the role of one team of employees to organize education and training regarding cybersecurity to raise awareness. Even if you have a fantastic antivirus in place, and the best hardware and software in use, it doesn't matter if one of your employees is practicing poor password management. This means that you have a weakness that can be exploited.
How to help employees recognize the most common cyber threats
There are some methods you can use to try and help your employees to recognize threats, and understand why they are so important.
So, what are some of the ways in which companies can help their employees to know what a threat looks like?
Educating employees on all types of phishing and cyber scams is crucial. That way, they will know when they get an email that looks out of the ordinary they can use a reverse email search or delve deeper to verify who is sending the email.
Some companies even carry out tests, such as sending cold emails to their staff from a fake email account and seeing how they respond. This may seem disingenuous, but it is a good way to check if your employees really understand what a cyber threat might look like.
Education is vital and sharing the information you have. For instance, you might encourage employees to highlight when they receive a scam email or feel that there is a security risk.
Having a policy in place to encourage people to have good security habits is vital.
How to be protected from scams with easily accessible tools
There are a few things that you can do as a company, such as keeping sensitive data protected and the access to it limited. There are also some simple tools that you can arm your employees with.
Reverse lookup tools
Reverse lookup tools mean checking the identity of someone who is contacting you, such as a cold email. A reverse email search shows if the person is who they say they are, and allows you to verify whether they have social media accounts, LinkedIn, and are active online.
Antivirus tools
Antivirus tools are pretty sophisticated, and though they aren't a catch-all solution, they are a good way to stop malware from getting onto your system and helping to steal data.
Data encryption
If you're handling a lot of sensitive data then it might make sense to encrypt it while it is sent. This is a way to ensure that even if it is stolen, the data might be hard for hackers to decrypt and understand.
Conclusion
There are numerous examples of customer data breaches costing millions of dollars, and companies may even have to stop trading if they are faced with legal consequences. Cybersecurity threats are very real and ignored far too often. Instead of allowing your company to be susceptible, put some positive policies into action and make sure your employees know their responsibilities to protect their own data, as well as customers and the business itself.