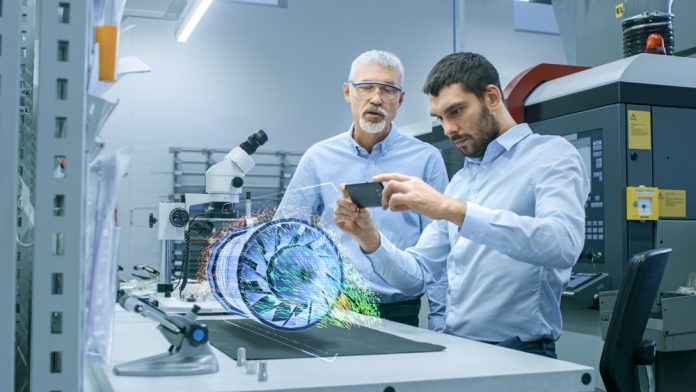 It is challenging to keep employees motivated for productive output. Augmented Reality (AR) brings on benefits to organizational success and efficiency. Tapping this growing resource to lead competition requires a new perspective and training.
In this short coffee session, we discuss the benefits of AR training capabilities.
Amp up training game with AR tools
Say hello to virtual reality for efficiency at any level. There are ways to use those Google headgear, VR headsets, and computers with powerful microprocessors. Training takes place in organizations in many ways, and AR is just one of the latest in line. If people cannot accomplish their career goals in one organization, they move on. As younger employees prefer to advance their careers, introduce them to AR. Retaining them is easier with this motivation at work.
This being said, let's check out the efficiency of AR-based training with the basic knowledge of this technology.
The main characteristics of AR for training employees
The convergence of real and digital worlds
Usefulness in real-time interaction
3-D registration of the event and the virtual objects organically
Just to give a simple example of this: Snapchat filters
A user can use sunglasses, masks, and other elements while taking an image. They can be seen via AR as they are not there in the real world. Today, smartphones have enabled the converging of the real and digital worlds.
The three main characteristics are best used for industrial sectors where corporate training is a reality. HR departments in several firms have introduced AR training for skilling and enhancing the potential of their employees.
Benefits of AR training
Sometimes it is a challenge to explain things at work. With AR, the process is streamlined. The visual representation helps them to understand better. If working with machinery and advanced equipment has to be explained, why waste time? Get the headset gear and let AR training take over.
We can get a better onboarding experience for employees returning to the office. It works even for new people joining the company. They put on AR glasses and get oriented in one place. This could save on training costs for HR.
The staff needs to be taught about new equipment and machinery. AR training reduces errors as they understand operational values better with virtual orientation. New products can also be introduced to sales staff virtually.
Once AR training is complete, assessments are easier for the HR department and the staff to make informed decisions. They get the entire 360-degree picture to perform well.
In industrial units' safety is paramount. Untrained employees can be kept safe when they visit the factories. AR training gives the impetus to be careful in that environment. On-field gas companies and chemical factories need to invest in AR training to increase safety standards and compliance in their plants.
Industries that could use AR training
Oil & Gas
Agriculture
Automobiles
Mining
Construction and architecture
Do you know NASA is already using Augmented Reality to educate its astronauts? Wearable tech is the future of most organizations. Will you be left behind? Speak to us now.
The augmented reality (AR) experience has had a significant influence on people's daily mobile interactions, whether in industries, online classrooms, or retail stores. In today's world, augmented reality also significantly influences eLearning and other training programs.
An organization might use augmented reality to either improve the effectiveness of current training programs or completely replace such programs. If you decide to adopt it at your company, you should soon notice advantages and good outcomes that will touch not just the individuals who are taking training but also your business. If you do decide to implement it at your company, you should experience these benefits and great results. In addition to this, augmented reality has the potential to serve both as an educational and entertaining resource for the average individual. The user may download any of the several augmented reality programs available on their mobile phone and then put that information to use. Even though augmented reality is still a relatively new and emerging technology, it has been met with a favorable response from people all over the globe.
What differentiates the leading augmented reality firms from their competitors? Several factors contribute to the success of the best-augmented reality firms, which is why you may be curious as to what differentiates them from the other businesses in the industry. Below we will outline a few of the essential factors that have contributed to the development of AR training.
Using AR in Training
You may be excused for equating corporate training with many conventional training methods and set-ups, like (F2F) and online learning, as compared to the quite cutting-edge know-how now available around the globe.
The truth of the matter is, however, that such training strategies and formats would remain to serve as the primary grounds for various training programs. As it says it indicates, Augmented, Reality would make it possible for instructors and instructors to create on top of, or augment such foundation fundamentals, so improving the quality of the learning environment and, as a result, the efficacy of the program.
AR allows instructors and students to experience immersive simulations of real-life events before they are put in such circumstances in the real world. This is a significant advantage of augmented reality. An event that purports to be "live" yet isn't live at all.
Comparable in some methods to the approach that a pilot utilizes in a flight simulator when they are being trained to fly. Or, more recently, the way the medical students might 'perform' surgery utilizing AR expertise with no danger of damaging patients.
However, augmented reality is not just useful for training purposes in fields such as aviation or businesses such as medicine. The fact that it may apply to a wide variety of training methodologies, business domains, occupational areas, and professions is perhaps the advantage that stands out the most about it.
Other applications and benefits of AR training include the following:
The fact that augmented reality (AR) has the potential to inject next-level interaction and involvement means that this could just lead to improved connection, which in turn must lead to better effectiveness and good effects.
Efficacy: When using AR as a tool, instructors can educate their students more effectively, and their students can learn more quickly. A training environment that is very effective for all of the participants, saving both time and money in the process.
It doesn't matter whether you're learning how to fly, conduct surgery, or utilize a new piece of software; augmented reality (AR) can give a training situation that simulates the actual world," which lowers the chance of making errors or missing something important.
Continual Development: With the help of AR, software, and methods may be very effective for making continuous improvements to such systems. With the support of digital intersections to provide users with real-time advice, augmented reality (AR) software may be designed to lead users through various tasks.
Adaptability: Even while webinars and online learning are by now very versatile training methods, AR gear may be utilized for distant training that eliminates the requirement for sessions conducted on-site or while traveling.