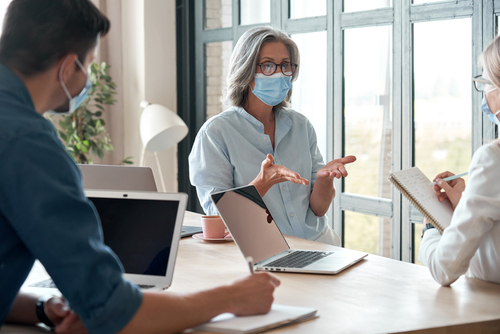 The COVID-19 pandemic has highlighted the need for the fast creation and distribution of accurate medical, health, and safety training. In times of crisis, Learning teams in healthcare organizations often have to drop everything at a moment's notice to create new materials, and then find a way to get them out consistently and efficiently.
This is easily achievable with flexible learning technology. E-learning courses can be designed, developed, and distributed in days in some cases, with learning management systems (LMS) upscaling to accommodate thousands or even millions of healthcare professionals. However, for those with traditional, rigid systems, this can be disastrous.
An LMS lacking the adaptability to rapidly scale to deliver learning to everyone who needs it can severely hinder healthcare efforts, quite literally spelling the difference between life and death for the organizations held hostage by inflexible technology. So how have organizations worldwide adapted to COVID-19, and what role has their learning technology played in their efforts to save lives?
The Need for Speed
Healthcare is a fast-moving sector, and never more so than in the midst of a global pandemic. The situation has been changing on a daily basis, with government-enforced lockdowns and quarantines, new virus strains and new COVID testing and vaccine developments taking place all the time. The organizations that have risen to this challenge are those with the tools and technology to adapt rapidly to the changing circumstances. Time is of the essence when you're dealing with a deadly virus, and an outdated, rigid LMS that doesn't enable you to roll out learning to thousands of healthcare professionals quickly simply isn't fit for purpose.
Australia's Monash Health needed a way to address the rapid spread of COVID-19 throughout elderly care facilities in the state of Victoria. It approached Totara Partner Kineo to help it rapidly deploy its existing PPE training to 70,000 residential care workers. These workers needed anytime, anywhere access to the training, along with certification and reporting to monitor who had taken the training.
Kineo and Monash Health fast-tracked what ordinarily would have been a six-week implementation into just five days to ensure the fast rollout of this life-saving training. The adaptability of the LMS ensured the design was customized to suit the preferences of the organization and its learners for best results. The speed of this LMS implementation ensured that thousands of healthcare workers across the state had 24/7 access to personal protective equipment (PPE) training to help minimize the risk of infection, at a time when Victoria's health service was under great stress.
Rapid Upscaling
Early in the pandemic, healthcare organizations worldwide ramped up their recruitment efforts to ensure they had a sufficient workforce to deal with the growing pressure on health systems and services. Many countries have recruited volunteers to speed up the distribution of vaccines, and the UK's National Health Service (NHS) campaigned for retired healthcare workers to temporarily rejoin the workforce to plug the sector-wide skills gap.
Italy was one of the first countries badly hit by COVID-19. Istituto Superiore di Sanità is Italy's main center for research, control, and technical scientific advice for public health. It launched its first free COVID-19-related e-learning course in February 2020 to address the impending crisis. It needed to upscale Its EDUISS learning platform from 40,000 users to 450,000 users in just one month.
Istituto Superiore di Sanità worked closely with Totara Partner MediaTouch to build an LMS for this purpose. The LMS also needed to support problem-based learning, keep learners updated about the evolving pandemic situation, and offer robust reporting to monitor learning activity throughout Italy. More than 220,000 healthcare professionals participated in the first edition of the learning. Choosing an adaptable LMS empowered the Istituto Superiore di Sanità to upscale its LMS and deliver crucial learning across the country with ease.
Evolving Learning Needs
One thing we've all learned from the COVID-19 pandemic is that we need to be prepared for anything. In the U.S., there is talk of increasing vaccination rates to 1.5 million a day, which requires rapid upskilling of healthcare professionals. The CDC has released its own COVID-19 training for healthcare professionals, with new courses and resources being added all the time to address the situation, but many healthcare providers are looking to provide their own tailored training.
Taking the U.S. as an example, healthcare systems and processes vary dramatically between and even within states. The pandemic situation also can look very different depending on where you live, from the tight lockdowns and mandatory masks of California to the minimal restrictions in Florida. As the situation evolves, each state may take a different approach, with individual hospitals or healthcare systems having to anticipate the outcomes of these decisions. With the situation constantly in flux, it is vital that Learning professionals in healthcare organizations have the flexibility to change direction at a moment's notice.
For instance, when the first vaccine was approved for usage, some states were quicker to start the rollout than others. Healthcare professionals who wouldn't usually administer vaccines volunteered to help out, requiring upskilling at speed to ensure they could safely and efficiently perform injections. Keeping up with an ever-changing situation requires flexible workflows, processes, and people, so your learning technology needs to reflect this and support evolving strategies.
The Pandemic and Beyond
For Learning professionals, the pandemic has made one thing crystal clear: Adaptability is better. Healthcare organizations have had to do it all, from opening up learning to the extended enterprise to train volunteers, to upscaling their LMS to accommodate vast new audiences, to creating and distributing brand new e-learning programs to learners all over the world.
The pandemic won't last forever, but in healthcare and other industries, there will always be something new to deal with. For that, organizations must demand adaptability from their learning platforms—it is the only way to keep up with the challenges facing organizations and their workforce, in the pandemic and beyond.
Tracy D. Newcomb is vice president of Operations at Totara. She leads the operations and application management services for Totara in the Americas, where her key mission is customer satisfaction and adoption. Newcomb has been managing complex, global Learning and Development (L&D) technology initiatives for more than 25 years. Her experience includes leadership roles in strategic consulting, project management, and application management services. Prior to joining Totara, Newcomb managed large learning technology outsourcing contracts for commercial and government clients.
Get our newsletter and digital magazine
Stay current on learning and development trends, best practices, research, new products and technologies, case studies and much more.