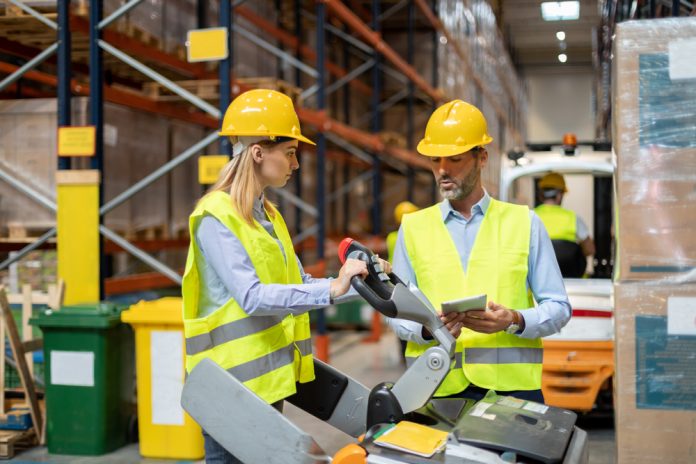 Warehouses and distribution hubs are busy and getting busier. Fulfillment-center real estate has never seen this current combination of sky-high demand and record-low vacancies.
This might be where warehouse owners and managers might be tempted to cut corners as they enjoy the current economic climate. Demand for manufactured goods of all kinds, from condiments to yard tools, means warehouses everywhere need lots of bodies on the floor picking, packing, and shipping orders to customers.
Forklifts and other powered industrial trucks play a huge role in any modern warehouse. Regularly bringing people aboard who are comfortable operating these machines will keep product moving in and out of the facility reliably. When and how often should operators receive forklift training?
Why Is Forklift Training Essential?
Even some seasoned forklift operators forget the sheer mass of the machines they pilot. A typical automobile weighs around 3,000 pounds. Forklifts might be three times that about 9,000 pounds, thanks to their counterweights and batteries.
Having this much mass moving around a facility in the presence of pedestrians and upright shelving is a fraught situation. It requires trust in the people placed behind the wheel. The U.S. Bureau of Labor Statistics estimates 614 fatalities and at least 7,000 nonfatal workplace incidents involving forklifts between 2011 and 2017.
Any complete forklift safety guide will create awareness of the common sources of injuries. These can be broken down into several common types:
Forklifts overturning
Workers being struck by machinery in motion
Improperly stowed loads collapsing on workers
Falls from wrongly used forklifts or lift trucks
Training on forklifts and related equipment is essential for warehousing, construction, distribution, and several other industries. Warehouses and fulfillment centers are not inherently dangerous places, nor do they exhibit the highest rates of serious accidents. Even so, people lose their lives and livelihoods each year through preventable collisions and other forklift accidents.
It's important to note that the powered lift truck drivers are not the only individuals requiring forklift training. The focus should be on the following:
Training for operators of powered lift trucks and forklifts, regardless of prior certification in another workplace
Training for pedestrians on safe movements within the workplace and interactions with powered lift trucks as part of their standard job training
Training for maintenance staff and any other individuals who will maintain, repair or otherwise handle lift trucks and their components, regardless of experience with different makes and models or vehicle classes
Operating or encountering forklifts is something that everybody in the facility must be prepared to contend with. It requires a cultural-level approach.
Since taking all reasonable steps to provide a safe workplace is required under the law, what do warehouse managers need to know about forklift training?
How Often Should Operators Receive Forklift Training?
There's no way around it: Forklift operators must be trained and certified before operating the machine.
Additionally, all employees, regardless of assignment, must be trained to interact with and avoid safety incidents involving forklifts or powered trucks. This instruction typically occurs before the individual begins their first standard shift on the warehouse floor. Examples include obeying all posted safety signage and not crossing into out-of-bounds areas or forklift-only travel lanes.
How often should this training occur? Is forklift retraining required under the law? Here's what warehouse managers should know.
1. What Are the Legal Expectations for Forklift Training?
OSHA does not require that powered industrial trucks or forklift operators possess an automotive driver's license. However, they must be trained to operate the forklift or lift truck to which they have been assigned.
Operators must receive additional training to operate other classes of vehicles. For example, order-picker trucks require different operation and handling than reach trucks.
2. How Often Should Training Take Place?
OSHA's recommended practices for industrial settings call for additional training every three years in the form of a refresher course for forklift operators. However, this is not a hard-and-fast legal requirement. If operators remain assigned to the same vehicle class over their employment without incident, managers frequently waive this requirement.
However, anyone found to be operating these vehicles in an unsafe manner must undergo retraining and may lose their certification for good. There are otherwise no requirements for regular retraining. In its documentation, OSHA states one of its objectives is "avoidance of duplicative training."
3. When Is Forklift Operator Retraining Called For?
Several circumstances or events might necessitate additional training for forklift operators after their initial certification. Here are some of them:
The forklift driver exhibited unsafe driving behaviors on the job
The operator was involved in a forklift-related safety incident
The forklift driver has been assigned work involving a different class of machine
Conditions in the workplace have changed in a manner requiring updated instruction
This last point is especially important when the warehouse floor may be busier than usual, undergoing a reconfiguration, or finds itself in a peak season for product demand.
4. What Does Effective Forklift Training Look Like?
Regulations and guidelines from OSHA and ANSI (American National Standards Institute) allow latitude for employers to develop their own training structures and timelines up to a point.
These regulators do not require licensure for operating a forklift — just certification designed by the employer, indicating successful completion of a training program. This certification suggests there were no red flags that might indicate future unsafe behavior.
However, OSHA and ANSI regulations require these training programs to include several distinct phases or steps:
Formal operational instruction in a classroom setting
Practical instruction involving the forklift or lift truck
Evaluation by the instructor of the trainee's competence, confidence, and demeanor during the operation
Refresher training as required by the employer or as necessitated by any recent safety incidents involving the operator
Each phase must be accompanied by documentation that it was completed, witnessed, and certified. In the event of a safety incident, the employer will want electronically filed proof that they satisfied their legal obligations every step of the way.
Productivity and Safety Can Coexist
With two-day shipping now the default and even faster options becoming more widely available, warehouses everywhere are looking to stay quite busy for a long time. However, the explosion of global shopping and rapid, high-volume fulfillment doesn't have to come at the expense of worker safety.
Warehouse managers should familiarize themselves with the legal expectations surrounding forklift training and retraining and strive to create a culture that ensures everybody gets home safely every day.