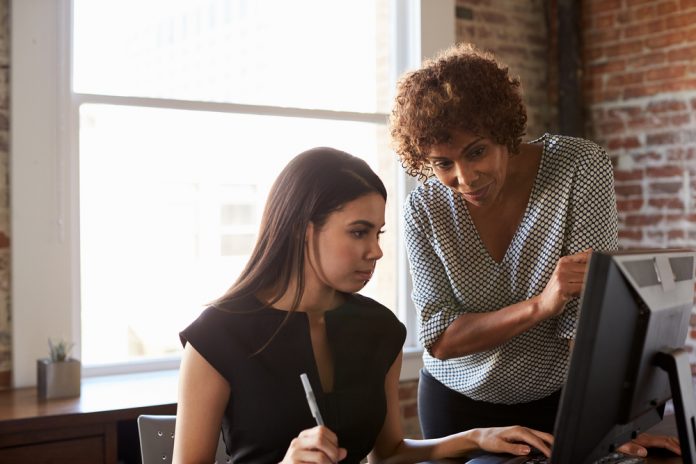 When you embrace change, it never stays in a neat silo—it creates a ripple of change. In the last five years, I witnessed this profound rule of life play out time and again as we, at Accenture, grew our apprenticeship program.
Apprenticeships are long common in trade jobs and typically offer people structured learning combined with on-the-job training. People also earn wages while doing productive work during their apprenticeship.
With the ongoing skill shortage in the United States and elsewhere, we launched our professional apprenticeship program in 2016 to widen our talent pool. We also wanted to create new career paths for individuals that traditionally have not had access to digital economy jobs.
Our apprentices- 1,000 across 35 cities to date- represent diversity in the truest sense of the word. They include large percentages of African American and Black and Hispanic American and Latinx people, military veterans, and those braving a major career switch—from a former food truck operator and a natural gas pipefitter to an English teacher and hairstylist.
There is a growing recognition in corporate America that the conventional four-year degree requirement often placed on professional jobs leaves out significant and rich sources of talent. In fact, our 2019 study suggests community college students can help offset the nation's technical talent shortage. Professional apprenticeship programs can help bridge the gap from two-year colleges, technical boot camps, and other nontraditional learning paths to promising careers.
How professional apprenticeships work
Our program follows a learn-and-earn model with benefits and provides a pathway to a full-time role with Accenture typically after a twelve-month apprenticeship.
Participants work across a variety of areas within Accenture and fill many in-demand roles in cybersecurity, digital, data analytics, and cloud migration to name a few. They typically work 40 hours per week within internal departments like IT and finance or on client-facing work.
Our program is designed to provide structured training in-house and opportunities to learn on the job, with the support and mentorship needed to develop proficiency in targeted business and technology areas, as well as soft skills. To ensure success, we train our supervisors, create apprentice cohorts, provide written and specific feedback quarterly, and assign each apprentice a coach who regularly checks in.
When COVID-19 swept the world, we quickly converted the apprenticeship roles to virtual. While the principle of the program has remained the same, we have increased our virtual touchpoints with the participants—from apprentice office hours and town halls to community calls and socials—to help them navigate the extra tricky terrain of being remote.
The results of the program speak for themselves. We've had incredible success in converting apprentices to full-time employment, and they are adding tremendous value to our company whether they are working on critically important cybersecurity efforts internally or working to develop new applications for our clients. The impact they are making is real.
Expanding reach with apprentice networks
Our vision for apprenticeships goes well beyond our own business. In Chicago, Accenture, Aon, and Zurich North America co-founded the Chicago Apprentice Network in 2017 to help advance professional apprenticeship programs in the region.
Working with the City of Chicago, city colleges, nonprofits, and trade associations like the Business Roundtable, the network has grown to more than 50 employers with more than 1,000 apprentices in Chicago alone.
Beyond the Windy City, we see great potential in launching this type of consortium of companies in other parts of the nation to accelerate the creation of professional apprenticeship programs. In fact, we are partnering with Aon to expand the apprentice network in six U.S. metropolitan areas in 2021 alone: Houston; Minneapolis; New York; Northern California; Philadelphia, and Washington, D.C. Through this model, our goal is to create 10,000 apprenticeships across Apprentice Network member companies nationwide by 2030.
Additionally, in collaboration with Aon, the Business Roundtable, and the Chicago Apprentice Network, we turned our learnings into an apprenticeship playbook for professional jobs. It includes steps to jump-start a program, insights to scale and evolve it, and helpful case studies to help other employers create apprenticeship programs regardless of where they are located.
Impact goes deep and wide
Paving new career pathways for people who have been historically underrepresented is far more than an investment in a company's future; it's an investment in the community.
The wide range of backgrounds our program participants bring to Accenture doesn't just deepen the diversity of our organization in terms of race, ethnicity, education and background. It helps to enrich the diversity of thought that we truly need to grow, innovate and compete in the twenty-first century.
Unfortunately, the pandemic has hit some segments of our population harder. According to the Pew Research Center, those without a college degree, lower-income individuals, and Black and Hispanic adults are among those most likely to experience financial hardships, and coronavirus-related job loss or pay cuts have disproportionately affected lower-income and Hispanic households.
Apprenticeships can help close gaps for those unemployed, create a more inclusive innovation economy and provide the spark our communities need to rebound.
I will always remember the apprentice graduation ceremony I hosted in Chicago in 2019. As we celebrated dozens of our apprentices who'd successfully completed a year at Accenture, I was humbled by the number of people—their parents, siblings, and children—who shared how appreciative they were of the program and the impact it had on their families.
"Not only did this program change my son's life, but it's changed our family's life," one mother told me.
Apprenticeships have the power to transform lives and bring a positive impact to all those around the participants, including businesses and their customers who benefit from new ideas and talent. What inspires me, even more, is the promise that, when we scale these programs, that impact gets multiplied—and they have the power to change our communities and bring us closer to a more sustainable and equitable future for all.