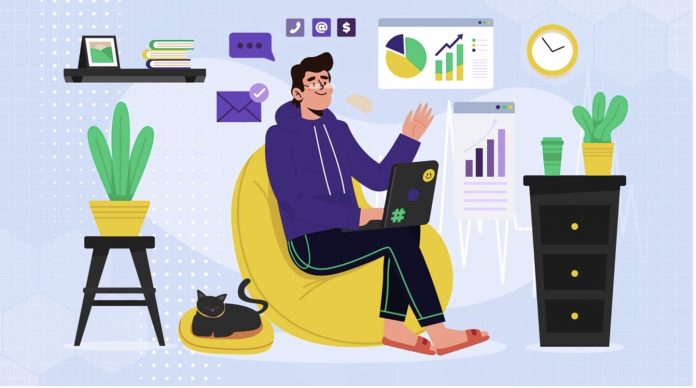 COVID-19 is has given severe shocks to the business working environment worldwide. The widespread outbreak of the disease has turned out to be something we had never imagined. Its brutal consequences have transformed the world around us.
Whether the newly produced vaccines are effective or not, a "new normal" seems to have emerged, and it will persist. In this new normal, people have minimal face-to-face interactions. Along the way, business conduct through digital platforms is becoming more and more prevalent and appears to becoming a standard practice.
A wide range of digital platforms and channels is emerging. These modern-world technological innovations have made working from home—or anywhere—an acceptable practice in the corporate environment.
We know that remote working was a common practice in specific industries such as software development. However, this 180-degree paradigm shift due to Coronavirus spread has made remote working a business necessity across other sectors, as well.
The work-from-home method seems to have benefitted both employees and employers. First, there is no other alternative. Second, it is now possible to achieve the same productivity technologically as in an in-premise working environment.
Statistics on Remote Working
Dice—a high-tech recruiting platform in Silicon Valley—surveyed the privileges sought by employees when joining an organization. The results were eye-opening. The remote working option emerged as the most desired perk for technology professionals.
Blueface—a top UCaaS (Unified Communications as a Service) provider—forecast that remote working by the year 2025 will surpass on-site work. It's clear that COVID or no COVID, remote working is here to stay.
Here are the four areas in which technology has played a vital role in ensuring businesses can carry on their operations as usual in a remote setting with minimal disruption to their critical services and data.
Cloud Data Management for Accessibility on-the-Go
The basic premise of remote working is the easy accessibility of data. Data accessibility can be eased by using cloud data management platforms. Cloud has an additional advantage of imparting better data protection. The COVID-19 induced lockdown spurred industries across the spectrum to move their critical infrastructure to the cloud.
Even those industries such as healthcare that traditionally were considered to be averse to quick changes are feeling the heat. Remote patient monitoring, remote health checkups, and virtual doctor visits are becoming more and more mainstream—all due to COVID-19 infection risks.
Even if Coronavirus recedes, the enhanced usage of portability and mobility features of cloud data management systems will not die down.
Uninterrupted Backup Encourages Better Collaboration
In a remote working setting, an organization's prime consideration is how secure its organizational data is. Organizations try to locate better and more secure tools to back up their data. The Veeam Cloud Management Report 2020 notes that more than 33 percent of the United States of America businesses have started to uninterruptedly backup their mission-critical applications and data.
Amid the peak times of COVID-19—when most businesses were either shuttered or being operated from the employees' homes—uninterrupted backup of organizational data became more prevalent. It is an essential step for maintaining business continuity while offices are closed across the world.
To visualize things in the correct perspective, here are a few examples. Videoconferencing application Zoom garnered more users this year than all the previous years combined. Active users on the Microsoft Teams platform jumped by more than 50 percent. The data center sales of Nvidia reached a whopping $1 billion for the first time in its history.
The increment in the usage of cloud-based collaboration tools is only happening because technology has provided a way to continuously back up data via a safe repository. The cloud's inherent ability to save changes as they are made is a significant technological breakthrough that is helping organizations stay afloat during the Coronavirus disaster.
Using Software Tools for Closer Collaboration
Software development outsourcing has become a prevalent practice only because robust technological solutions are available in the form of cloud-based collaborative tools. While working from remote locations, employees can utilize quality collaborative software utilities to ensure the team remains aligned to their common objective. Such software tools enable the team to carry on business as usual, without a physical manager supervising them.
Two types of collaborative tools are commonly used: text-based tools and audio-video communication-based tools. A third category comprises lesser-used task management tools.
Text-Based Collaborative Tools
The most used method of communication among remote teams is text. Text messages can be easily indexed and searched in an instant. One of the most popular text-based collaborative tools is Slack. It replaces e-mail, text messaging, and instant chat messages under a single unified offering. Slack is available in Web-based and mobile app versions, enabling teams to collaborate the way they want.
Audio-Video Collaboration Tools
Although face-to-face videoconferencing has some inherent disadvantages, this practice offers many benefits, as well. Videoconferencing is a great way to bridge the communication gap in a remote-work setting. Microsoft's Skype is one of the most popular videoconferencing tools. It offers powerful features for sharing messages, codes, and files among individuals and groups. Zoom is another powerful contender in this category.
Task Management Tools
The third category of software tools that enable robust communication and collaboration in teams is task management tools. JIRA, Trello, Intercom, and Monday are widely used task management utilities that help teams prioritize and follow up on tasks.
Imparting Education in a Virtual Setting
Training and skill development are key areas where organizations see the role of technology as crucial in transforming the traditional workspace. The COVID-19 pandemic outbreak has created a disruption that has challenged organizations' conventional training and skill development. Additionally, those training programs that initially were planned to be delivered in an in-person environment needed to be reimagined in a virtual setting.
The biggest challenges is ensuring employees' engagement and participation, in a virtual learning environment.
There also is a general tendency among organizations to recycle existing training material and replicate it in a virtual setting to save costs. Organizations need to understand that a virtual environment has its own challenges and opportunities that are quite different from an in-office setting. An in-office working environment offers physical interactions as one of the crucial aspects of imparting quality training and education.
However, the availability of virtual reality (VR) and augmented reality (AR) means it is now possible to impart education in a stimulating environment that can motivate people to learn in their homes. McKinsey's report on AR/VR based learning models offers significant insights into this developing domain.
Winding Up
Emergencies, natural disasters, pandemics, and global crises are difficult to predict. However, the power of technology can help organizations survive in such challenging times. Organizations need to achieve their full information-centric potential using the available cloud-based collaboration and data management tools. Only the implementation of emerging technologies can guarantee data access and relevant applications in a remote setting with cost and time efficiency. The Coronavirus pandemic is a wake-up call to technology-averse organizations to join the digital bandwagon as soon as possible because adaptation is the key to survival!