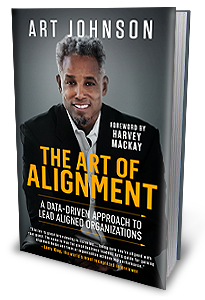 The Human Resources (HR) function is at the core of helping an organization fulfill its mission and vision. Responsibilities range from working with the business to identify the types of people to bring into the organization to developing technical skills needed for completing tasks, to enhancing leaders' and teammates' capabilities in committed, mission-driven behaviors and actions.
Many human resources leaders see much of their role as managing organizational risk. However, in order to be truly effective as a binding force for real alignment, HR needs to think more broadly than simply determining how to support hiring, developing employees, promoting policies and procedures, and managing risk. Human Resources, as the lead team for employee engagement efforts, can be the focal point for organizational alignment — or engagement with purpose. When people connect to the purpose behind the company's work, they perform at a higher level.
Employee engagement isn't enough to ensure organizational alignment. In fact, it's difficult to connect how engagement scores correlate with business metrics. That's because engagement — whereby employees feel a positive connection to the company — doesn't necessarily tie into accomplishing the company's mission. Employees can be well engaged, but their output may be counterproductive. Working in alignment takes engagement a step further and adds a critical layer of purpose. Engagement + Purpose = Alignment.
How can HR align strategy with mission?
On a high level, there are many ways in which HR can play a pivotal role in enhancing alignment. For example:
Policies and procedures can be geared towards striving for greatness as much or more than dictating behavior to protecting risk.
Internal communications strategy and implementation (whether or not HR manages it) can focus on gathering and telling stories that illustrate ways in which the mission and vision are carried out in the organization.
HR can coordinate creativity, communication, and best practices efforts and tools.
Through organizational development/effectiveness work, HR can help drive efforts to enhance personal and joint accountability within teams and across functions.
Development efforts can be rooted in practices intended to develop employees in ways that enhance skills, but also bring them closer to the "why" of the organization.
Compensation planning and execution can be tailored in ways that promote teamwork, common goals, and recognition for mission-driven work.
Each of the items listed above, however, describes somewhat tactical, check-the-box activities. But in order to embody organizational alignment, HR must examine ways in which it can connect its mission with the mission of the organization. This requires examining ways in which to answer these questions and to implement a new overall direction:
Are the policies and procedures set up to protect the company or propel it towards its mission?
Does HR help raise the organization and its employees above a bar, or protect it from going below a floor?
Is the mission of the HR function aligned so that it's perceived as a valued and connected business partner, acting as a critical cog in the realization of goals?
HR can establish new ways in which to serve as the hub of mission-driven behaviors, activities, and culture. Because it touches every part of the organization and can be connected with cross-functional efforts, it can be the tie that binds organizational alignment together. And, in contrast to engagement's lack of connection with key business metrics, HR can facilitate the connection of alignment measurements with the business's key performance indicators.
Further, HR can work to support organizational alignment by providing key insights on how various alignment efforts impact performance, how they can be leveraged, and how different parts of the organization can share best practices for keeping the mission and vision front and center.
With greater alignment, engagement rises along with performance. And, rather than looking to HR as a gatekeeper and rule enforcer, high-functioning departments view it as a proactive force for good.