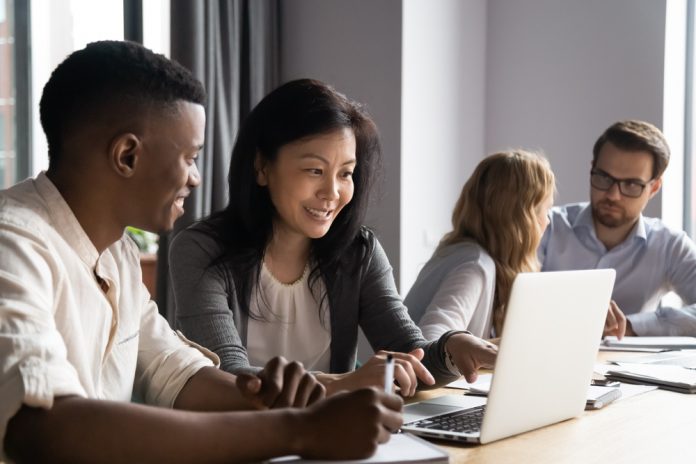 Diversity, equity, inclusion, and accessibility (DEIA) are more than guidelines, programs, or quotas. Empowering all employees is part of building an inclusive company. Diverse teams bring forth innovation, which makes a business competitive and successful.
Los Angeles-headquartered accounting and advisory firm GHJ's multicultural workforce is the foundation and key ingredient to growth and employee satisfaction. GHJ's Chief People Officer Alex Seiler recently explained that practicing DEIA is everyone's responsibility.
"You cannot look at DEIA as an initiative," Seiler said. "DEIA should be part of the core values and an ongoing commitment. Its success or failure will come down to the hard work that everyone puts in."
To create a successful DEIA program, there are several steps that organizations can take.
Define the Structure First
It may seem obvious, but determining who will manage a DEIA program and who should play a role are the first steps to implementing the program. There needs to be a governance structure in place, such as a steering committee or council. Building a DEIA program that is intentional, measurable and transparent is essential to success. Leadership must invest time, money and resources, and members of the council should be equipped to guide and provide a framework.
"Commitment needs to start at the top," said GHJ Partner and Chief Strategy Officer Mari-Anne Kehler, CDP, who was a key driver in developing GHJ's DEIA strategy. "If leadership is not fully invested, then all the grassroots efforts in the world will not advance the DEIA efforts."
Having a governance structure holds people accountable to communicate goals and progress toward them. Define a charter, mission and strategy that everyone can work toward. Understanding goals helps individuals understand what they need to do as part of those collective efforts.
Consider the Organization's Needs
Part of developing goals begins with identifying the starting line through a diversity audit. This helps businesses understand the demographics and culture of the workforce and identify factors that will help create an inclusive environment.
"One way to start is to establish inclusive recruiting and mentorship," Kehler said. "Representation matters — people aspire to careers that they see people that resemble them having. If a company is not finding the right candidates, they are not fishing in the right pond."
Leverage tools such as anonymous hiring or scorecards, bias training and artificial intelligence to counter hidden prejudices. If there is a lack of representation in the applicant pool, consider changing recruitment methods, whether by reaching out to different colleges or using a platform dedicated to connecting employers to applicants of color.
Create the Space for Dialogue
Internally, businesses can establish employee resource groups (ERGs). ERGs lead to higher retention rates, identify, and develop leaders from within and better employee education.
"When deciding which cohort to create, start where the passion is," Kehler said. "We recognized a passion among our employees for women's initiatives as well as Black, Indigenous and people of color (BIPOC). GHJ's Women's Empowerment Cohort and BIPOC Cohort were then created."
ERGs should service employee needs and concerns, and a governance committee blesses those initiatives so that progress can be made.
A substantial DEIA program requires more than just creating ERGs, however. Ongoing awareness and training are essential to creating an effective DEIA program.
"This is a concept that is a verb in its nature," Kehler said. "Behaviors must match values, and employees must be culturally intelligent about one another."
Diversity training may aim to reduce prejudice (such as unconscious bias), raise awareness (such as microaggressions) or encourage skill acquisition (such as inclusive management or allyship).
Start Small and Move With Intention
There are many potential elements to a DEIA program, and the best way to structure one is to identify what feels natural to the organization and its needs. There are common elements among successful DEIA programs, and the goal should be a well-rounded program, but no winning formula fits all companies.
"The biggest mistake people make is to run before they walk," Seiler said. "Start by prioritizing areas that will have the greatest impact. Be intentional with goals."
Once the framework is established, it should be integrated into the culture. Gallup recommends three actions for leaders:
Identify priorities based on an assessment of the organization's current state.
Determine how to plan to achieve goals by selecting a dedicated team to steer, execute and champion a strategy tailored to that plan.
Plan to sustain momentum by embedding DEIA into the organization's strategy. Employees take cues from leadership and gauge authenticity based on actions, words, and strategies.
The final piece is measurement.
"Set both aspirational and realistic goals," Seiler said. "This can mean setting hard numbers for increasing leadership representation or new hires within historically underrepresented groups. It could also mean increasing the number of employees participating in DEIA training. Businesses need to have the analytics to quantify whether they are getting the ROI on their efforts."
Businesses can create freedom, candor, and quality of conversation in meetings by focusing on two key areas: giving permission and creating safety. Permission to say or ask anything is essential to allowing people to fully express themselves and provide feedback about issues when there is a need.
Foster an environment that allows employees to be their authentic selves. For GHJ, collective diversity of thought and experiences makes the firm a place where its employees can #BeMore together.
Employees should feel comfortable sharing their feelings and experiences, and leadership should check in regularly to ensure that employee needs are met. When leadership is dedicated to creating the culture to support DEIA, employees will have permission to be individuals and will leverage their unique talents to help the organization succeed.