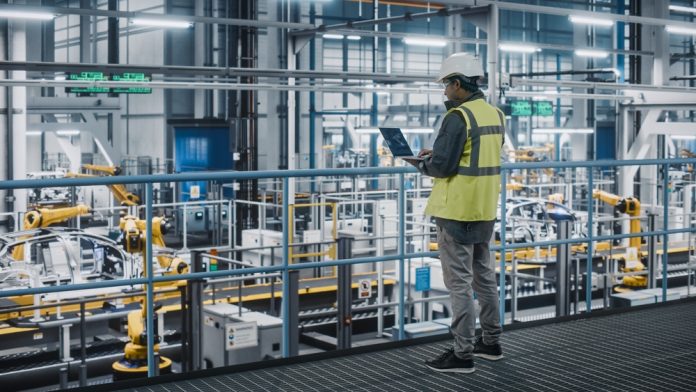 The manufacturing industry is on track for rapid growth in the next decade, continuing the increasing production and output levels of the last few years. According to research from Deloitte and the Manufacturing Institute, an anticipated 4 million manufacturing jobs will be needed by 2030. But the industry is already experiencing talent shortages. In the fall of 2022, 746,000 manufacturing jobs were open.
In the next decade, the chief concern of manufacturing industry leaders will be talent acquisition, development, and retention. Deloitte identified talent challenges as the make-or-break element in the industry's ability to grow according to available opportunities.
Training is and will continue to be the most effective solution for these talent challenges that the industry is facing. Most importantly, effective learning and development strategies will enable manufacturing companies to rapidly scale their programs and manage an influx of new talent. The only way that these large-scale organizations can train effectively, however, is if they are equipped with the technology to support training needs. Manufacturing as an industry is varied and complex, with multiple factors contributing to the success of a training initiative, from the topics addressed to the way training is delivered.
Here are three priorities manufacturing industry leaders must make for training to enable rapid growth and mitigate the effects of the industry skills gap.
Choose technology that equips a variety of training audiences.
For most manufacturing companies, sales teams, partners, and customers are critical components of the equation. To grow rapidly and scale business, leaders must provide learning and development for each group of stakeholders. This should not, however, require a significant lift or be an impossible initiative for companies to implement. With the right technology in hand, manufacturing companies should be able to deploy training to employees, partners, sales teams, and customers quickly.
For example, a single manufacturing company may need to train multiple user types on the use of a specific piece of equipment. Employees will need to be trained on how to use that equipment during the workday, sales teams (if selling this equipment) will need intimate knowledge of its function, and partners who distribute the equipment will need to understand how it functions as well.
There is one essential key to effectiveness in this initiative. It's personalization. Without technology that enables personalized training experiences, manufacturing companies (and companies in other industries) will not be able to effectively equip a variety of learner types. Personalization is only achievable and scalable through AI-enabled training technology, like a next-generation LMS platform equipped to assign courses and training objectives to each learner based on their unique needs.
This is essential if manufacturing companies are to scale to meet the rapid growth the industry is experiencing. Training must be easily dispersed through a streamlined channel to a variety of learners. And the requirements for success go further than simply enabling effective distribution. These training initiatives must also be tailored to the individual to retain learning and demonstrate value for the individual.
Connect compliance to training goals and track, measure, and report regularly.
Out of all the training initiatives possible for a manufacturing company, compliance is by far the most important and costly if neglected. Should an organization fall out of safety compliance, they risk fines, penalties, or even damage to company property and personnel. Training goals and compliance requirements should work hand-in-hand to provide a positive employee experience. Connecting specific training goals or learning pathways to company-wide compliance directives produces two key results: it gives meaning to training and ensures effective workplace functioning.
Training technology has the power and potential to help manufacturing companies mitigate risks. When employees are given compliance-driven goals to achieve (and then those goals are tracked, measured, and reported), it is easier to understand the picture of the organization's overall compliance. Of course, certain regulatory bodies will require that compliance goals are tracked and reported. A digital LMS platform is one tool that makes it possible to actively track and report compliance information as it happens in real-time so that training managers or company leaders can pull compliance data instantly. And the value of tracking, measuring, and reporting compliance information extends beyond meeting the minimum requirements for business operations. When team members find that their required training courses are tied to a specific goal, they have more reason to engage with the training content.
Adapt to modern workplace needs.
Leaders in the manufacturing sector have heard the call to adapt, digitalize, and modernize for years now—with strong pushes toward automation, robotics, cloud technology, and machine learning. These are essential initiatives, yes, but manufacturing companies must also adapt to the demands of the modern workplace. Companies must offer flexibility in training. Learners cannot achieve training goals if they are not equipped with the right tools. Technology can enable flexibility both in the type of learning offered (meaning interactive courses) and the context within which training is taken.
Even if your manufacturing organization is not working with a remote or hybrid team, it is possible that your partners, customers, or sales team work on a hybrid schedule. To cater learning to those stakeholders, your technology must be flexible enough to offer various learning opportunities through different devices. Learners need the freedom to engage with training in their own time and on their terms so that it is a valuable addition to their work experience and not a cumbersome task that they must achieve.
Manufacturing companies can and must leverage digital training technology to scale effectively in this time of rapid industry growth. Even if your manufacturing organization has returned to in-person training through trade shows or events, a digital component is a way to maximize that value and ensure that information is readily available for all stakeholders. With the rising skills gap and rapid industry growth, training is the first step toward enabling an effective organization that thrives now and in the future.