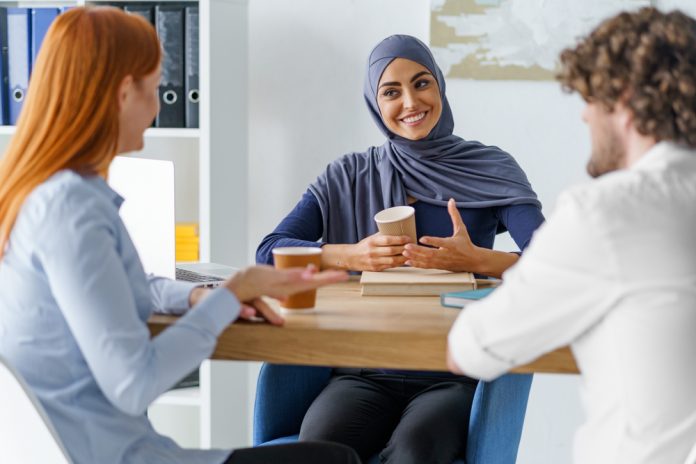 Amid the tumult of the last year, the topic of diversity, equity, and inclusion (DE&I) in the workplace has become one of significant interest. The idea of DE&I, and successfully implementing it, is even more relevant as companies transition from remote work and return to shared office spaces in the wake of the pandemic.
Research over the past few years shows again and again that Americans and their employers are overwhelmingly supportive of diverse workplaces that are inclusive of people of different racial and ethnic backgrounds, gender identities and sexual orientation, and physical abilities. A recent survey commissioned by National Industries for the Blind (NIB) shows that 68 percent of Americans are more likely to support a company that prioritizes diversity and 88 percent of respondents said companies should prioritize making workplaces more accessible to people who are blind or visually impaired.
Workforce Inclusivity
Americans clearly believe that for companies to realize the full value of workforce inclusivity, they must include people who are blind or visually impaired in their recruitment and professional development strategies. However, while nearly 90 percent of people believe workplace accessibility should be a priority, 56 percent still believe that doing so is difficult. These findings reveal two important facts: people want more diverse, equitable, and inclusive workplaces, but the majority don't know where to start.
Achieving diversity and inclusion isn't as difficult as many people believe it to be. For more than 80 years, NIB has worked to break down employment barriers for people who are blind or visually impaired. That work has taken on new urgency amid today's focus on DE&I efforts.
Diversity, Equity, and Inclusion
Creating a more inclusive workplace for people who are blind might seem like a daunting task, and employers might not know where to start. What is the best way to help employees who need accommodations? How much will it cost? Where can I go for help? Good news: Over half of the accommodations for people who are visually impaired cost next to nothing, and most cost less than $500, according to the Job Accommodation Network. An increasing number of workplace technologies used by employers already contain accessibility features, such as keyboard shortcuts, right out of the box. In many cases, accessible technology built into computer operating systems—such as text magnification or text-to-speech support—simply needs to be activated.
Additionally, today's explosive growth of third-party access technology developers continues to provide newer and better workplace tools thanks to increased recognition of Americans With Disabilities Act (ADA) compliance standards, such as the Section 508 accessibility guidelines established by the federal U.S. Access Board.
There are some other simple, inexpensive ways that employers can make their workplaces inclusive for people who are blind, including ensuring equal access to the job application process, providing greater flexibility for working from home, and making documents, web pages, and social media content more accessible to screen reader users.
NIB is making significant strides in educating employers about workplace inclusivity with its new talent management enterprise NSITE— a valuable resource that pairs employers with job seekers who are blind, visually impaired, and/or veterans. A major portion of NSITE's work is challenging the myth that it is difficult and expensive to hire employees who are blind, and assisting companies that are looking to diversify their workforce by connecting them with job seekers who are visually impaired. NSITE does so by assisting organizations in an array of ways. NSITE can provide guidance on how to onboard new employees who are blind or visually impaired, offer technical support to ensure that computer systems, websites, and employee workflows are both accessible and usable to all employees, including those who are blind or visually impaired, and much more. These changes can help companies develop a diverse culture that increases productivity and improves an organization's competitiveness.
It's clear that people support more diversity in the office. By changing people's practices in the workplace and their perceptions about disability in general, we can create more inclusive environments where employees and companies thrive. All it takes is awareness and effort.