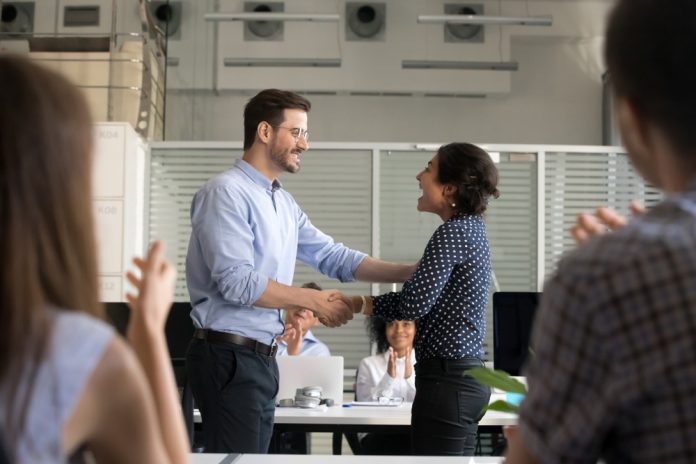 When considering career advancement, companies that believe an employee's personal aspirations are as important as the organization's needs are 3.6 times more likely to have effective career development programs than those that believe the organization's priorities are more important, according to the Brandon Hall Group Study, Career Development: Are You Considering What Employees Want? Those employers are also twice as likely to have managers who care highly about their employees' personal happiness in their jobs and careers.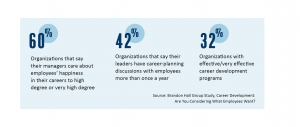 Align Career Development with Learning and Performance
Among those three variables, career development always rated a distant third because organizations typically invest heavily in learning without tying it to business outcomes. Those that managed to develop an effective career development program embrace it as a business strategy and their managers believe their responsibilities include helping employees develop their careers. Those who say managers care about their employees' happiness in their careers are 10 times more likely to have effective career-development programs.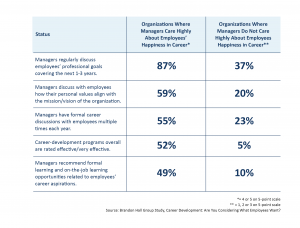 Retention
Top talent won't stay at your organization without believing they can advance along a path that aligns with their personal and professional aspirations. Employers should provide multiple career paths, communicate and provide resources for employees to improve their skills and competencies to meet the requirements of the jobs that interest them.
Brandon Hall Group research reveals that high-performing organizations enable employees to explore flexible career paths that fit their aspirations while aligning with organizational needs. It's up to employees to do what's necessary to grow into new roles, but employers must arm them with the tools they need to make it happen.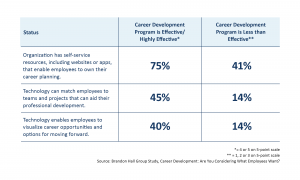 Serious Questions
Do we treat our internal job candidates (current employees) as well or better than we treat external candidates during the recruitment and hiring process?
If not, why not?
How do we make career development and internal mobility more employee-friendly?
How can we improve the integration of learning, performance, and career development to build the skills and competencies employees require to advance their careers in ways that help them and the organization?
Brandon Hall Group's POV
Each employee has unique career aspirations. Organizations have their own objectives for their employees' career development. Aligning them is the only way to ensure career development and advancement are mutually beneficial for employers and employees.
Each must consider the best interests of the other. But in most organizations, employers call the shots. There are limited career paths and most are vertical, leading to management. If employees cannot find opportunities that fit their interests and aspirations, they become disengaged and eventually leave the employer.
6 Strategies for More Employee-Centric Career Development
Reverse-engineer career development: Start with internal mobility goals that will help your business thrive and determine how career development should change to reach them.
"Recruit" your high-potential employees: Work with them as you would elite external candidates. Advancing more of your current employees' careers increases talent retention and dramatically decreases your recruiting costs.
Transform managers into talent developers: They should be trained and empowered to develop future talent through coaching relationships rather than just manage day-to-day business.
Design compelling career options: Build horizontal and vertical career paths and leverage technology to create visuals that make it easy to envision the future. That's a daunting task when you consider all the job roles in an organization. Start with the most vital ones and devise a schedule to add roles at a comfortable pace.
Link career development to performance goals and learning experiences: You can't build dynamic programs without aligning those three aspects. Also, make learning as experiential as possible. To advance, employees must learn to apply current and new skills to new situations. You can't learn that in a classroom, either live or virtual. Learning by doing is the key.
And measure again: Create career development metrics tied to business outcomes, analyze them regularly, and adjust as needed. Start with talent retention overall and in key demographic groups.
Click here for information on Brandon Hall Group's Professional Certification Program