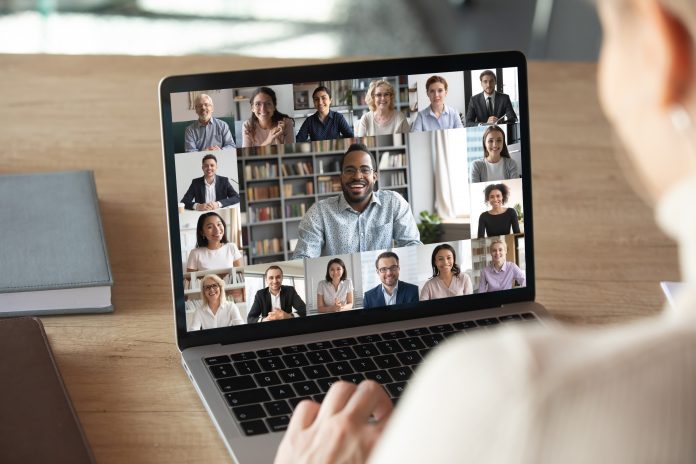 A recent survey of frontline employees revealed 45 percent are already planning to leave their jobs—but the right training and development opportunities could have the power to keep them longer.
As frontline organizations scramble to fill staffing gaps and win the high-stakes war for talent, there's one question not enough people are asking: how's the frontline doing? We know organizations are struggling—scaling back hours, automating tasks to reduce headcount, getting by with a skeleton crew. But what's fueling workers' mass exodus? And what would encourage them to stay?
Those questions are the focus of our survey with Arlington Research on The State of the Frontline Work Experience in 2021. Among other eye-opening insights, the results revealed something every front-line organization needs to hear. The Great Resignation isn't stopping anytime soon. In fact, 45 percent of frontline employees are already planning to quit.
High turnover on the front lines in retail, grocery, sales, and beyond is nothing new. But what is new and surprising are the record-breaking number of employees leaving and the factors motivating them to walk away. Beyond sounding the alarm over persistent labor shortages, the results of our research show it's time to take a hard look at the day-to-day experience of frontline employees—and that includes their training and development.
Burnout is driving talent away from frontline jobs
While employers have been quick to offer financial incentives to attract and retain workers, our research shows compensation isn't actually the top reason most frontline employees are leaving. Feeling burned out at work (57.8 percent), underappreciated (53.8 percent), and uninterested in daily work (51.9 percent) all ranked higher than pay when it came to employees' motivations for resigning.
In that context, training professionals are well-positioned to introduce meaningful change and help combat ongoing labor shortages with training strategies that help frontline employees feel safe, supported, and valued.
Four ways your frontline training can make you an employer of choice
Based on insights from today's frontline employees, here are four ways you can create a standout learning culture that attracts and retains the best frontline talent during the Great Resignation and beyond.
Support burnout awareness and prevention
While some companies think of burnout as a personal issue, it's really an organizational problem linked to unfair treatment, unmanageable workloads, poor communication, and other pressures. Fixing it requires structural changes and ongoing support. And while training is one effective way to improve burnout awareness and prevention, only 39.2 percent of respondents have access to mental health training and awareness programs.
Mental health support that's available to both full- and part-time roles can set your workplace apart. A well-designed training program, with input from outside experts, helps employees identify and overcome early warning signs of burnout, leading to improved retention, reduced sick time, and increased productivity.
Foster equity in training content and delivery
Inequity in the workplace can be a major contributing factor to issues like burnout, underappreciation, and low engagement. Our research shows that front-line employee experiences vary greatly based on gender, work location, and job status. For example, people who work in offices are almost always happier than people who don't.
Training and career development opportunities are key areas where employers can tackle disparities. Not only can you use your training content to educate teams about diversity, equity, inclusion, and belonging (DEIB), you can also take measures to ensure training, itself, is accessible, inclusive, and equitable. That includes expanding digital delivery of training (if you haven't already) since 82.3 percent of front-line workers across generations prefer digital over traditional methods.
Empower managers to promote a culture of learning
Managers play a significant role in turnover and exert a powerful influence on the front lines. Employees who are satisfied with their company (73 percent) also tend to be satisfied with their direct manager (72.7 percent). Likewise, positive feelings about their manager fade when employees intend to resign (66 percent) versus when they plan to stay (80.9 percent).
Managers can retain frontline employees by taking better care of their time and prioritizing long-term wellness over short-term productivity. While many haven't received training on how to do that, there are simple solutions. Microlearning embeds training within managers' busy workflow. And, rather than a programmatic approach, focusing on management and leadership training, as well as human skills development can improve relationships, communication, and more. By making training a priority for leaders, you create a culture where managers value and promote ongoing training within their teams.
Prioritize skill development and invest in future capabilities
Frontline employees told us they want to go beyond the basics by pursuing opportunities for skill development. But, front-line training often takes a backseat to day-to-day operational priorities. Our research shows that 35.8 percent of front-line employees only receive training during big job changes, while 20.3 percent rarely or never receive it. And yet, 32.2 percent said more training and skill development would motivate them to stay in their current jobs.
Prioritizing both core job skills and future-focused capabilities can help you build bench strength and give employees the training opportunities they value. And that starts with promoting a culture of ongoing development for your front line. With training in the flow of work through microlearning and on-demand content, you can make skill development a daily part of the job—not a distraction from it. You can also take training beyond the basics with upskilling, cross-training, and reskilling opportunities.
Above all else, the Great Resignation and ensuing war for talent have been a wake-up call for frontline organizations. To overcome labor shortages and become employers of choice, companies need to reshape front-line work itself. Rethinking training strategies to meet workers' expectations can help attract the best frontline people and encourage them to stay longer.