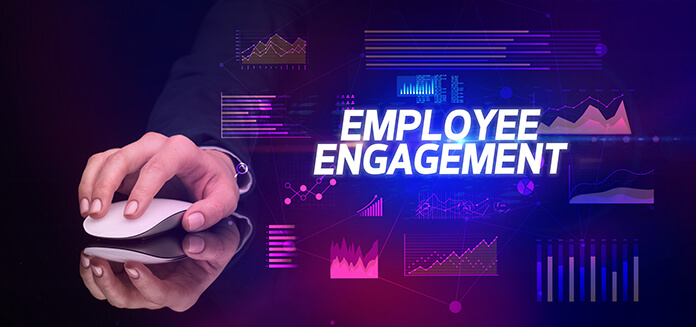 As the tradition of a 9-to-5 office arrangement becomes less effective in favor of a newly remote workforce following the global pandemic, how can HR experts handle employee engagement? Even prior to COVID-19, remote working was a growing trend in countries such as America, with a 44 percent rise in remote work in the last five years. But what, exactly, does that reveal about managing employees?
In recent months, possibly reflecting on the past year, the transition of the workforce from offices to remote working setups has been a remarkable change. Faced with many challenges, one of the highest priorities for many managers and HR experts alike is the importance of employee engagement.
With new, remote setups for employees, there is as much an opportunity for reward as there is a challenge to overcome. Collaborative platform Slack's yearly report reveals connectivity, productivity, and a sense of belonging can be problematic if not properly managed. Even more seriously, these can upset work satisfaction and employee engagement.
Measuring employee engagement is no easy feat, especially when a workforce is split between the office and home, creating physical and mental barriers. For organizations with a dynamic and mobile workforce, employee engagement can be easily overlooked, which will upset business goals and lead to unspent potential. HR departments are vital in delivering a strategy that understands the challenges, needs, and general happiness and satisfaction of employees.
Defining Employee Engagement
The exact definition of employee engagement is elusive, or at least it's not subjected to a shared meaning. In fact, this absent meaning for the concept of employee engagement was briefly reviewed in David MacLeod's "Engaging for Success: Enhancing Performance Through Employee Engagement," which discovered, tellingly, numerous competing definitions for it. The definition will, instead, change between organizations, and it might describe anything from happiness to satisfaction, or even a sense of professionalism and commitment to business goals and objectives.
While the details and goals of an engagement scheme are not always shared between firms, the challenges and obstacles they face most often are.
Some of the most common barriers, or danger zones, cited by businesses include:
Saturated communication or lack of the proper channels. The role of technology is a hard one to master: It can be troubled by a saturation of tools, or a lack thereof. Balance is the goal. Before introducing new platforms, consider their unique value to your team and wider organization—is it helping with strategic objectives?
Lacking investment in engagement programs. Any plans to measure and assess employee engagement will, ultimately, be frustrated by the level of investment from higher up in an organization. Without key support from seniority, the proper protocols and policies will not be seriously delivered throughout a workforce. An engagement program is only as effective as its authors—which is a collaboration between HR, the Learning and Development (L&D) department, and key seniority figures.
A misaligned culture. The emotional and intellectual commitments of your employees will be directly motivated by the character and personality of the business. If the culture is founded on professionalism and commitment, then the outcomes of work should follow high standards, too. In the absence of a structured, driven workplace, the roles and performances of employees may start to seem troubled, which will undermine business objectives.
Best Practices for Employee Engagement
Use actual metrics such as OKR.
Companies such as Google have been known to apply metrics such as OKRs (Objective Key Results) to employee engagement and create measurable outcomes. By embracing metrics to understand performance, this solution to employee engagement makes it easier to define the success rate (or failure) of an engagement scheme. An application of OKR can be as simple as a regular opportunity to reflect on performance and establish key goal posts, or set of objectives, that should motivate an employee through clear priorities and a framework for assessing that progress.
Having an engagement program goal posted to metrics will more closely align, or connect, employee objectives with those of business' missions and will help them to establish a rhythm focused on the strength of their performance and progress. It also invites transparency into the process of understanding satisfaction and happiness in a workplace culture by removing barriers and encouraging proactive reflection.
Pin a program to results.
Another metric, eNPS (Employee Net Promoter Score), can help managers gauge more honestly the satisfaction of employees by understanding their experiences. Unlike OKRs, which evaluates the performance of an employee, an eNPS reverses how metrics can monitor overall satisfaction with the business by collecting employee experiences about a culture of work. The score is reflective of a kind of employee recommendation about their place of work, which expresses their level of satisfaction with a business.
Not only is this method reliable and conveniently benchmarked, but it can reveal much about employee loyalty and commitment, which offers more depth and insight about the perceptions of a workplace according to its internal talent.
Build strategy on information.
Touchpoints in your engagement program should include company-wide, tailored surveys; regular one-on-ones; and even focus groups. Managers should create moments for reflection with the culture and company, encouraging employees to share experiences and offer insights for future improvements. These tools—surveys, meetings, and focus groups—should help uncover the layers of employee perception, which is otherwise difficult to measure and calculate.
Takeaways
Companies should embrace flexibility in their creative strategy to overcome the riddle of measuring employee engagement, especially when the workforce is in flux and mostly remote. Yet, based on best practice recommendations, employee engagement strategies can learn and improve from metric-based methods of evaluating satisfaction and happiness. Metrics are clear tells about the health of an organization's perception. In fortifying it, managers and HR specialists can use data to accurately measure the success (and failure) of employee engagement.