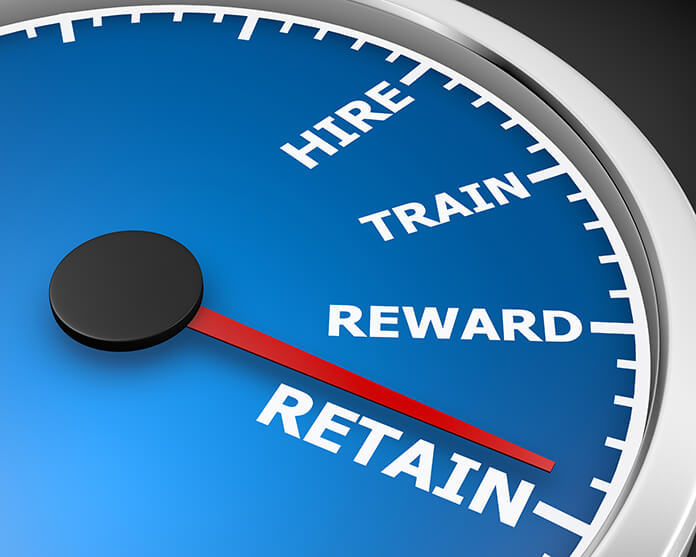 The U.S. labor market is on the road to recovery—adding 692,000 jobs in June—but it still has a long way to go as June gains slowed from the month prior (978,000 jobs added in May).
Employers of hourly workers are now operating in a candidate's market—including hiring difficulties and the possibility that employees jump ship when more attractive positions open up. To reduce turnover, organizations need to think about how to keep workers engaged and satisfied with their jobs.
As we enter the post-pandemic world, companies need to provide support to employees while the economy recovers. To hold on to hourly workers, employers should prioritize transparency, open communication, and perks such as early access to wages and flexible scheduling.
4 Tips for Retaining Hourly Workers
A surplus of unfilled jobs in the market present a serious challenge to your business. But with the right strategy, you can support hourly workers to keep them engaged and minimize turnover at your organization. In fact, there are several things you can do to boost your workers' morale and cement their relationship with your company.
Be transparent. 
When it comes to retaining hourly workers—especially during a turbulent time like a pandemic—transparency is key. If the pandemic has shown us anything, it's that life can change rapidly. Your organization needs to be ready to respond to changes, and you have to keep workers informed every step of the way. That means you need to remain transparent and clearly communicate any changes that occur within your organization.
You can prioritize transparency by implementing a mobile digital workplace platform. With this tool, you can immediately send out notifications about changes that affect employees so they're always in the know, provide digital training to manage the changes, and help facilitate task execution.
Encourage communication.
Open communication between employees and managers is another vital step organizations can take to help their workers feel supported.
One way to encourage communication is by establishing messaging channels on a platform that enables coworkers to easily contact each other and managers. With a company-sanctioned communication platform, you can dedicate channels to different topics, such as new product notices, training materials or company culture announcements. By offering a platform for employees to communicate internally, you can foster engagement and encourage connections between employees.
A dedicated digital space opens up communication—which can help hourly workers feel like a valued part of your organization on a broader level. Giving employees a place to voice their thoughts and concerns will help them feel heard and respected.
Offer early access to earned wages.
In an uncertain economy, finances are top of mind for many employees. What better way to support your hourly workers than to make it possible for them to access earned wages early?
By implementing a platform that offers functionalities such as easy access to wages, you make it possible for employees to obtain a percentage of their earnings, fee free. This feature can empower your workers and reduce financial stress at the same time.
Offering perks such as early access to earned wages also positions your organization as an empathetic employer, which can increase the tenure of your employees and reduce turnover. And an enhanced employee experience results in happier employees who are dedicated to providing great customer service.
Provide flexible scheduling.
Flexible scheduling is another valuable perk your organization can offer to help employees feel supported and engaged. Scheduling is a stressful part of hourly work and can lead to burnout—especially in industries where employees' schedules vary from week to week. Flexible scheduling solutions allow employees to request time off, view shift availability, and swap shifts with ease. These solutions provide visibility and allow employees to interact directly with coworkers and managers to improve their schedules.
Flexible scheduling gives your employees more control over their shifts and the ability to schedule work around their lifestyle. You can help prevent burnout at the front-line and manager level by giving employees a way to create a more suitable schedule and a healthier work-life balance.
Create Loyal Employees
No one knows what the future holds for hourly workers post-pandemic. But your organization can take specific steps to engage and retain employees throughout these changing times.
By being transparent and opening communication, you can help hourly workforce feel valued. Perks such as early access to wages and flexible schedules are a great way to reduce turnover and create employees who are loyal to your brand. Afterall, happy employees improve your company's ability to create happy customers.