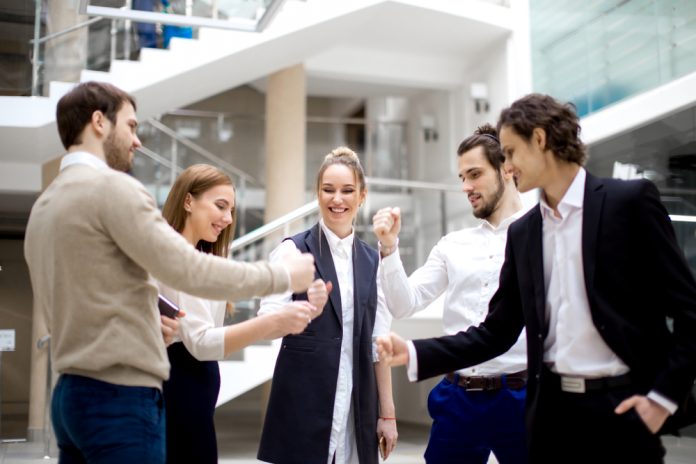 What does effective sales training look like for a remote sales force navigating a global crisis? The COVID-19 pandemic hit many sectors hard, and the sales profession certainly faced its share of challenges. From keeping many salespeople homebound, away from customers and prospects, to requiring them to navigate tighter purchasing budgets, 2020 and the first half of 2021 have impacted salespeople and their leaders and trainers in a significant way, and it continues to do so.
Accordingly, these impacts required a shift in how salespeople do their jobs, and, in some cases, even altered the nature of the product or service they sell. To adapt to these changes, many companies have reassessed how they approach both selling practices and the sales skills necessary to sustain them.
To better understand how sales teams are adapting, ValueSelling Associates and Training Industry, Inc. surveyed 256 sales leaders and learning and development (L&D) decision-makers about the approach their companies are taking toward sales skills and managing change.
We found that two distinct groups of companies emerged from the study — high revenue growth companies and negative revenue growth companies. High-growth companies' leaders said 2020 was a banner year of growth, while negative-growth companies' leaders said 2020 was the worst of the last five years. We'll use the contrast of the differences between these groups to demonstrate how the right strategic focus on sales is what distinguishes the companies that are seeing growth in spite of economic upheaval.
4 Approaches to Sales Training and Their Effectiveness
Most companies take one of four approaches to sales – or a blend of these approaches:
Consultative Selling – a strong advisory role in a prospect or customer's decision-making process.
Social Selling – Social selling relies on using social media platforms to identify, contact, and nurture prospects.
Solution Selling – focused on finding a solution to the customer's problem rather than pushing products or services without regard to the client's need.
Value-based Selling – Value-based selling focuses on competing based on value rather than price. It aims to close sales by helping prospects understand what they stand to gain from the product or service and by providing value during each conversation and interaction.
While each approach is used by close to half of respondents' organizations, high-growth companies are focused most heavily on value-based and social selling, while low-growth companies are more likely to rely on consultative and solution selling.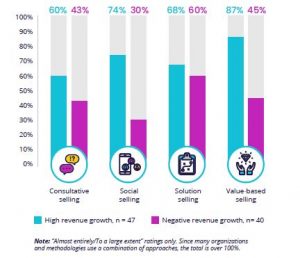 Critical Sales Skills
Regardless of the approach, the organization takes to sales, however, sales professionals certainly need relevant and up-to-date skills to succeed, particularly in a volatile and uncertain economy. Our respondent data showed that companies have focused on sales skills related to:
Closing deals
Moving deals forward
Positivity
Understanding the client's business
Matching the company's solutions to the client's challenges
With this finding in mind, what differentiates companies that grew in 2020? High-growth companies share some of the same priorities listed above, such as closing and moving deals forward. Notably, however, they are also focused more on prospecting, negotiating, differentiating from the competition, empathy — and, especially, presenting in virtual settings. In fact, the greatest difference we saw when it came to skills priorities between high-growth and negative-growth companies was virtual presentations. Almost half of the high-growth companies are focusing on upskilling their salespeople in presenting virtually, while only 13% of negative-growth companies are doing so.
Soft Skills are Also Essential
Among the companies we surveyed, high-growth companies were the ones that could see the need for change and pivot accordingly. The skills employees most need to adapt quickly are soft skills, and high-growth companies in our survey focused on soft skills such as active listening, verbal and presentation skills, empathy and building rapport, teamwork and collaboration, and social and emotional intelligence. These skills are always critical in sales — but they were especially crucial when salespeople and their customers had rapidly shifting business needs.
The following chart shows how high-growth companies pivot their sales training in response to change.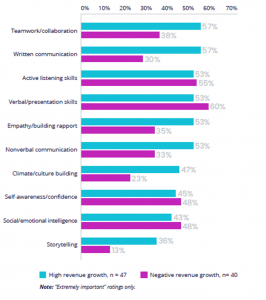 Conclusion
Navigating change in response to the crisis is a key factor for company success, and sales teams are no exception. But the teams that have adapted to change are better prepared for what's to come. Those teams have enabled companies to excel and have a banner year despite the challenges they faced, while other companies have fumbled and reported low or negative growth.
Three key factors differentiate those high-growth companies and are important for all businesses to keep in mind if they want to succeed going forward:

For more detail on the survey results, download the ValueSelling Associates ebook, "How High-growth Sales Organizations Respond to Crisis."