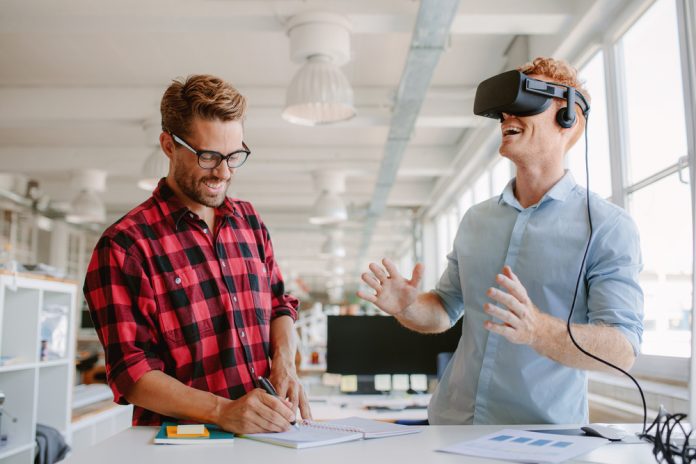 Virtual reality (VR) and augmented reality (AR) training experiences turn the impossible into a reality by providing a safe and cost-effective training alternative that looks and feels natural. Fully immersive environments allow trainees to work through real-world scenarios, including hazardous situations, in a secure training experience.
Training is becoming a more widespread use for VR in enterprise, with 50 percent of respondents of the Industrial XR Training Survey Sector Report saying that their VR strategy is owned by the training and learning and development departments. Almost 80 percent of respondents said the objective of their industrial XR programs is employee training. Companies using VR/AR technology have found that employees are better prepared for their job duties than those workers using traditional training methods.
Uses of VR/AR Technology in New Hire Training
Train for Dangerous Situations in Safe Environments
Properly training employees for rare, dangerous, and unexpected incidents can ensure their safety in the workplace. Virtual Reality training solutions allow organizations to train employees in dangerous environments without ever putting people or equipment in harm's way. Immersive, realistic virtual scenarios provide the perfect environment to become familiar with environments, practice skills, and gauge emotional reactions without any real risk. Employees can be trained on active shooter dangers, safety procedures, compliance, radioactive spaces, confined spaces, heights, and fall risk training.
"Exelon's VR training environment allows the technicians to practice safely, increasing their proficiency so they may perform work effectively while also reducing exposure when repairs are needed". -Marvin Burdick, Corporate M&T Training Manager
Hazard Identification
Make sure employees are properly trained so they understand hazards and take the necessary precautions to avoid accidents and injuries while also ensuring your company is compliant with safety rules. VR/AR training solutions let trainees detect potential hazards, learn how to use safety equipment, like PPE and fire extinguishers, adhere to rules and learn the proper techniques to avoid harming colleagues. 
Equipment Use and Operation Training
VR/AR training solutions teach employees how to handle larger equipment, like forklifts and machinery, without risking harm to the equipment, stock or other employees. Personnel can also be familiarized with facilities using virtual environments, like identifying appropriate entry and exit routes. Many times objects in the real world do not look like they do on the shelf or in a classroom for various reasons like being covered in insulation or behind interference items for example. VR allows the trainee to see the object, in the same manner, they will encounter it in the facility.
Operators fully understand machines with VR/AR technology without safety risks or involving expensive assets and can familiarize themselves with new equipment before it arrives on-site.
Benefits of VR/AR Training
Higher Retention Rates
Studies have proven that interactivity improves retention rates by up to 85 percent over passive e-learning. VR fully engages the senses, preventing the subject from being distracted by outside influences and thus maximizing learning engagement and retention. A PwC study found that VR learners were 275 percent more confident in applying skills learned after training.
High ROI by Reducing Travel Time, Equipment Downtime and Personnel Downtime
VR/AR training solutions provide high ROI by reducing instructor training, equipment, and trainee downtime. Trainees practice different activities as often as needed and experience real-life work scenarios that would otherwise take years to encounter in a matter of hours. A 2020 PwC study shows employees completed VR programs up to 4 times faster than in-person training and 1.5 times faster than e-learning.
Classroom time to train and learn complex procedures is reduced with VR/AR technology, eliminating the time required to disassemble and reassemble training props. Labor and travel time for instructors is also reduced because learners perform most training in VR environments solo and can be completed remotely.
VR/AR training technologies also can provide a higher ROI than traditional training methods because content can be reused for every new hire. VR/AR content should be developed strategically so it has unlimited use, greatly extending the potential for training and knowledge acquisition, while reducing the time and cost of off-site training.
Keep Talented Employees in the Field
Talented employees can continue to do their jobs rather than spend time training new hires with VR/AR training. A smaller number of experienced field personnel can train and supervise many trainees. Employees can train at their own pace and repeat training more frequently and easily while keeping talented employees in their field position.