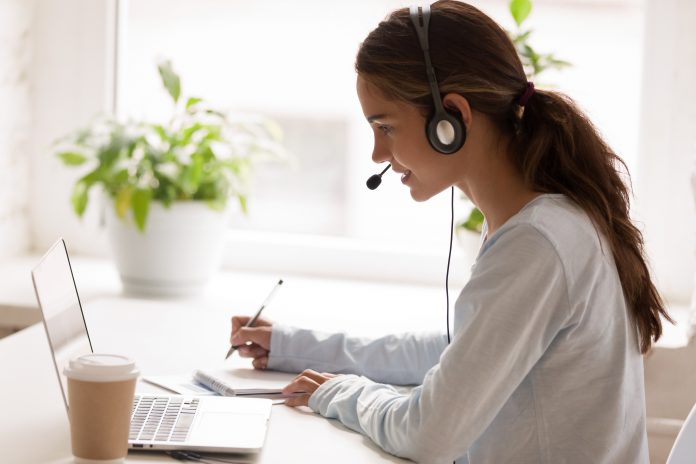 E-learning, also known as online or digital learning, has been one of the most exciting trends in the field of education in recent years. eLearning has experienced swift adoption worldwide, especially during 2020 in wake of the COVID-19 pandemic, which has led to numerous predictions about the technology and its future in education.
Over the years, the need for cost-efficient training in academic institutes and corporate offices has led to the rise of e-learning technologies. The proliferation of cloud and implementation of cloud-based platforms is bringing increased accessibility, processing ability, and content storage capabilities to eLearning solutions, leading to their wider adoption.
Digital learning, especially video-based learning, is rising exponentially across the world. Cisco Systems, Inc., predicted that a whopping 3 trillion minutes of video content will be streamed each month in 2021. It is expected that a majority of people will use smartphones to access different types of learning content available on online platforms. Consequently, mobile e-learning could be one of the fastest emerging segments of the industry-led by the increased production of smartphones.
Growing digitalization in education, the proliferation of smartphones and the internet, and the dreaded COVID-19 pandemic are all augmenting global e-learning market share, which is projected to hit the US$1 trillion mark by 2027, says Global Market Insights, Inc. Allen Interactions, Cisco Systems, Apollo Education Group, Citrix Education, Articulate Global, Cornerstone OnDemand, Adobe Systems, Oracle Corporation, and Microsoft Corporation are some of the top names in the domain.
How has e-learning been helpful during the COVID-19 crisis?
The COVID-19 pandemic has boosted e-learning use in numerous ways. With schools, colleges, and offices shut down, most people adopted new ways to learn remotely. Also, with the cancellation of social events and lockdown restrictions, many individuals are utilizing spare time to acquire new personal or work-related skills through online learning platforms.
With COVID-19, digital learning is becoming an indispensable tool. According to UNESCO, in April 2020, there were more than 1.2 billion children across nearly 186 countries affected by school closures due to COVID-19. The pandemic has forced educational institutes and organizations, big or small, to use technology and support their learning using online tools.
The U.S. Census Bureau reported that in 93 percent of households with school-going children, kids were using some form of distance learning, even with many school districts across the country normally in session. Due to the worsening COVID-19 situation and the rise in home learning, numerous mobile eLearning solutions providers have been offering students free access to digital learning content.
Last year in April, for instance, Asia-based ed-tech firm Snapask had announced more than 10,000 free subscriptions to its mobile e-learning app for students in Singapore. In India, BYJU's, one of the country's largest tech companies, reported a staggering 200 percent rise in the number of new students using its platform since it announced free live classes on its Think and Learn mobile app.
Considering the sustained nature and widespread impact of the COVID-19 pandemic worldwide, e-learning will continue to be a safe, efficient, and cost-effective education tool, supporting millions of students remotely.
Why is e-learning a way forward in a post-COVID 19 era?
Even before the coronavirus pandemic, the e-learning market was growing rapidly. However now, the closure of businesses and educational institutes has provided greater momentum to the adoption of eLearning tools. Whether it is distance learning, virtual tutoring, videoconferencing, online learning software, or language apps, there has been a massive upsurge since COVID-19. One can expect online tutoring to become a trend after the pandemic passes, supplementing the resumed learning at schools and colleges.
In the coming years, the integration of information technology, AI, and AR/VR in education will be further accelerated, making online education an integral component of school learning. In the post-COVID-19 era, traditional offline learning and eLearning could go hand in hand, enhancing the overall education experience for young learners as well as adults.
What are the future e-learning trends?
The E-learning market evolving as it heads towards more collaborative and inclusive approaches. The industry is quickly moving towards more engaging formats integrated with advanced technologies such as AI, AR/VR, and gamification to keep learners interested. Providing students with a fun and unique way to learn is vital to ensure an efficient and fruitful learning experience.
However, there are critical challenges to overcome. One such major challenge is accessing. Students without reliable access to the internet or technology struggle to participate in eLearning. For instance, in developed countries such as Austria, Norway, and Switzerland, nearly 95 percent of students have access to computers for their schoolwork, whereas in developing nations such as Indonesia the percentage is just 34 percent, as per OECD data.
To provide better access to the internet and other technologies necessary for remote learning, governments had introduced numerous programs and initiatives last year. For example, in April, the England Education Secretary had announced the provision of laptops, tablets, and 4G routers for disadvantaged students staying at home due to the coronavirus outbreak.
Remote education also brings significant changes to how learning outcomes are determined in online settings. By eliminating assignments and other coursework, it has altered the ways in which student achievements are measured and assessed. On the other hand, some aspects of school learning such as practical and ethical lessons cannot be covered efficiently through the use of e-learning platforms.
E-learning has been traditionally viewed as an alternative pathway by many, one that is particularly suited to adult learners seeking opportunities in higher education. The emergence of COVID-19, however, required students as well as educators across all levels of education to quickly adapt to virtual learning. With the sudden shift away from the classroom, some are wondering whether the surge in e-learning will continue to persist after the pandemic, and how such a transformation would impact the global education industry.