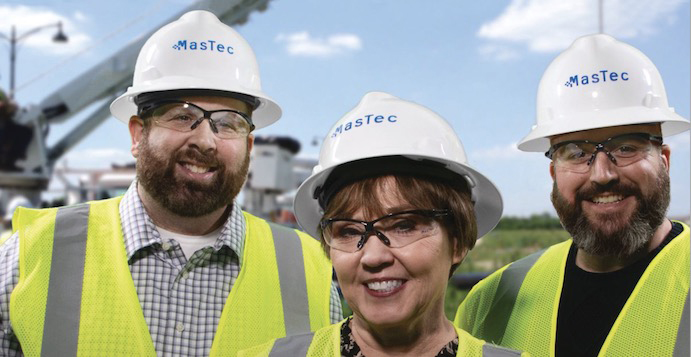 The COVID-19 pandemic disrupted nearly every facet of society in 2021, forcing all of us to do things differently. At some companies, though, the past year was not only a time to meet challenges, but an opportunity to go even further in achieving long-term learning goals.
For MasTec Utility Services, a provider of engineering and infrastructure technology, the last year saw impressive gains in the training the company relies on to support the safety and productivity of its workforce. Strategic training goals, driven by experienced, savvy Learning professionals, made 2020 a memorable year for this company for more positive than negative reasons.
"We've worked hard to create a culture of learning, and one of accountability around safety. Training plays a huge role in both," say former Senior Director of Employee Development John Congemi and Training Manager Twila Everett. "Our training deliverables—whether we're talking about a structured onboarding curriculum or a just-in-time on-demand job aid—ensure our employees are learning safe, efficient, productive procedures and processes throughout their time with MasTec. We like to say we're part of a MasTec family, and the commitment we make to keeping all team members safe via training reinforces how important people are to us."
MasTec Utility Services' senior leadership team set numerous strategic goals that were supported or driven by the Employee Development team, Congemi and Everett explain, specffically noting the company's primary objective of minimizing safety incidents. "Although the ultimate goal would be to eliminate incidents all together, we set a realistic target of reducing our OSHA recordable safety incidents by 10 percent over the same period of time the previous year," they reveal.
The company also aimed to reduce the number of motor vehicle incidents among its workforce. "Our target was to reduce the total number of automobile incidents (both at-fault and not at-fault) by 5 percent over the previous year," Congemi and Everett say.
A third consistently important strategic goal, Congemi and Everett point out, was to increase productivity. Because margins in the utility construction space are so tight, even the slightest gains in productivity can lead to dramatic revenue increases. Last year, the company's goal was to increase generated revenue by 3 percent over the previous year.
Training played a pivotal role in helping the organization attain each of its goals. Safety and craft training, for example, is critical to ensure employees understand proper techniques and procedures to avoid injuries. The company's "Introduction to Safety" training program consists of 24 training modules aimed at teaching new employees the rules, regulations, techniques, and procedures necessary to perform their job duties efficiently and safely. The program features training on topics such as electrical safety, personal protective equipment, Ere safety, and fall protection.
"Employees completing this training program are set up for success in their roles, and will be more likely to return home safely each day without incident or injury," Congemi and Everett say. "In the last year, 91 percent of our new employees completed our 'Introduction to Safety' training program. The techniques and procedures employees learned in this program led to a 26.4 percent year-to-date reduction of OSHA recordable safety incidents and a 33.6 percent reduction in total incidents, exceeding our 10 percent reduction goal by nearly 24 percent."
Another training program implemented to help achieve the company's strategic goals last year was MasTec Utility Services' "Driver Training" program. The curriculum focused on identifying individuals who may be impaired and unable to drive, and included tips related to distracted driving awareness, winter driving, and defensive driving. It also included commercial driver's license preparation. "We believe that increasing our employees' knowledge and skills around driving will directly impact our driver safety numbers," Congemi and Everett emphasize.
At the end of the year, 99 percent of MasTec Utility Services employees who drive company or personal vehicles for work had completed the "Driver Training" curriculum. That participation rate is up 7 percent over the previous year. Congemi and Everett note that knowledge and skills gained from the courses led to improved decision-making, appropriate adaptations, and more caution and awareness behind the wheel. "Our motor vehicle accident rate decreased 5.26 percent. This followed our successful 33 percent reduction the year before. The 5.26 percent reduction last year exceeded our accident reduction goal by .26 percent," they say.
The quality, effectiveness, and impact of the company's learning programs are the result of a growing investment by leadership. MasTec Utility Services' decision-makers realize the importance of a welltrained workforce that can deliver topnotch service to customers while maintaining safety standards. "MasTec Utility Services has increased its investment in training and development each of the last seven years," say Congemi and Everett.
In recent years, they say, the company has been making significant, investments in decentralizing its training efforts by adding training and development resources in each of its regions. This entailed significant. increases in training staff; dollars dedicated for training and development; and even the construction of new training centers in Texas, Florida, and North Carolina.
The growing investment in learning and development includes giving a seat and a voice to its Learning professionals. MasTec Utility Services' governance model is supported by a framework called the Employee Development Responsibility Matrix. This framework outlines which segments of the Learning and Development (L&D) organization have ownership and support responsibilities. The Responsibility Matrix dictates that the corporate support team is responsible for functions such as strategic direction, organizational learning goals, learning management system (LMS) management, and cross-organization communication. Each regional team is responsible for the execution of programs at the local level. They are responsible for functions such as the facilitation of instructor-led training and the customization of programs based on regional, customer, or project needs.
An example of the successful execution of the company's governance model was the implementation of its "New Employee Orientation" program. The corporate support team worked closely with operations leadership, as well as the Human Resources and Safety teams, to determine the scope and requirements for the program. After receiving approval, the team designed and developed the content, and communicated to each of the regional training teams expectations for execution. The regional team facilitates the content, provides feedback, and recommends updates based on their regional/ customer needs. The corporate team makes any appropriate changes to the content or requirements before it's implemented. "The model works because the corporate team has access to and interaction with the senior executives within operations for alignment, scope, and approvals; and the regional teams have access to and interact with the employees (our audience) and our local customers," Congemi and Everett stress.
ADAPTING TO A NEW ENVIRONMENT
As with most companies, the COVID-19 pandemic pushed MasTec Utility Services to find more and better ways to accommodate remote work and learning. That included enabling many of its in-person instructor-led training sessions to be facilitated virtually. "Last year, we leveraged existing technology to begin facilitating many of our training modules virtually. We utilized Microsoft Teams to conduct virtual live and recorded sessions that typically would be facilitated in-person," Congemi and Everett share. "This required a reconfiguration of many of the modules to adapt exercises to a new learning environment, but it was worth it to keep our employees safe."
One innovative training method the company has just begun to utilize is virtual reality (VR). With the help of some of its vendor partners, MasTec Utility Services has been able to give some employees an opportunity to practice operating heavy construction equipment in a risk-free virtual environment. Learners get a sense of what it's like to lift objects using a crane; enter, work within, and exit a confined space; and maneuver an aerial lift using VR equipment. "This technology can enable us to train safer and cheaper, not to mention the 'cool factor,'" say Congemi and Everett.
LOOKING AHEAD: TWO NEW INITIATIVES
The company has two major initiatives that were lined up for late 2020, but due to the pandemic, now are slated for 2021. That includes rebuilding its entire onboarding program for new hires. "Although our safety and craft training curriculum for new employees has been successful, we believe it's critical to keep our training fresh and new," Congemi and Everett say. "Much has changed since we first built this training curriculum. For example, we now have our own video studio and team members dedicated to multimedia productions. We're excited about the opportunity to take our onboarding program to the next level."
The company also is planning to transition to a new LMS in the coming year. "As our company's growth and training technological needs and capabilities evolve, we decided to get out in front of things by upgrading our LMS," Congemi and Everett explain. "We anticipate our expanded capabilities will empower us to further explore immersive learning environments such as VR, and to leverage artificial intelligence."
As these major initiatives take shape and are rolled out, the company is looking even further ahead, finding ways to draw in and build the next generation of leaders. "Our workforce will be made up of more and more ambitious young men and women excited about the opportunity to build America's infrastructure and the sense of pride that comes along with that," Congemi and Everett say. "Many of our employees, looking to establish careers in an honorable trade, will have determined that the development environment we offer (DOL-certified apprenticeship programs, on-the-job training, leadership development programs) meets or exceeds that available in a typical four-year college. Training plays a huge role in attracting our future team members and offering them a compelling future for themselves and their families."