Innovation Means Never Stop Learning
Excerpt from "63 Innovation Nuggets (for aspiring innovators)" by George E. L. Barbee.
Posted: January 20, 2016
I was inspired to write this book for three primary reasons:
Most of us can be more innovative in business than we give ourselves credit for—especially when we realize innovation is a lot broader than just invention.
We quickly can learn to more innovatively observe and then transfer these innovations from one category to another.
Being more innovative is, in fact, learnable and even self-teachable.
I've been fortunate to observe and learn this during 45 years of practical, innovative business experiences across 40 countries and across Fortune 100 companies and smaller and entrepreneurial companies.
There are four different categories, or clusters, of nuggets in this book that can help readers reflect and become more innovative:
In the Innovative Strategies section, there are practical insights related to strategies for innovative success in the marketplace.
The Innovative Observations section can help us better see what innovation is around us already. For some, this will be a broader definition as to what business innovation really is.
The Organizational Effectiveness section focuses on how to improve an organization's ability to accomplish innovative goals.
And finally, the Personal Strategies section includes tips and insights related to one's personal life. What can you do to foster and improve your creative thinking and innovation?
Any one nugget by itself may not shake the Earth, but I believe you will find they all add up—like a collection of panned nuggets that take on significant value in their totality. Perhaps one nugget is timely, or, when juxtaposed with another, it takes on greater meaning for you. Each of these nuggets is supported by anecdotes—war stories,
if you will, that bring the concepts to life.
This is a Think Book. It is not intended to be read from start to finish. Instead, peruse the sections that grab your attention first. Focus on one page at a time, and let the ideas settle in. Pause and reflect.
You'll notice that there is a lot of white space on the nugget pages. Make notes if you'd like. Make them your own. Bounce around. Sometimes reordering on your own will help you make a connection someone else might not have made.
I have continued to use these nuggets to coach hundreds of executives to help them grow their businesses through innovation. They are not hard and fast rules. They are reflections. But they have worked for me, personally, and for those I have had the pleasure of working with around the world.
Nugget #39: Sustaining Innovation: The Learning Organization
Successful, innovative companies and organizations never stop learning. They focus on customers. They have their beliefs or knowledge (K). Then they learn (L) as their company grows and changes. And the customer grows and changes along with expectations. It is a continual process.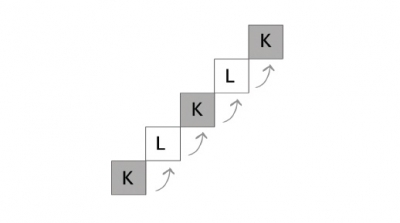 Sustaining innovation requires continued learning and reshaping and experimentation with your customer—and not just the front-end or customer-facing employees. How to bring it back into the entire organization? Continuous learning. Building on the knowledge and improved learning—this becomes the basis of sustaining innovation.
Successful learning organizations such as Amazon, Google, and Apple continually learn and apply new knowledge to growth. Some that have, at one time or another, stopped learning include Kodak, Polaroid, and several U.S. car manufacturers.
Learning organizations do not always get it completely right the first time. They get it close, take action, and then go to market. They learn from customer feedback.
Amazon, for example, diversified from books into many online products and services. By carefully listening and learning innovatively from customers and sophisticated measuring devices, it has responded with new innovative services to meet consumer needs. Its knowledge is the process of measurement, listening, and having an openness to change.
Apple learned innovatively from each generation of iPhones. New features are continually added, while other features are de-emphasized as Apple gathers feedback and knowledge. Who could have imagined that Apple would be a leader in telephones, cameras, e-mail, texting, and voice recognition?
Google stresses innovation at each employee's level. It has an experimental mentality that encourages "venturesomeness." Learning from success and failure is an expectation and deeply rooted in Google's culture. Part of its knowledge is the process of innovation—sustaining and encouraging an innovative culture.
Innovative companies are sustainable companies. It takes a learning and knowledge culture, and a focus on changing customer needs, to stay fresh and build upon what a company has learned. This can be humbling as an organization cannot rest on its laurels. Innovators are always learning.
Excerpt from "63 Innovation Nuggets for Aspiring Innovators" by George E. L. Barbee. It is available through Amazon, Barnes & Noble, and other book outlets. For more information, visit www.innovationnuggets.com
George E. L. Barbee's 45-year business career has taken him to more than 40 diffreent countries over four continents, including Asia, Europe, Eastern Europe, and the former Soviet Union, South America, and Africa. His precedent-making work on IBM and PricewaterhouseCooper's "Rainmaker" programs with senior partners was praised as one of the longest-lasting and behavior-changing initiatives in both organizations. Barbee has founded three successful entrepreneurial companies and has led innovation with several Fortune 100 companies, including Gillette, General Electric, PepsiCo, IBM and PwC. He is one of the original Batten Fellow faculty members (along with Jim Collins, Malcolm Gladwell, and Jim Gilmore) at University of Virginia Darden School of Business and has been teaching innovation for the last 15 years to more than 500 MBA students and senior executives. Barbee's first book is "63 Innovation Nuggets (for aspiring innovators)." For more information, visit www.innovationnuggets.com