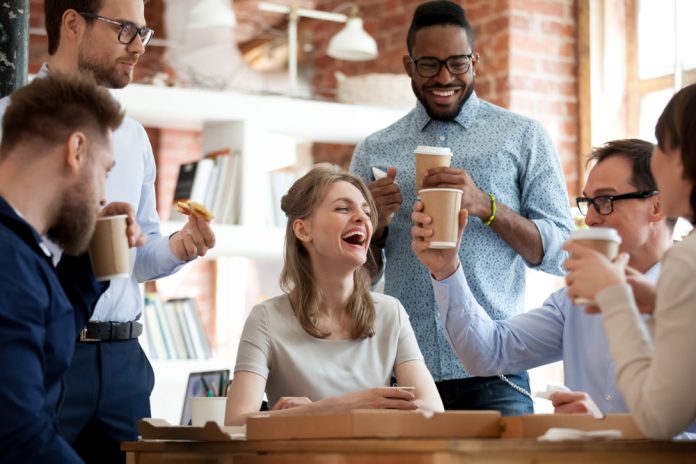 Companies are planning for a post-pandemic world in which employees prefer to work virtually at least part of the time, but what if that's not what they want when the masks come off and social distancing ends?
I found this article on Forbes speculating about the post-pandemic work world. The focus of the piece, by Adrian Gostick, is how companies will accommodate a continuation of what employees experienced during the pandemic. Mostly that means accommodating people who expect not to have to come into the office all the time and communication that continues to be intentional, as it is now with frequent video calls.
Has anyone considered, though, that when we're finally given the all-clear sign—throw out your masks, throw a party with 100 people in a small space!—employees will be eager to see their colleagues in-person? I'm an extreme introvert, so it's funny for me to point this out, but I think companies will be surprised at how many people will want in-person time in the office and in-person events after the threat of COVID is entirely gone.
The Roaring Twenties occurred in the wake of World War I and another catastrophic pandemic. People, who may have been fearful and cloistered for years, decided it was time to start living again. And, boy, does it sound like they lived! Could history repeat itself? Fortunately, we are not coming out of an experience like World War I, but this pandemic has been arguably more devastating psychologically than the 1918 Spanish flu pandemic due to the widespread lockdowns. Unlike the 1918 pandemic, societies across the world were shut down, with cultural mainstays such as Broadway in New York City and live performances everywhere, still out of operation.
With both the fear of contracting COVID, and the restrictions placed on in-person gatherings, gone, why would your employees want to continue living virtually? Even for those who want to continue to have the convenience of working from home, won't many of those people also crave in-person interaction? Many of those virtual-by-choice employees may look forward to in-person teambuilding events or parties in celebration of financial goals met and other successes.
There will be a craving for celebration and a sense of freedom, which companies should anticipate and set funds aside to embrace. Learning professionals and Human Resources professionals should start now holding brainstorming sessions for future in-person events. What kinds of teambuilding activities would your employees, released from the bondage of masks and social distancing, enjoy? Is your workforce of a philanthropic, idealist mindset so that the most rewarding activities to do together are those that give back to your community? Or are your employees more hedonistic, preferring instead a company-sponsored event at a posh hotel with gourmet food and open bar and a popular local band?
An indulgent party also can include teambuilding games, such as trivia that tests employees' knowledge of your market, with prizes given to winners. Or the presentation of ideas for innovation, in which work groups each have to present one new idea for business growth at the party, with a panel of executives voting on which is best and awarding funding to the group with the winning idea.
In addition to your employees, your company's business partners and customers likely will expect in-person meetings. The industry conferences canceled over the last year will resume in in-person form. I know this because, like many of you, I am already getting messages sent to me about upcoming in-person conferences for 2021 that have not been canceled or changed to virtual platforms, but, rather, pushed into the summer months. There is hope that with the vaccine, these events can go forward, and that most people attending would prefer to meet in-person than virtually.
Rather than doubling down on the virtual, consider the many advantages to having people in-person at your office, and find ways of optimizing those advantages as soon as you can. Could you add more seating areas in your office for informal get-togethers with colleagues? Should you add monthly happy hours at nearby bars? There is a lot we all have been missing out on over the last year. You may be surprised at how different employees' feelings are about the virtues of virtual living when it is no longer a necessity.
Is your company planning to embrace in-person interactions and celebration again when the pandemic is over? Are you anticipating a celebratory atmosphere in which everyone is eager to ramp up again?