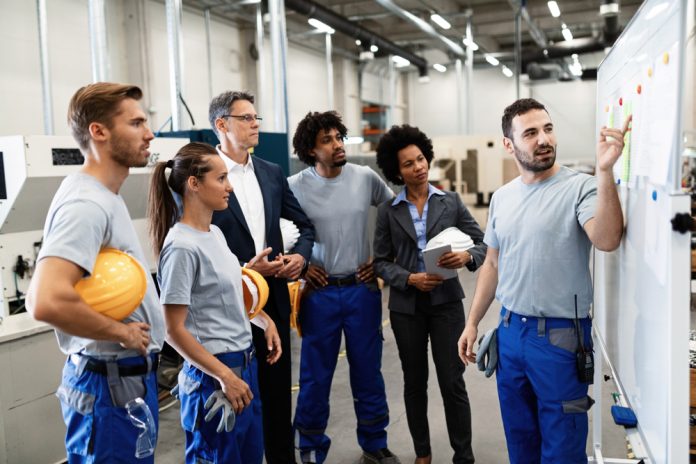 We are in exciting times – "smarter times" – where technology can automate tasks, augmented/virtual reality, and artificial intelligence can improve operations, and performance monitoring sensors can harvest data.
But what does all this smart new technology mean for our most valuable assets – our people? How will we prepare for a shift in "traditional" roles and disciplines? How can we equip our teams to harness advancements for efficiencies, make decisions about what to do with this influx of data, and cultivate a successful ecosystem that connects humans and technology?
The good news is that with some preparation and planning, your team can uncover opportunities to get and make the most out of new technology. One way we help our customers and teams prepare during this wave of industry changes is by applying the 3A learning process that integrates the science of learning and change management. These elements can be managed as high or low-tech as you'd like.
Align: Consider the forecast for a shift in skill needs.
Assimilate: Select the right learning to meet your needs and budget.
Apply: After the training – now what? Application, support, and online tools.
Establish learning objectives and goals linked to performance
In order to ensure a "smarter" tomorrow, there is a critical need for upskilling. In addition to becoming more comfortable and gaining more "digital acumen," manufacturing and industrial jobs will see soft skills becoming just as important as technical ones. As technology reduces the need for manual labor, workers are presented with big opportunities for upskilling, allowing employees to be more productive and strategic in their roles, improving their quality of work, and becoming more efficient in their decision-making.
As industry trends influence changes over time, organizational changes and new program initiatives – like maintenance and reliability improvement efforts – can also shift roles in terms of upskilling and reskilling needs. For example, you may have a Maintenance Planner/Scheduler position that, in addition to gaining digital acumen by using a new CMMS system, can and should begin to use the information in reports to identify continuous improvement opportunities and analyze data. Supervisors can move away from reactionary minute-to-minute work execution problem-solving to proactive loss elimination. Shifts in focus like these can mean that each role is poised to bring new benefits to the business.
A learning impact map can align learning needs, on-the-job action, and business results. It can be put into an online learning management system to help track and manage results.
The supervisor/manager and learner should discuss and agree on the learning impact map objectives and goals so that proper training and development planning can occur.

Sample learning impact map
A few best practices you should follow when using learning impact maps:
Only 2-3 goals should be documented in the map
Goals should be able to be worked on within 30 days of the learning event
Develop goals that will be able to produce or see some results within 90 days
These timeframes are recommended so the learner is motivated by success, and so that the business results achieved can be directly tied to the training or development opportunities they received.
Choose the right learning to meet your needs and budget
Once you've targeted your learning objectives, you can start planning how to reach those educational needs.  In-person or live, virtual classes are good for sharing between learners and having real-time subject matter expert discourse without distractions at the workplace. eLearning or self-paced online courses can be completed at the learner's own pace and can offer opportunities for immediate application and experimentation on-the-job. Another benefit to eLearning is that it can be used to educate cross-sections of the enterprise and achieve a knowledge base and common language around reliability and asset management.
When implementing and training a new process, here are some considerations:
Make room for Application – this means transferring learning from the online or in-person classroom to the workplace (the "What will I do?" section of the learning impact map).
Have a method to capture or report on results delivered from actions taken after training. This isn't only to celebrate the success of the learner but to realize the return on your training investment.
Application, support, and online tools
We've selected the people, defined the learning objectives, invested in a training or certification program, and documented what we're hoping our people will DO with that new knowledge and skills after the training. Now what?
The application phase is all about moving from the classroom to the workplace.
Here are a few suggestions on how to follow through on learning impact maps:
Review the learning impact map activities and goals bi-weekly with your learners for 90 days.
Ask them about their progress toward their goals.
The learner should be expected to begin trying the items in the "What will I do" column within 30 days of the training and see some sort of result within 90 days.
The best way to learn something is to train someone else by having your learners coach others in your team on the new knowledge or skill. You can also embed training and development into professional development cycles. Upskilling and reskilling is not a "one and done" activity – it is an iterative cycle of definition, development, and transition.
When it comes to workforce development, managers are well-positioned to work with leadership to identify the skills and education your people will need to produce the desired results. By using the 3A Learning process, you can establish a world where all your assets – people, equipment, technology, and tools – are operating at peak efficiency.