March / April 2012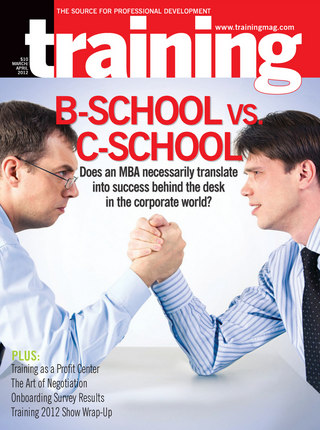 View Digital Edition
Tuition Reimbursement By Jamie Leitch, Director, Career Development & Training, American Infrastructure
By Lorri Freifeld Orchestrating a smooth training transition during a merger or acquisition is never easy. But when it involves the joining of two major airlines, well, fasten your seatbelts. There almost definitely will be turbulence ahead.
By Gail Dutton Employees in a negotiation training workshop are chatting happily in a company cafeteria near San Francisco. They're not on break. They're on assignment. Their objective: to discover three things they didn't know—and wouldn't have guessed—about each other. They have two minutes.
By Margery Weinstein When you see on a resume that an applicant graduated at the top of his or her business school class, does that necessarily translate into guaranteed success behind the desk at your company? A business school background can't hurt, but most organizations know it is far from enough. With more individuals touting business school degrees on their resumes, companies are recognizing the need to help these new employees apply what they learned in the classroom to the real world of tight budgets and stretched financial goals.
By Peter Post When I became involved in the Emily Post Institute teaching about etiquette, I found myself sitting at a lunchroom counter one day scribbling notes for an upcoming talk. The thrust of the talk was the importance of etiquette in building relationships. Etiquette, after all, is more than just a bunch of rules. Its true purpose is to guide us to make choices that build relationships.
By Roy Saunderson Most orientation and onboarding programs are manager-initiated or online portal-delivered sets of steps, policies and procedures, and general ground rules to function on the job. Whether it is health and safety guidelines, learning the full benefits package, taking assigned online learning presentations, or signing off on required Human Resources documents, it can turn into a lot of information cramming and a check-box mentality of task completion.
By Tony O'Driscoll By the time you finish reading this article, 5 million videos will have been viewed on YouTube; 1.9 million messages will have been shared on Facebook; 400,000 people will have tweeted; 15,200 people will have searched for someone on LinkedIn; 6,250 photos will have been uploaded to Flickr; and 4,000 people will have checked into a location on Foursquare.