March / April 2014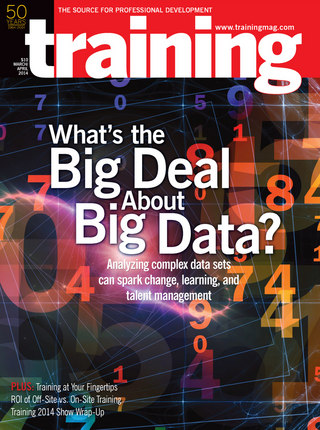 View Digital Edition
BCBSM customers know they can count on us for their health insurance needs, and we are taking steps to make sure we always listen for their voice. In fact, improving customer experience is one of our corporate goals. As a Training department, we needed to ensure easy access to comprehensive Voice of the Customer information for our customer service representatives (CSRs) and their leaders. To facilitate this, we created a balanced scorecard that integrates critical feedback from training, quality, analytics, and operational call centers.
Just days before the Olympic Games kicked off in Sochi, Russia, the Training 2014 Conference and Expo, held February 3-5 at the San Diego Convention Center, was bathed in its own golden glow.
Training magazine began looking at MasTec's Utility Services Group's journey to create a culture of learning throughout its organization in the January/February 2014 issue. This culture of learning is destined to support MasTec's goals of recruiting the best talent in the utility construction industry, developing those individuals to set them up for success, and ultimately retaining their top talent.
In the November/December 2013 issue of Training, we reported on the general practices of the 2013 Training Top 125 winners (plus an additional 26 organizations that were on the cusp of making the Top 125 list last year) regarding tuition reimbursement. But readers wondered whether the practices are consistent across all organizations or differ among industries.
Performance support tools—whether traditional in the form of mentoring and coaching or technologically advanced and online—can be workforce game-changers. When your employees find themselves stumped in the middle of a challenging task, these tools give them a place to turn for quick, just-in-time answers. The challenge is understanding the support tools available today and which are right for your employees.
In Africa, there is an age-old learning tradition that is still practiced today: storytelling. Villagers learn about the values and behaviors that will be conducive to the success of the tribe by being together, sitting around a campfire at night, listening to the elders of the village talk. What has been true throughout the centuries is still true today.
Carefully considering all the pluses and minuses will secure the best ROI for the program.
Big data can be daunting, but its analysis is making significant differences in organizations. By analyzing complex data sets across functional silos, organizations are gaining insights to help catalyze change, improve access to experts, speed onboarding, retain talent, and identify root causes for complicated issues. It improves the learning environment, and even the Learning & Development organization itself.