Home
September / October 2014
September / October 2014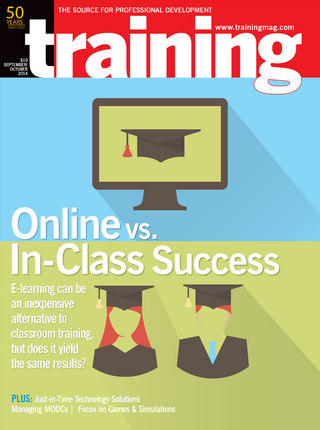 View Digital Edition
Whether it's e-learning or classroom instruction, the crucial thing to keep in mind is that "Training Matters."
As MasTec continues along its journey to create a culture of learning, we review the impact three of its recent training initiatives have had on the organization so far.
Military games offer lessons for the corporate training sector.
A look at how four organizations—CMS Energy, Xerox Europe, Aon Hewitt, and Southwest Airlines—are "gamifying" training.
We watch TV programs sans commercials "on demand" and have instant access to information 24/7 via the Web. Today's employees want that same flexibility when it comes to training.
Problems that involve remote colleagues result in significantly more severe impacts to productivity, cost, quality, and time, according to a survey by VitalSmarts and Training magazine. But the situation isn't hopeless. Here are some steps that can help.
Massive Open Online Courses (MOOCs) provide large numbers of learners with unlimited access to online material, but they are not for everyone.
E-learning can be an inexpensive alternative to classroom training, but does it yield the same results?
Findings from a structured review of the literature on informal learning.