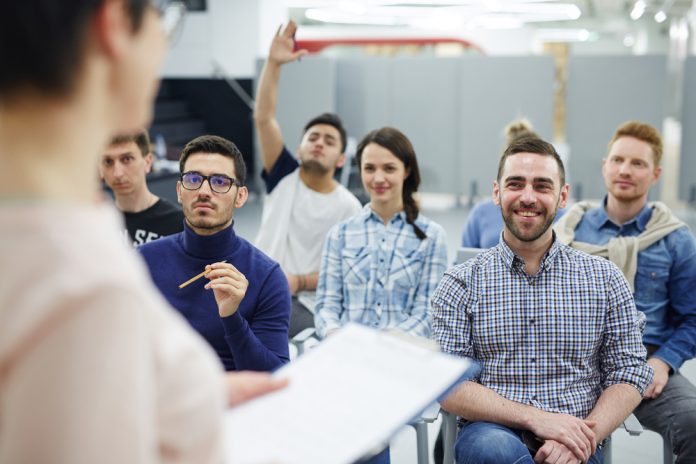 One of the most significant impacts of the pandemic on our lives is the blurring of lines between work and home. On the one hand, the rise of remote work and the ubiquity of Zoom have offered employers and their employees greater flexibility. (Want to work from an Airbnb beach house? Go for it.) But on the other, there's now an expectation of being digitally available no matter your location or homelife scenario, which can introduce additional strain and unrealistic expectations. A couple of years ago, knowledge workers could "leave work at work" when they left the office. Those days are gone.
To combat Zoom fatigue and employee burnout, many employers have attempted to engage their team members by requiring various learning initiatives. These efforts are well-intentioned, especially considering the positive impacts of continuous learning on both business outcomes and employees' careers. McKinsey reports that to better prepare for a post-pandemic future, companies need to get learning right to fuel their talent engine and create an empowered workforce fluent in the art of 'fail fast, learn, repeat.' McKinsey argues that the "mindset of continuous learning" that successful companies promote "encourages and supports people to adapt and reinvent themselves to meet shifting needs."
Encouraging ongoing learning is necessary for your organization to ensure you can pivot and move as needed to succeed throughout the pandemic and beyond. But requiring employees to engage in learning initiatives isn't a practical approach.
Allowing Curiosity to Drive Learning
Rather than create learning requirements, learning and development (L&D) professionals should create learning environments. The change may seem small, but it's significant, driven by research into what's known as "curiosity learning," in which learning is centered around an employee's desire to know something.
Neurological studies have shown that curiosity makes our brains more receptive to learning. And in recent years, research has also proven that interest is associated with better learning outcomes—with findings indicating that people are more likely to recall answers to questions they're especially curious about. If your employees aren't interested in a topic (perhaps something an organization might require them to learn), the odds of it sticking are significantly reduced. By leveraging curiosity learning, employees can self-direct their learning pathways based on their interests. And that can't be encouraged enough—especially in tech.
Four Best Practices for Fostering Environments of Curiosity Learning
If you're an L&D professional ready to promote a company culture of curiosity, these tactical best practices are for you:
1. Provide employees with tools and technologies to learn and grow on the job.
Learning by doing is arguably the best way to develop a new skill. After all, you didn't learn to ride a bike by reading about it. So go beyond just books and videos and provide interactive learning experiences. For your developers, this might include sandbox environments that allow them to experiment with technologies like Linux and SQL before putting them to work in the real world. This will enable them to learn how they work and make mistakes in a safe environment that won't impact your business. Most importantly, ensure employees understand that these learning tools and technologies are available whenever they need them.
2. Enable learning within the flow of work.
Rapid technological advancement continues to reshape almost every job on the planet. Want to remain competitive and productive as the world around you is disrupted? Empower every employee with the opportunity to learn on an ongoing basis. There's a tendency to structure learning initiatives in a rigid, stand-alone manner, but that flies in the face of the benefits of curiosity learning. To best support their employees, intelligent companies view learning as an ongoing Their L&D professionals recognize their role in enabling employees within the flow of work, so learning can occur on the job and be applied immediately.
Think of it this way: when we all worked in an office, we could pop our heads over our cubicles to ask a coworker a quick question, then pop back down to apply that knowledge. One way to duplicate this learning in a remote work environment is to integrate technologies that allow employees to find quick answers to everyday problems while working. This can include providing software that will enable employees to ask questions and get trusted solutions fast, offering interactive tutorials where they can grab a line of code, or creating and sharing playlists of the most helpful content on any topic for them to explore when they have the chance.
3. Set aside recurring time for employees to expand their skills.
Instead of only occasionally setting aside time for learning, create an environment that allows employees to allocate a standard number of hours each week for learning and development that they can use as they see fit. Sometimes they may only need a few minutes to find an answer and put it to work right away. Other times they may need to dive deeper into new technology to understand how they can apply it. But whether minutes or hours, the knowledge gleaned only benefits the organization.
4. Partner with learning providers that have adjusted their offerings to reduce digital fatigue.
The idea of losing an employee to a weeklong conference, in-person or virtual, is a hard pill to swallow—and employees don't like falling behind on their work either. And how much precious information is retained when it's being crammed in during back-to-back-to-back sessions? Instead, give your team time to digest what they're learning. Find a learning provider that offers training opportunities in smaller, bite-size increments that span the entire year. Or shorter sessions over several days or weeks (as opposed to daylong training sessions) so team members can integrate their learning into their workday while maintaining their standard schedule. No missed meetings or deadlines—just learning what they need to know without interfering with their to-do list.
The Value of Curiosity Can't Be Overlooked.
In this era of remote work, a corporate learning mandate is an outdated approach that piles additional tasks on top of already-heightened workloads. By allowing curiosity to drive learning, companies and their L&D professionals can help employees expand their skill sets faster and more effectively—and keep them engaged in the process. So, every team member can make more of an impact.
That said, there are situations where the company should still mandate learning. For example, if you want to move to a new cloud provider or install a new security tool, your employees must learn those skills. That's imperative. In those cases, be sure you provide context to help create curiosity. (It could be as simple as asking employees to consider the security challenges your company faces and how the new tool could help tackle some of them.) Give your learners agency to apply what the organization needs them to learn; that curiosity will only benefit your organization.
The key to inciting curiosity learning is providing employees with clear pathways to learn when and where they want. Thankfully, virtual on-demand learning can give immediacy to curiosity even in remote work environments. As companies prepare for the post-pandemic future, the value of curiosity learning can't be overlooked. Now is the time to evolve beyond structured, stand-alone learning and embrace more fluid approaches that pique employees' innate curiosity.