Jiffy Lube International, Inc., put the training pedal to the metal, roaring into the No. 1 spot on the 2014 Training Top 125. The 100 percent-franchised organization's aligned and focused approach to training—in particular, training on new services, customer service skills, and leadership— has resulted in a 900 percent increase in the number of stores at 100 percent certification, a reduction in turnover, and a 93 percent approval rating by franchisees. Furthermore, Jiffy Lube has experienced eight consecutive years of increased average revenue per customer and improved customer service scores.
"Training is one of the cornerstones of success for Jiffy Lube International," stresses Steve Ledbetter, president of Jiffy Lube International. "Our comprehensive, fit-for-purpose program allows us to consistently drive excellence to our franchisees and throughout the organization. Our robust training program ensures that everyone who works in the Jiffy Lube System has a sound foundation to match the excellent customer experience our customers have grown to expect when entrusting their vehicle to a member of the Jiffy Lube service center team. Jiffy Lube will continue to make training a top priority to further drive excellence."
GROWTH DRIVERS
According to Ken Barber, manager, Learning & Development, Jiffy Lube International has one primary goal: "to deliver growth to our Jiffy Lube franchisees." Barber says Jiffy Lube strives to achieve this goal through three key pillars:
The Customer Value Proposition (CVP). The brand's core promise is: Jiffy Lube believes every driver deserves to be free from the anxiety of keeping his or her vehicle in top shape. To help customers "Leave Worry Behind," Jiffy Lube is committed to providing a high-quality, worry-free service experience that gives customers peace of mind, and reassures them that Jiffy Lube gets the job done right. To help fulfill this promise, Barber says, Jiffy Lube requires all service center technicians to undergo training and achieve appropriate certifications. Each technician is required to participate in a robust training program, including a comprehensive computer-based curriculum and hands-on training at the service center.
Network Development. Jiffy Lube's training programs are one key to attracting new franchisees, providing the training needed for a successful business, Barber notes. "As the training programs have developed, the Jiffy Lube system overall has experienced positive store count growth. Jiffy Lube University is a tremendous resource to prospective franchisees seeking an effective tool for training their employees."
Operational Excellence. Delivering a consistent, excellent customer experience further ensures Jiffy Lube helps customers "Leave Worry Behind." Jiffy Lube University emphasizes a focus on the customer experience and helps teach service center employees how to contribute to a positive experience. Barber says training's contribution is seen in consistently higher customer service scores over the last eight years to the current overall positive response level of 90.6 percent. Jiffy Lube University also is reinforced in the current national advertising campaign entitled "Well-Trained Technician," which raises awareness for its customers about the training Jiffy Lube technicians receive.
ACCELERATING SOLUTIONS
Jiffy Lube's greatest training needs in 2012/2013 were met by two of its most effective training programs. Both represented technical challenges and required innovative solutions, Barber says. The two training needs were:
A training program to address the communication and sale of specialty oil products
Technical training for new services offered through Jiffy Lube Brakes and Services
Even though numerous vehicle manufacturers recommend the use of specialty oils such as synthetic and high-mileage motor oils, in late 2011 Jiffy Lube's proportion of specialty oils to total motor oil sold was low. "The statistics indicated that Jiffy Lube service center technicians were not effectively communicating the benefits of specialty motor oils," Barber says. "As an educational discussion surrounding specialty motor oil can be complex and somewhat confusing, our strategy was to develop a simple, concise approach that every Jiffy Lube Customer Service Advisor (CSA) could execute effectively."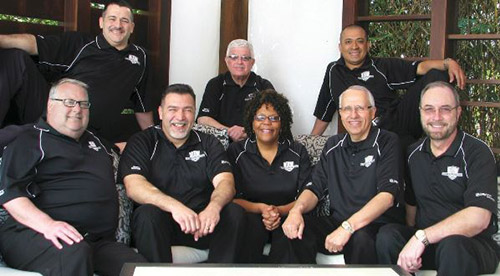 The Jiffy Lube University Learning Team leveraged best practices gathered from select franchisees to develop a communications strategy for educating Jiffy Lube customers. The communications approach focused on the Jiffy Lube Customer Service Advisor offering the appropriate specialty oil, along with its benefits, at the start of the conversation. The 12-member Training Committee (which includes eight members from the Jiffy Lube Association of Franchisees) reviewed the approach to ensure relevancy across the system.
Jiffy Lube University then developed an e-learning course focusing on specialty oil products. A companion instructor-led (ILT) course, "Empower the Customer – Oil Selection," was designed to educate Jiffy Lube CSAs on the benefits of motor oils so they could better communicate with customers based on their vehicle manufacturer recommendations and driving habits—ultimately empowering customers to make the optimal oil selection for their vehicle. The ILT included an interactive component, whereby participants maximized interaction and learning through role-playing in smaller breakout sessions. A virtual instructor-led training (VILT) version of the course was developed, using the Blackboard Collaborate platform for delivery in smaller markets.
Since January 2012, more than 10,000 Customer Service Advisors and store managers have completed the online specialty oil course, Barber says. And more than 3,300 Jiffy Lube service center technicians have attended the Empower the Customer – Oil Selection classes (ILT and VILT). "More than 80 percent of the Jiffy Lube service centers have adopted the communications approach," Barber says, "and the specialty oil mix increased from 20 percent in January 2011 to 45 percent in July 2013."
Committed to meeting consumers' needs, in 2012, Jiffy Lube expanded its service offerings to include Jiffy Lube Brakes and Services at select service centers nationwide. To deliver these new services, Barber says, highly trained Jiffy Lube service center technicians were certified to provide even more preventive maintenance services, including brakes, tires, engine diagnostics, steering and suspension, and drive train. Training played a critical role in the successful implementation of these new services. The Jiffy Lube University Training Team needed to deploy a full technical library of courses to train Jiffy Lube technicians on the new services and to prepare them for an Automotive Service Excellence (ASE) certification exam. Barber says the training had to be effectively deployed to train technicians in 25 percent of the 2,000 stores in the first year. The process also had to protect the Jiffy Lube brand by assuring that every franchise followed consistent, quality standards when rolling out the new offering.
To address this new technical training, Barber says Jiffy Lube International elected to leverage off-the-shelf training courses developed by Adayana, a key Jiffy Lube vendor, rather than developing curriculum. "Leveraging existing material enabled Jiffy Lube International to roll out the e-learning courses in less than three months," Barber notes. "Over the course of 2013, Jiffy Lube International provided training for eight technical services. Jiffy Lube service center technicians from 500 stores completed more than 100,000 e-learning modules during 2013 to prepare for offering the new services."
FUELING LEADERS
One of the greatest challenges Jiffy Lube franchisees and virtually every company faces is the need to develop leaders, Barber notes. For Jiffy Lube, the most crucial area of need is the store manager level. "Two years ago, we determined that we needed to expand our training for managers and assistant managers," Barber says. "Rather than tweak existing content, we took a fresh look at the entire curriculum. To ensure that Jiffy Lube University's leadership training would be a valuable tool for managers, we researched training patterns among managers in multiple markets across the country. The result of the study provided the foundation for our new Leadership Training."
The new training program specifically designed for these key leaders includes 14 e-learning courses, a three-day Leadership Training instructor-led class, and a Leadership Challenge simulation, all of which are required for certification. The "Day in the Life of a Store Manager" simulation presents the manager and/or assistant manager with a series of scenarios where they learn and practice the skills they need to succeed. Learners earn points based on the quality and timeliness of the answers. A minimum score is required to fulfill the Leadership certification. After receiving the certification, managers and/or assistant managers can play as often as they like to earn a place on the "JLU Leader Board."
Team Leader training includes a problem-solving module in which Team Leaders must apply their knowledge of "floor control" in a virtual service center. The Team Leader then continues with on-the-job training and a proficiency examination. The Leadership Training covers key factors in developing a winning team.
In 2012, more than 13,000 Jiffy Lube employees earned the Team Leader certification; 2,622 earned the Management certification; and 1,400 earned the Leadership certification. In the last three years, Barber says, the certification level for Team Leader has increased from 52 percent to 92 percent; Management Training has increased from 63 percent to 114 percent, and Leadership Training has increased from 25 percent to 100 percent.
Over the last four years, the turnover rate for technicians system-wide has decreased by 45 percent, with the improvement in supervisor skills contributing to that reduction, Barber says, resulting in a significant financial benefit to the organization.
DELIVERY OPTIONS
The use of gaming increasingly is an effective and attractive training option for Jiffy Lube, Barber says. For years, Jiffy Lube training has included a simulation built around a "Virtual Garage" where employees experience a change in roles when the service center team changes from a five-person to a four-person to a three-person team. "The visual nature of the simulation simplifies learning and continues to hit the mark with service center employees," Barber says.
To reinforce the Jiffy Lube Customer Value Proposition, in 2013, Jiffy Lube International teamed up with training and development agency LIBRIX to develop an entertaining animated competition powered by LIBRIX's cloud-based gaming engine and featuring racecar driver "Jiffy Jackson." A combination of animation and video footage, the Customer Value Proposition learning module is followed by a short quiz related to the topic. Service centers earn points and qualify for prizes and recognition. To date, more than 90 percent of the Jiffy Lube stores have visited the learning module.
Looking ahead, Barber says the three items on Jiffy Lube's training wish list include:
Greater use of mobile and simulation platforms
Multi-language modules
Tablets for use by Jiffy Lube employees during ILT sessions
"These have been on our radar screen for some time," Barber notes. "The majority of e-learning training is conducted from store computers or personal computers. Jiffy Lube International currently is modifying all e-learning courses to ensure compatibility with smart phones and tablets. All management training will run on tablets in 2014, and other courses will follow. We anticipate the 'Day in the Life of a Store Manager' simulation will lead the trend toward more use of smart devices of all kinds."
TEST TRACK
No matter how training is delivered, the Jiffy Lube University Training Team measures training results in two categories: learning metrics and business metrics. Jiffy Lube University launches, tracks, and reports on usage and completion data for more than 130 e-learning modules in addition to ILT and VILT courses. The Learner and Manager portals available through Jiffy Lube University are heavily branded to provide an interesting and engaging learning environment.
In the Learner Portal, the Jiffy Lube employee follows the training Roadmap, which allows learners to take charge of their development and accelerate their preparation for a store manager position or beyond. The Manager portal provides such reports as a Certification % Dashboard that can be filtered based on multiple criteria. This color-coded report reflects at or above target results in green, those between 51 percent and 99 percent of target in yellow, and those below 50 percent in red. The colors make it easy to identify problem areas and generate actions for improvement, Barber says. "Jiffy Lube University provides the ability to print certificates of completion locally, so employees can be recognized for their training accomplishments on the spot."
In 2013, Jiffy Lube employees conducted more than 2.2 million hours of training, which reflects a 200 percent increase over five years, Barber says. The Jiffy Lube reporting system tracks training certification levels for individuals, stores, and franchise entities. Since the reporting system went into place in 2008, the overall certification level has improved by 90 percent system-wide.
While learning metrics are a valuable tool, business metrics represent a more important measure of success, Barber stresses. The Jiffy Lube University Training Team strongly believes training metrics should align with business goals and objectives.
JLU provides the "Big Data" needed to assess the relationship between training and business metrics such as employee turnover and retention, customer service scores, average revenue per customer, and franchisee feedback, Barber notes. "The system even allows us to calculate the return on investment for training. Over the last eight years, we have seen steady increases in all of these metrics, which have strengthened the Jiffy Lube brand and helped it remain an industry leader."
FAST FACTS
Total number of Jiffy Lube International, Inc., employees and service center employees trained overall annually: 20,000
Average length of employee service: 12 years
Percentage of job openings filled by internal candidates: 90 percent
Percentage of new hires referred by employees: Approximately 80 percent
Total number of employees and independent contractors/franchisees trained annually via instructor-led classroom sessions: 3,000
Total number of employees and independent contractors/franchisees trained annually via online, self-paced study: 20,000
Number of courses offered as instructor-led classroom sessions: 9
Number of courses offered as instructor-led virtual classroom sessions: 4
Number of courses offered as online-self-paced modules: 120
Total hours of training taken in 2013: 2.2 million
QUICK TIPS
The Jiffy Lube University Training Team offers three recommendations to reduce costs without compromising the quality of training:
UTILIZE E-LEARNING AS MUCH AS POSSIBLE. While e-learning can be a big investment initially, in the long term, the approach is cost-effective. Jiffy Lube believes that any subject that can be taught via e-learning should be. The benefits of e-learning are clear: easy access, consistency of content, ability to update content quickly, and the capacity for expanded use. In 2013, Jiffy Lube employees completed several hundred thousand courses, 95 percent of which were e-learning; the cost per course was less than 15 cents. Virtual instructor-led training (VILT) classes were used to train a growing number of Jiffy Lube service center employees in Canada, eliminating significant travel costs while conducting the training in a timely manner. Last year, one Jiffy Lube University trainer conducted VILT sessions three weeks each month, reaching 20 percent more staff and saving $100,000-plus in travel expenses.
ALIGN WITH KEY VENDORS. Working with key vendors that know your business and are able to run with projects to develop new learning content or reporting capability saves time and money. Staffing such functions internally can be expensive, so the Jiffy Lube University Training Team works with InterCom to provide content development. Additionally, Adayana serves as the company's learning management system (LMS) provider and report generator.
EMBRACE VILT AS A DELIVERY METHOD. Virtual instructor-led training (VILT) is a great way to use technology to deliver more training while saving on travel and meeting costs. While there may be some technical issues to resolve, they are manageable. The key is selecting the right platform and getting your facilitators properly trained on the platform and VILT instruction techniques. Jiffy Lube International uses Blackboard Collaborate as its platform and the Bob Pike Group to train facilitators. Jiffy Lube now uses VILT as a standard training tool.