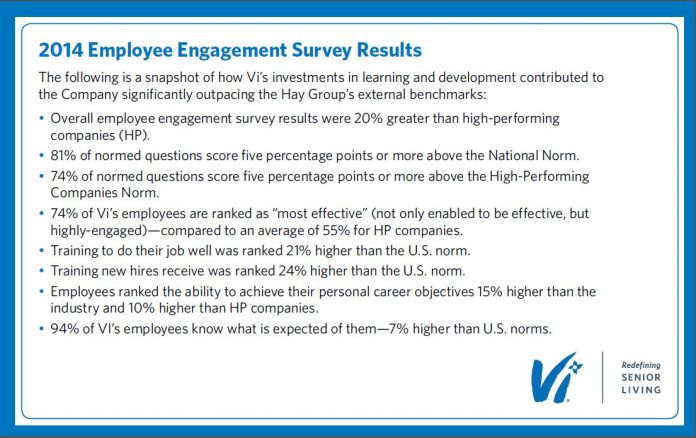 Vi pronounced (VEE), a name rooted from the Latin meaning of "life," has been blurring the lines between resort and senior living for more than 25 years. As a developer, operator, and owner, Vi has served the senior living industry by providing highquality environments, services, and programs to enrich the lives of older adults in the company's 10 continuing care retirement communities (CCRCs).
Residents are attracted to Vi not only because of the luxury resort-style communities in highly desirable locations but also because of how Vi delivers its brand promise through the organization's dedicated and long-tenured engaged employees.
Understand Your Drivers of Engagement
Traditional engagement surveys, focused on motivational outcomes, generally will not measure aspects of the work environment critical to enabling contributions from motivated employees. According to Mark Royal, senior principal, Hay Group, Vi's employee engagement survey provider, "it is critical that organizations identify and respond to the drivers of enablement together with the drivers of engagement to make sure that motivated people are also well positioned for success."
Rather than trying to boil the ocean, Vi recognizes that providing employees training and development opportunities and the ability to learn and grow are key drivers of engagement and organizational performance. By enabling its employees, Vi believes there is a strong correlation between the company's high resident satisfaction and employee satisfaction results. With more than 93 percent of Vi's residents having recommended or being willing to recommend the company to others, Vi's continued focus on employee development has paid off.
Competing Heavily for Talent
Vi competes heavily for talent in the health-care and hospitality sectors. While operating communities in desirable leisure and retirement markets, Vi's companywide attrition 0 percent to 20 percent. Attrition in the senior living industry can average anywhere from 45 percent to 75 percent. Employee satisfaction scores also have grown exponentially since the company made the strategic decision to build and invest in industry-leading employee development programs. Investing in learning culture has not only been one of Vi's key drivers of employee satisfaction and retention, but also has led to successful business outcomes.
"Engagement is an exchange relationship," Royal notes. "If organizations want employees to do and deliver more, it's essential that employees feel valued as people, and that their extra efforts are recognized and appreciated, and that over time, there is a balance between total rewards and contributions."
A Never-Ending Journey
Vi's commitment to building an industry-leading learning culture didn't happen overnight. Over the years, Vi has leveraged employee survey feedback to help shape and refine Vi's learning strategy with the goals of building not only stronger organizational performance, but a stronger bond and connection with employees—and between employees and Vi's residents. According to Royal, engagement is not only influenced by employees' current work experiences but also by their view of the future: "Employees need to have a positive outlook on their own futures within the company, in terms of opportunities to learn, develop, and progress in their careers."
Building a learning culture that drives employee engagement and customer satisfaction goes beyond offering an extensive training catalog. Vi has taken a disciplined and gradual approach to building organizational capability and institutional knowledge. Going from ground zero with no formal learning function or curriculum seven years ago, Vi has built a highly utilized online university called E-Campus with microlearning sites for the company's various department functions. Today, Vi has learning microsites for the company's food and beverage professionals; housekeeping and engineering staff; nursing professionals; and sales, accounting, and HR staff.
In recent years, Vi established a microsite for its Management Development Program participants, as well as executive online libraries. Learning microsites contain courses and resources to both help employees learn and grow and serve as employee resource centers. Ownership of Vi's learning microsites resides with functional leaders, creating a culture of shared responsibility for learning and development throughout the company.
Accessibility Is Key
Ensuring learning and development is accessible and available for every employee is part of Vi's value proposition. Over the years, the company has developed custom customer service, housekeeping, food and beverage, sales, and nursing curricula. In addition, Vi has invested in offering free language training from Rosetta Stone for employees, certification programs, tuition reimbursement, and free continuing education courses for the company's nursing professionals. It has established key partnerships with Harvard Business Publishing, Franklin Covey, TalentSmart, the Culinary Institute of America, and American Hotel and Lodging to provide depth in accessibility and content offerings. Customer service training handbooks also are offered in four languages, and several of Vi's front-line training and reference materials are offered in multiple languages to improve learning accessibility.
Building a connection for employees to future leadership roles within the company, Vi's Management Development Program was created for front-line employees desiring to prepare for future leadership roles. The program provides learners the opportunity to participate in a variety of learning experiences, including Webinars led by Vi's executive team, online and classroom learning, developmental projects, and virtual training sessions that are intended to build professional and technical capabilities and create an emotional connection to the company. Likewise, Vi's one-year "Breakthrough Leadership Program," for field and corporate leaders, leverages assessments, classroom, virtual and online learning, along with study groups, to build a pipeline of leadership talent more capable of driving employee engagement throughout the organization.
Sharing Success Stories
Over time, Vi has learned that propagating learning success stories helps feed a learning culture. At least one-third of Vi's company newsletter is dedicated to learning success stories. Each story revolves around promoting an environment where learning takes place each day—fundamentally changing the way employees think about how, what, and when they learn, and how they can apply learning to practice.
Results
While several factors contribute to Vi's strong employee engagement survey scores, the company's strategic focus on building a learning culture has had a significant and positive impact on employee engagement, as well as employee retention. Most notably, Vi's employees ranked "Training to Do Their Job Well" 21 percentage points higher than the U.S. norm, according to Hay Group. In addition, "Training New Hires Received" was ranked 24 points higher than the U.S.norm. Employees ranked the ability to achieve their personal career objectives 15 points higher than the industry and 10 points higher than Hay Group's high-performing companies' benchmark. Vi's investments in manager and leadership development also have paid off as more than 94 percent of Vi's employees know what is expected of the —seven points higher than Hay Group's U.S. norm.