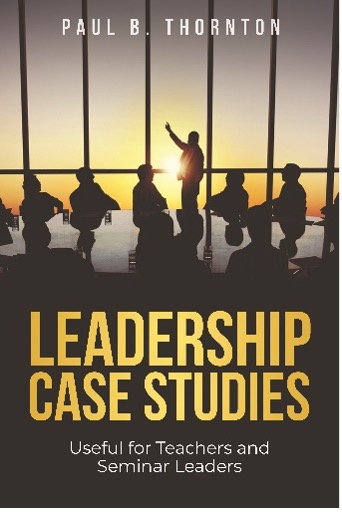 For the past 30 years, I have conducted seminars and workshops and taught college classes on leadership.
I used a variety of teaching aids including books, articles, case studies, role-plays, and videos.
I recently created a book, Leadership Case Studies that includes some of the case studies and role-plays that I found to be most instructive and impactful.
Here is a sample of three case studies.
Peter Weaver Case Study
Peter Weaver doesn't like to follow the crowd. He thinks groupthink is a common problem in many organizations. This former director of marketing for a consumer products company believes differences of opinion should be heard and appreciated. As Weaver states, "I have always believed I should speak for what I believe to be true."
He demonstrated his belief in being direct and candid throughout his career. On one occasion, he was assigned to market Paul's spaghetti-sauce products. During the brand review, the company president said, "Our spaghetti sauce is losing out to price-cutting competitors. We need to cut our prices!"
Peter found the courage to say he disagreed with the president. He then explained the product line needed more variety and a larger advertising budget. Prices should not be cut. The president accepted Weaver's reasoning. Later, his supervisor approached him and said, "I wanted to say that, but I just didn't have the courage to challenge the president."
On another occasion, the president sent Weaver and 16 other executives to a weeklong seminar on strategic planning. Weaver soon concluded the consultants were off base and going down the wrong path. Between sessions, most of the other executives indicated they didn't think the consultants were on the right path. The consultants heard about the dissent and dramatically asked participants whether they were in or out. Those who said "Out" had to leave immediately.
As the consultants went around the room, every executive who privately grumbled about the session said "In." Weaver was fourth from last. When it was his turn, he said "Out" and left the room.
All leaders spend time in reflection and self-examination to identify what they truly believe and value. Their beliefs are tested and fine-tuned over time. True leaders can tell you, without hesitation, what they believe and why. They don't need a teleprompter to remind them of their core beliefs. And, they find the courage to speak up even when they know others will disagree.
What leadership traits did Weaver exhibit?
If you were in Weaver's shoes, what would you have done?
Where does courage come from?
List your three most important values.
Dealing with a Crisis Case Study
Assume you are the VP of Sales and Marketing for a large insurance company. Once a year your company rewards and recognizes the top 100 sales agents by taking them to a luxury resort for a four-day conference. Business presentation meetings are held during the morning. Afternoons are free time. Agents and spouses can choose from an assortment of activities including golf, tennis, boating, fishing, shopping, swimming, etc.
On day 2 at 3:00 p.m., you are at the gym working out on the treadmill, when you see Sue your administrative assistant rushing towards you. She says, "I need to talk to you immediately."
You get off the treadmill and say, "What's up?" Sue states, "We've had a tragedy. Several agents went boating and swimming at the lake. Randy, our agent from California died while swimming."
(Background information – Randy is 28 years old. His wife did not come on the trip. She is home in California with their three children).
Explain what you would communicate to the following people.
Your boss
Your Human Resources Department
The local police
The attendees at the conference (Would you continue the conference?)
How will you notify Randy's wife?
If Randy's wife and a few family members want to visit the location of Randy's death, what would you do?
What are some "guiding principles" that leaders need to follow in a crisis situation?
 Arsenic and Old Lace Case Study
Review the YouTube video, "I'll show them who is boss Arsenic and Old Lace."   
Background Information
The Vernon Road Bleaching and Dyeing Company is a British lace dyeing business. It was purchased in bankruptcy by the father/son team of Henry and Richard Chaplin. Richard has been acting as "Managing Director" which is the same as a general manager or president of a company.
The company has had 50-to-150 employees with 35-to-100 being shop floor, production employees. The company produces and sells various dyed fabrics to the garment industry.
Gerry Robinson is a consultant who was asked to help transform methods of conducting business to save the company.
Jeff is the factory manager.
What are Richard's strengths and weaknesses as a leader?
What could Richard have done to make the problems of quality and unhappy customers more visible to the workforce?
What do you think Richard's top three priorities should be for the next 12 months?
What could Richard have done to motivate the workforce?
Evaluate Jeff's approach and effectiveness as a leader.
The book contains 16 case studies, four role-plays, and six articles. I hope you find some of the content useful and helpful in your efforts to teach leadership.
Want more?
Click for additional leadership case studies and resources.